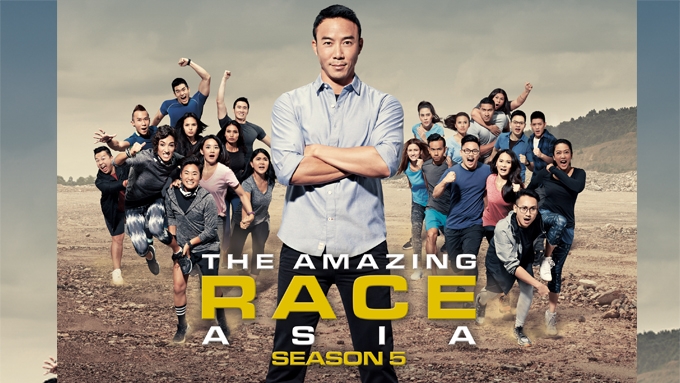 IMAGE Courtesy of AXN Asia
---

AXN brings back The Amazing Race Asia for a new season after six years off the air.

Chinese-American TV presenter Allan Wu will once again host the reality competition that will air starting October 13, 2016.
In an exclusive phone interview with PEP.ph (Philippine Entertainment Portal), Allan admitted he was a bit skeptical when producers of the show asked him to return as the host of the reality competition. Allan hosted the first four seasons of the show.
The 44-year-old TV host narrated, "Honestly, initially, I was, I thought they were, they must be pulling my leg. I thought they were joking around. I thought they were teasing me. I thought they were not telling the truth. Because it's been six years since we did the show.
"It's very near and dear to me. I had many, you know I think, fans of the race and people tell me how much they miss the show. And I've been on talks with the network before of how they wanted to bring the show back.
"Along the way, they did this, I mean personally I'd say, inferior, you know, reality show format. But, you know, I'm very, very biased towards the race. So when they called and told me, you know, 'The Amazing Race is coming back,' you know, I said, 'Really? You know, I heard this before, are you serious,' you know.
"And then they said, 'You know, we're serious. We wanna check your time, when's your schedule, we need to block out the time for you to do this race.' And I thought, 'Wow, maybe they are serious this time.' "But even then, I was still a little bit skeptical."
ADVERTISEMENT - CONTINUE READING BELOW
It was only when he arrived in Indonesia when he finally realized that the new season is finally going to materialize.
He recalled, "It was only, only until I finished The Amazing Race China, flew back from Rio De Janeiro to Singapore, got in at three in the morning, had to fly that same afternoon to Jakarta for the official media launch of The Amazing Race Asia and now it's coming back.
"And I said, 'Hey, maybe they aren't gonna pull the rug from under me this time. Maybe there really will be a pit stop this time. And maybe we will reshoot.' At that point, everything crystallized and I thought yes, we're finally doing it."
This season, 11 teams from different Asian countries including the Philippines, Thailand, Singapore, Malaysia, and Indonesia, will be battling it out to win the $100,000 prize of the reality competition.
Two out of the eleven teams came from the Philippines: the duo of beauty queens Parul Shah and Maggie Wilson as well as former It's Showtime host Eric Tai and his wife Rona Samson.
Filipino athletes Richard Herrera and Richard Hardin won the 4th season of The Amazing Race Asia that aired in 2010.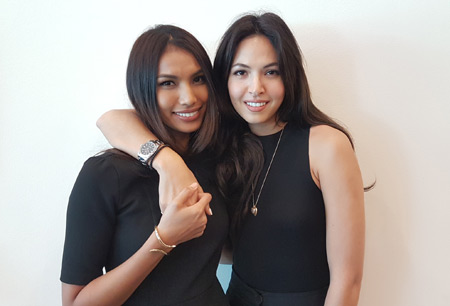 Parul Shah and Maggie Wilson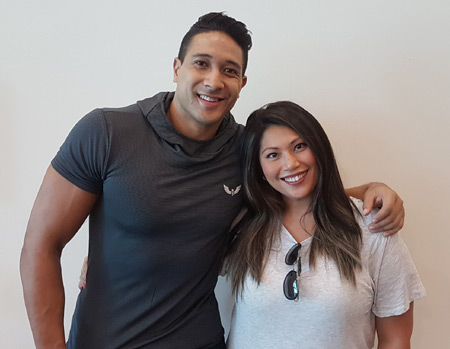 Eric Tai and Rona Samson


ADVERTISEMENT - CONTINUE READING BELOW
COMEBACK SEASON. What did he miss the most about the show? Allan answered, "Honestly I'll just say I miss everything about it."
He mentioned that he misses the production challenges and healthy competition among the contestants. "I miss, you know, being on the road, you know, not having enough sleep, standing on a pit stop, wondering which team will really come in first, you know.
"Just seeing, you know, these teams show up all sweaty, you know, with tears in their eyes, how much they've delivered, how much they've invested, how much they've given into in trying to win that one hundred thousand U.S. dollars. I miss the whole competitive, I think, aspect of the show. And, you know, I just miss being a part of this huge franchise where the entire region, all of Asia, is ignited and unified and wanting to see who is the ultimate and final winner of this race."
He added, "But in the end, yeah it's those memories, those, you now I think, those friendships, those rivalries, those even you know 'frenemies,' you know that developed along the race, too. While I'm your friend, but hey, I'm gonna beat you at the very end. I wanna, I will fight you to the bitter end if I wanna win this race. So I'm excited about bringing this back form you know, all of Asia, too. So I miss, yeah, that whole aspect of all of the teams facing and traveling around the world."
ADVERTISEMENT - CONTINUE READING BELOW
Allan, however, doesn't have much time to bond with the contestants while filming the show. He explained, "The only time I see them, is at the pit stop. Yeah during pitstop while I, you know, announce what place they come in, came in, how they're feeling, what happened during the leg, how do they feel about the other teams, what do you think are your chances. Right from the time I don't really interact with them at all.
"They just, you know, see me as this, you know like kind of a figure who's just pretty much there. I wanna say godly figure but I'm kinda like the overseer, you know, the one who kinda watches and it's kinda funny 'cause, I think they, [it's the only time people are actually looking forward to see me. And they know they're gonna see you at the pit stop and they're all very excited cause they can end or relax after they've seen me for a little while."


NEW CO-HOST. This season, The Amazing Race Asia also introduced a new host, Indonesian actress/host Tara Basro.

According to Allan, it's the first time for The Amazing Race franchise to have two hosts.
Allan said, "We have a new co-host also. And she'll be working with me also. Her name's Tara Basro. So that's exciting to have, to be working with her. And then yeah, just like that. Yeah, it's kinda nice to do something that we've never done before, in the first four seasons, in my other three formats, in the entire history of The Amazing Race Asia. You know, The Amazing Race, you know, they never had a co-host.
ADVERTISEMENT - CONTINUE READING BELOW
"So we're breaking new ground here. I think the first time we've ever had, let alone a co-host of all the female entities. So I think the viewers, I think it's up to the viewers to think what they think about having me work with a co-host."
He finished, "I know she's super excited. She's a little bit nervous from the beginning. But you know, being someone like me who's very nurturing and very kind and very giving. I mean I gave her a very, very amazing experience for her first-time hosting. And you can quote me on that and let Tara know too."
When asked what can viewers expect from this season, Allan quipped, "They should expect. I think, more wrinkles on me, I think, more white hair. But the same charisma and charm you have in the original four seasons."
He continued, "So joking aside, I think people gonna expect a lot of the unexpected, you know I think surprises. I think we've had a lot of fans that have been waiting. They've been heavily anticipating the return of the show.And we have an exciting cast. I think all 11 teams are very compelling and by themselves. They go to very, very visually stunning locations."


TRAVELS. PEP asked what other countries Allan would like to explore and said he would love to roam around Eastern Europe.

He explained, "I think I spent some time there in the past seasons, you know, I think in Czech Republic and in Hungary. That was a beautiful area that I wish I could have spent more time in. Should we go there this season we'll find out, you know, I think on October 13."
ADVERTISEMENT - CONTINUE READING BELOW
Allan would also love to explore more about the South America. He enthused, "Also, and I went to Brazil and Peru for the first time this year for, you know, The Amazing Race China and also for another program I'm doing for a local program here in Singapore. So I would love to explore more of South America also."
He continued, "So yeah, you know, I think the more, the thing about traveling and I think doing a show like The Amazing Race Asia is the more you see, the more you wanna go. I think it's.... Once you get traveling, then it's hard to stop. I think about I live like in a small little town, that town. Then I start through television doing The Amazing Race Asia. That would be great.
"For the second people have the opportunity, I think, to see the world, they'll see so much beauty, so much splendor, so much that is different than their own lives that they wanna learn and explore more. It becomes education of, you know, travelling the world. And I hope to have many more opportunities with The Amazing Race Asia, with my various programming, too."