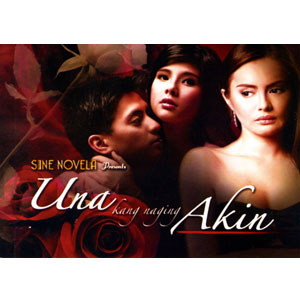 ---

A young man proposes marriage to his girlfriend butafterwards loses his memory because of a helicopter crash. He is later assumedto be dead but in reality, he was able to survive the crash through the help ofa marine biologist whose daughter helps the young man recover. In the process,the crash victim develops feelings for the young girl and even fathers a childwith his new love.

However, fate intervenes and the man recalls his past life prior to the crash.How can he deal with two women in his life?
Based on the 1991 film Una Kang Naging Akin, thetenth Sine Novela of GMA-7 remakes the movie directed by Laurice Guillenstarring Sharon Cuneta, Gabby Concepcion, and Dawn Zulueta.
In the TV version, Wendell Ramos is cast as Nick/Darwin, theman torn between Angelika dela Cruz (Vanessa) and Maxene Magalona (Jessa). Directedby Joel Lamangan, GMA-7's Una Kang Naging Akin tells the bittersweetlove story of engaged couple Nick Soriano III (Wendell) and Vanessa Yumul(Vanessa)—both of whom come from prominent families.
Tragedy strikes when the helicopter that Nick is ridingsuddenly crashed in a remote island. A body is found in the crash site but itturned out to be Nick's officemate whose name was not listed in the passengermanifesto. The "death" of Nick caused great grief to Vanessa since she wasalready betrothed to be married to the young man.
On the remote island, Nick meets Dr. Modesto Mallari(Ricardo Cepeda), a marine biologist. Because of his memory loss, Nickintroduces himself as Darwin.
ADVERTISEMENT - CONTINUE READING BELOW
Dr. Mallari takes Darwin to his home where he introduces hisdaughter, Jessa (Maxene), a beautiful painter. Darwin admits that he cannotrecall his past and Jessa initially doubted his story. However, as time passedby, the two developed feelings for each other and have a child together.
Darwin becomes involved in another accident that triggersthe return of his past memories. He remembers that he is a wealthy businessmannamed Nick who is about to marry his beloved girlfriend Vanessa. With thereturn of his memory, Darwin's identity as well as Jessa and their child no longerexist in Nick's recollection.
Will Jessa allow her husband to forget her and their son? Orwill she have the courage to fight for what she thinks is rightfully hers? Whatwill Vanessa do to keep Nick with her for good? How will she deal with Jessa andher son? Will Jessa's love for Darwin cause Nick to remember their marriage?And who really has the right to have Nick/Darwin? Is it Vanessa, the woman hefirst loved or Jessa, the woman who bore his firstborn son?
Other cast members include Alfred Vargas as Ronnie, theyoung man who is in love with Jessa; LJ Reyes as Liway, Jessa's half-sister whois also in love with Ronnie; Gina Alajar as Luisa, the estranged mom of Jessaand stepmother of Vanessa; and Raquel Villavicencio as Doña Margarita Soriano,Nick's arrogant mother.
Playing a pivotal role in the teleserye is Mel Martinez asEli Solis, the manager of Jessa. Portraying relatives of Jessa are Jim Pebanco andGilette Sandico as Tiyo Anding and Tiya Agnes.
ADVERTISEMENT - CONTINUE READING BELOW
The theme song titled "Una Kang Naging Akin" is performed byPinoy Idol finalist Ram Chaves with music and lyrics by Tata Betita.
Follow the love story of lovers tricked by fate in
UnaKang Naging Akin
. The tenth Sine Novela airs starting Monday, September 1,on GMA-7's Dramarama sa Hapon.