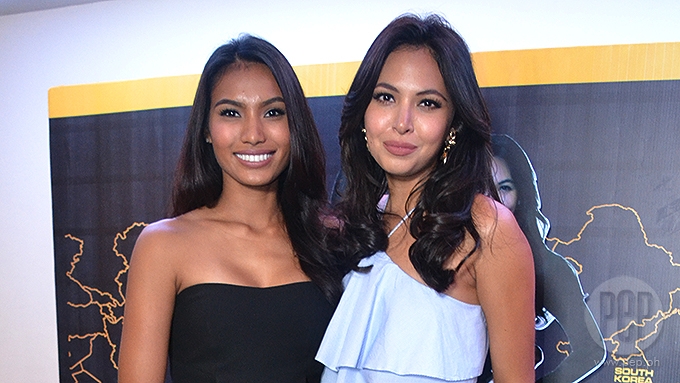 IMAGE Nikko Tuazon
---

When Maggie Wilson and Parul Shah were called in as an official team for the 5th season of the Amazing Race Asia, the beauty queens were determined to give their best in this kind of once in a lifetime experience.

Many Pinoys would definitely want to switch their places for these Pinay pageant titleholders for a chance to win $100,000 aside from free trips to different countries.
"I think we're gonna be talking about this moment in our lives for like the next 40, 50 years," Maggie said in an interview with PEP.ph (Philippine Entertainment Portal) and other members of the press after the advance screening of the reality show's pilot episode at Green Sun in Makati City.
Parul initially wasn't Maggie's top choice to be her teammate for but the Indian-Filipino beauty queen didn't have any second thoughts when Maggie invited her to join the race. These Binibining Pilipinas alumna got really close when Maggie, who won the Binibining Pilipinas World title in 2007, became Parul's beauty pageant mentor. Parul was later hailed as the Binibining Pilipinas Tourism in 2014.
The experience brought their friendship to a whole new level. Parul told members of the press, "We've been close before but this one made it even stronger." Maggie added, "Because we learned a lot of things about ourselves and about each other as well."


THE AMAZING RACE ASIA. During the competition, Parul and Maggie wanted to prove that they're not just pretty faces but they also liked the idea of being underestimated.

Maggie explained, "I like the fact that people underestimate us. I like the fact that people look at us and just see hair and make-up and high heels and pageant waves and invisible crowns in our heads. I like that because they're gonna see a very, very different side to Parul and I in this race and it's gonna me interesting."
ADVERTISEMENT - CONTINUE READING BELOW
The competition really is tough but Maggie noted that it wasn't really different from joining beauty pageants. She pointed out, "I think the only difference is of course, you're given tasks and challenges and it's a constant thing and you're racing against the other teams. I think that's the only thing different but in terms of competitiveness and fitness levels and you know, being strong mentally and emotionally, it's very, very similar to pageants."
Aside from the once in a lifetime experience, Maggie considers making new friends from different parts of Asia as one of the things she'll treasure the most from the race. She said, "I think what I actually treasure the most is actually making friends. Kasi one month, no cellphones so you're forced to make relationships with people that you don't know. We've made so many friends, in different parts of Asia.
"We're still in contact today, we message each other. That for me, is super fun because no one else will ever understand the experience but us. It's very, very difficult to explain to everyone what we went through. And for me, that's kind of like out little treasure box, our little family. So I appreciate not just racing but everyone else—part of the production, the teams."
When asked who they became close to during the competition aside from other Philippine representatives Eric and Rona Tai, Maggie and Parul said they became really good friends with Singapore's Jerald Justin Ko and Michael Tan and Malaysia's Yvonne Lee and Chloe Chen. She further noted, "Generally, everyone is super nice and we're all friends regardless of what happened on the race."


ADVERTISEMENT - CONTINUE READING BELOW

THE AUDITION. Making a good impression during the audition process is definitely one of the toughest things faced by every contestant.

Maggie and Parul admitted that they didn't expect that they would make the cut in the Amazing Race Asia knowing that some of their friends also joined the reality show.
Maggie narrated, "We didn't really expect to make it as well because we actually have some friends that told us they had also auditioned for the show so we were hoping to have a good chance of making it."
She added, "I literally screamed! I couldn't believe it because ang dami naming friends na nag-audition din and siyempre, the producers, hindi naman nila kami kilala. They don't don't know who we are. They're from the States."
Upon learning of their confirmation as contestants, it was Maggie who told Parul about the good news. The 27-year-old beauty queen mom recounted, "I wasn't sure kung matatanggap kami or hindi. So when we got the e-mail, I was so excited. And then, I called Parul, because apparently she didn't know yet. I was like, 'Babe, did you get the e-mail?'
Parul continued, "And I said, 'What e-mail?' She's like, 'We got in!' And then I screamed. My knees, I couldn't stand up, they're literally knocking. [I'm like], 'I can't stand up, wait! My knees are weak! Nanghihina yung tuhod ko.'"
What gives them inspiration during the competition is Parul's father who has been ill for some time and is currently needing medical assistance.

Maggie said, "Parul is the breadwinner of her family and her father is quite ill at the moment so part of the money is gonna go to help [her dad]. And pay for the medical bills."
ADVERTISEMENT - CONTINUE READING BELOW
Parul further said, "My dad just had a stroke. He had a couple of strokes, and apparently, while on the race, he had another one which I didn't know about."
Maggie ended, "Good things happen to good people and I guess that's why we got into the race and we'll just have to wait and see if we do well enough."



THE STRATEGY. Upon joining the competition, Parul and Maggie both agreed that they would be willing to do what it takes to win the race. Maggie said, "Both of us made the decision that whatever challenges thrown at us, we will attack it head on and we won't back down from it. So whether we have to eat strange things, shave our hair, we will do it because that is the mindset we have going in the race."
The beauty queens also figured out each others restrictions and had to compromise to make up for each other's weakness. This involved the eating challenges. Maggie said, "Before we left for the race, both Parul and I agreed that when it came down to an eating challenge, I will have to do it because Parul grew up vegetarian and doesn't eat a lot of things."
Parul noted, "I don't eat a lot of things and I was like, 'Okay babe, if there's a challenge that we both have to do the eating, she eats more than half it. Maybe I'll eat less than of it and that's how much I love her and she loves me."
ADVERTISEMENT - CONTINUE READING BELOW
What do they think is their biggest advantage? Maggie answered, "I think the advantage was we had very, very good communication and we never fought while racing and I think that's the number 1 thing like once you start fighting with your teammate, that's it."
Parul continued, "Wala na, you'll never be able to get the task done as fast as you can. As much as possible, try not to argue. Try not to lose faith. Never give up."
Did they ever think of teaming up with the our Filipino representatives in the show? Maggie answered, "Filipinos di ba? 'Pag kabayan laging nagtutulungan so there may or may not be an instance where you know we helped each other on the race."
The Amazing Race Asia airs every Thursday at 9 p.m. on AXN.