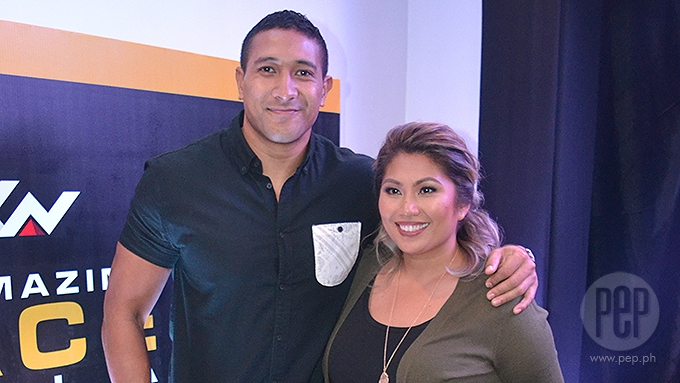 IMAGE Nikko Tuazon
---

Out of the hundreds or even thousands of auditionees for the comeback season of The Amazing Race Asia, former It's Showtime host Eric Tai and his wife Rona Samson were one of the lucky teams that made it to the competition.

The husband-and-wife tandem are currently representing the Philippines along with beauty queens Parul Shah and Maggie Wilson at the 5th season of the reality show.
"We were just very fortunate and blessed enough to represent our country," Eric said during an interview at the show's advance screening and press conference at Green Sun in Makati City last October 12.
The couple could barely pick the perfect words to describe the experience. Eric explained, "For me 'amazing' is an understatement because it is great, it is remarkable, and I would encourage anyone out there to audition for anything especially in the likes of the Amazing Race."

For her part, Rona said, "It's a once in a lifetime experience."
Aside from the experience, Eric and Rona have something that motivated them to join and do well in the competition. Rona narrated, "Basically, because Eric and I cannot start a family naturally anymore. In 2015, we had a miscarriage and the doctor said for us to bear a child, we have to do it through IVF and so it is pretty expensive to get it that and so we used that as a motivation."



THE PREPARATIONS. The couple considers their bond their biggest advantage in this stressful competition.

Rona expounded, "We have a one very strong bond and common factor which is our religion and so if you put God above all things, everything will just all into place and that's what got us together."
ADVERTISEMENT - CONTINUE READING BELOW
As fitness enthusiasts, both of them also did physical and mental training before going in the race. Rona recalled, "We did practice with our backpacks and put like books and then we practiced running around to prepare and also doing stairs. And also, we went on like breakouts, like those puzzle groups. And then, we even brought Rubik's cube with us to make our mind mentally alert."
Eric noted that being mentally prepared is the most important factor. He explained, "If it's not happening up here, everything will break lose or you won't be able to perform the challenge at the best of your ability if you're not focused. And if there's an argument or if you're not so focused, you won't be able to finish it or do it well or to finish where you want to be."
What did they pack for the race? Eric answered, "A few singlets and tank tops and shorts, microfiber towel, and a Philippine flag!"
Rona also came prepared and enumerated, "I remember we brought in swimming googles, binoculars, ac counter. What else, we brought gloves, plastic and yung pang-gym gloves and also me, I also brought three quick dry underwear. Like one blow and it's dry!"
She continued, "Aside from the shoes that we're wearing, we brought in an extra pair."
Eric ended, "Just in case, masira yung isa para may back-up."


THE AMAZING RACE. It's been a year since their wedding and the couple still found out interesting stuff about each other while going through the challenges of The Amazing Race Asia Season 5.
ADVERTISEMENT - CONTINUE READING BELOW
Rona said, "One of the things that I've discovered with Eric is he's very good at figuring out things. I don't know if you guys watched the [pilot] episode with the bike, that's actually very intricate. I mean, I know it looks easy but it took us a long time to figure it out and there is a judge trying to tell you whether it's not good."
Eric continued, "I think during that bike challenge, we were there for like two-three hours under the hot sun."



Aside from the bike challenge during the pilot episode, Eric and Rona almost got themselves eliminated on the series' first challenge: figuring out what 210 degrees on a compass is. Eric recalled, "It was really hot so we were already stressed because, I mean, we should be used to the heat but that was penetration time. It was like 10 or 11 am."

His wife continued, 'They didn't really show how far it's from the start to run and that was the first time for us to really [run]."
Did they ever argue during the competition? Rona answered, "With us, when you're going through the motion, you don't really know if you're nagging or what not. You're just so focused on what it is that you're trying to do or trying to finish so I honestly can't tell you, maybe I did, maybe I didn't. I really don't know but it is not scripted, whatever transpires is what really happened."
Their biggest tip to those who would like to join the next season? Eric said, "If you're gonna join and you're on the race, pack light!"

Rona continued, "Try your best to be natural and don't try too hard." She added, "Do it, have fun, and practice meditation."



ADVERTISEMENT - CONTINUE READING BELOW