The trees, lanterns, colored lights and belens are starting to appear everywhere, Jose Mari Chan's "Christmas in our Hearts" is once again enjoying radio airplay, and the nightly newscasts are counting down the days before the big celebration.

Just like in past years, Christmas for entertainment-loving Filipinos isn't complete without the annual reveal of the TV networks' Christmas station IDs.

In the early years of this practice, all it takes for a network to create one is to find or create a Christmas song, dress up a studio with Yuletide decorations, gift boxes and make-believe Noche Buena food. Shoot your contract stars doing usual Christmas things like exchanging gifts, passing plates, singing and swaying to Christmas music and you have your Christmas Station ID.

This 2016, ABS-CBN is treating its Kapamilyas with "Isang Pamilya Tayo ngayong Pasko," a Christmas Station ID that's more than 12 minutes long.

This year's official song is another collaboration between the Thyro Alfaro-Yumi Lacsamana tandem and Robert Labayen with Lloyd Oliver Cruz. Directed by Paolo Ramos and Peewee Gonzales, the SID features the networks' resident stars, led by The Voice coaches Lea Salonga, Sarah Geronimo, Bamboo, and Sharon Cuneta with their respective The Voice Kids wards Joshua Oliveros, Lyca Gairanod, Elha Nympha, and Antonnethe Tismo.

The 2016 edition of the ABS-CBN Christmas Station ID shows how these videos have evolved since the network's first attempts, but its style does not deviate from the formula it has been using for the past years.

Just like in 2014 (Thank You, Ang Babait Ninyo) and 2015 (Thank You for The Love), Isang Pamilya Tayo Ngayong Pasko shows some of the most inspiring individuals and communities who best reflect the year's theme, in between glimpses of the singers of the year's official song and the requisite celebrity shots.

These real people--who are telling their stories with the help of ABS-CBN's entertainment and news personalities--are the main focus of the SID.

There's Ariel from Laguna, a young boy who walks for an hour and crosses a river every day just to get to school; Tacloban's Yolanda survivors like Marielle, a little girl who persevered in her studies after the destruction the supertyphoon brought to her village; and Hidilyn Diaz who recounted her simple beginnings which led her to becoming an Olympic medalist.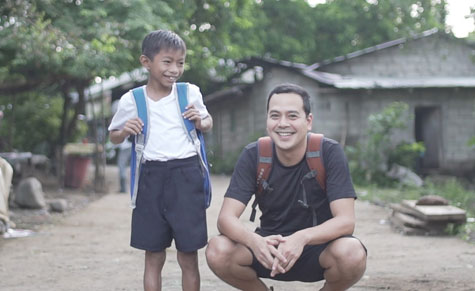 There are many other real, inspiring people featured in the SID, which makes it look more sincere and authentic.

When the celebrities are dressed down in plain clothes, like when Daniel Padilla and Kathryn Bernardo interact with children with their less-than-perfect, not-for-TV hair, it works because the stars are brought there to uplift and showcase the stories of the subjects, not outshine them.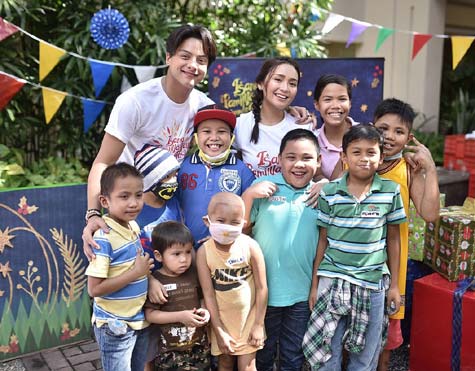 There are many other ordinary people and communities with extraordinary stories featured in the SID, and they seem to be all connected by something in common--ABS-CBN pushes them as examples and inspirations for others to emulate. They are people who dream big and work hard despite the odds.

Here lies the main difference between the similarly executed 2015 and 2016 Christmas SIDs. In 2015, the storytelling and the official song are strongly linked together by a common theme (thanking the people who made a difference in our lives). In 2016, the song is saying one thing, and the stories are pointing out another.

It's also noticeable how this year, the song has become just a background to the stories, and at certain points, the viewer's attention would be divided between listening to the songs message or absorbing the stories being featured.

This is regrettable since the song in itself has a good message and is quite a joy to listen to.

But other than that, ABS-CBN still manages to meet their fans' expectations in coming up with another heartwarming and goosebumps-inducing Christmas SID.

This practice of creating the SID's may have different meanings to different kinds of viewers. For loyal fans, it's a barometer of which stars are being regarded as most important by the network today (A solo frame? More than two seconds of exposure? Speaking lines? My idol is safe!).

For the company, it is a way of enhancing and humanizing its corporate face (notice that more executives are now being featured, and shown in Lawin relief operations, no less).

For ABS-CBN employees who are also in the video, it's a way to feel solidarity and realize that it's not just the officials and the stars that run a network.

And for some, the Christmas Station IDs add to the rush of the Christmas spirit and reinforces the belief that Christmas is a season when good triumphs always. And it's a reminder for all of us that being good and doing good is actually a satisfying feeling the recharges our emotions and brings out the best in ourselves and in other people.

That is what the 2016 Christmas station ID of ABS-CBN achieved. More than being an annual spectacle and show of might, this year's edition continues its formula of encouraging people to celebrate the season meaningfully, as one family.



Ed's Note: The "PEP Review" section carries the views of individual reviewers, and does not necessarily reflect the views of the PEP editorial staff.