Say Barbie Forteza, and you think of cotton candy, lollipops and ribbons. You think of a girl who'd rather be one of the boys, who's not afraid to get down and dirty if she has to.

That's why Billie, Barbie's character in the new GMA-7 primetime romance-drama Meant to Be, fits the actress like a glove. The name Billie is even the feminine version of a masculine name (Billy, what else?).

Like Billie, Barbie is no It Girl. She's not a familiar face in high society events. She's the kind of girl in casual jeans and t-shirt you'd bump into at a mall or on the street.

Billie, after all, is a typical working girl who helps her single mom Amelia (played by Manilyn Reynes) make ends meet. A call center agent who moonlights as tour guide, Billie is the girl you'd want to bring home to Mama—except that she's not keen on men, thank you. She's too busy earning a living.

That's a magic ingredient. Most women her age can relate to this hardworking girl who wants only the best for her family. She's every young working Pinay. And you feel her in your heart—whether you're a child with a devoted Ate, or the Ate herself. You also feel her if you're a mom who could use some help from your grownup child.

If Billie is your typical young Juana dela Cruz, what makes her so special?

It's like asking what's a teleserye with young celebs in the cast sans that kilig factor.

As the title suggests, Billie is in for not just for one, but four surprises that would make any red-blooded girl's day.

These consist of friends Yuan Lee (Ken Chan), Ethan Spencer Hughes (Ivan Dorschner), Jai Patel (Addy Raj) and Andoy Dela Cruz (Jak Roberto). All of them, except for Andoy, are rolling in wealth.

They're also bursting with testosterone, and—except for shy Andoy again—aren't afraid to show it.

Andoy is the odd man out. He's from the province. He's low-key. But Jai, Yuan and Ethan—to their credit—treat him like their own.

If birds of the same feather flock together, this kind of bond is odd. Andoy doesn't share Ethan, Jai and Yuan's elite background. Andoy doesn't have his three friends' sense of entitlement. Besides, the three rich guys—presumably products of prestigious schools—could have easily come up with an idea similar to Andoy's, and hire someone to implement it for them.

But Andoy—with his refreshing boyishness—is needed to move the story along.

He's the other half of #TeamJakbie (the other half is Barbie, of course), the way Ken is part of #TeamKenbie, Addy, #TeamAddbie and Ivan, #TeamVanbie.

These guys may seem too hot to handle—especially for innocent Billie. She's all girl, yes. But she dislikes bad-asses, even if they happen to have to-die-for looks and all the money and power in the world.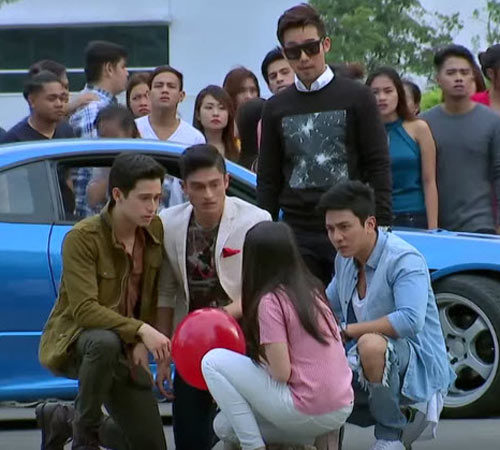 Barbie, with her years of experience as an actress, delivers. She's funny and quirky, one moment; tender and sweet, the next. She's an acting chameleon.
After all, she's a Cinemalaya Best Supporting Actress awardee.

Her love team with Joshua Dionisio some seven years ago predated JaDine, LizQuen, ElNella, and others. On this show, Barbie has yet to establish her chemistry with her four hunky leading men.

Ken as the snooty Yuan is just as convincing. With his masculine swagger and dagger looks, you can see that he is trying his best to veer his image away from his previous role as a transgender in Destiny Rose.

A word of caution, though, for Addy since his character Jai seems to go overboard in the way he ogles at women.

Sef Cadayona as Billie's brother Bats, however, could use a few tips from Barbie about comic timing.

Manilyn Reynes and Tina Paner (as Billie's mom and aunt, respectively) make their mark as polar opposites. Amelia contrasts sharply with Tina's sophisticated, worldly character. Manilyn and Tina's scenes ooze with built-in chemistry borne of their days as two-thirds of The Triplets (with Sheryl Cruz) decades back.

They spice up this romantic-comedy that could launch a new love team to rival competing network ABS-CBN's popular pairings.

GMA-7 is offering four options in this teleserye directed by LA Madridejos.

Chances are, the love team that gets the most likes in social media will be the Kapuso network's next bet to romantic stardom, following in AlDub's (Alden Richards and Yaya Dub's) giant footsteps.

Who will this new love team be? Meant to Be's next episodes could hold the answer.


Ed's Note: The "PEP Review" section carries the views of individual reviewers, and does not necessarily reflect the views of the PEP editorial staff.

PEPsters, what can you say about the pilot episode of Meant To Be? Share your thoughts in the comments section below.