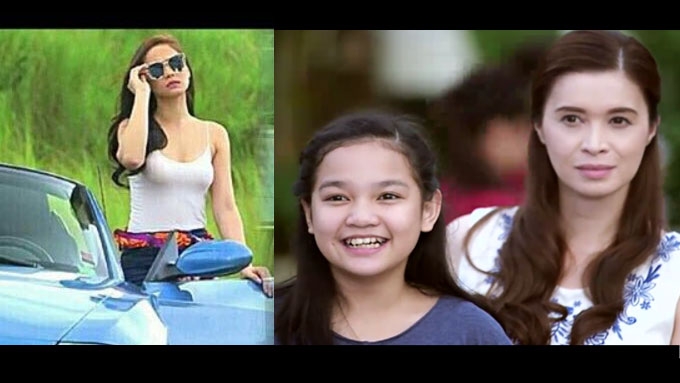 ---


For her TV comeback via Wildflower, Maja Salvador gives life to Ivy, a woman who will avenge her parent's death that was brought about by a powerful political clan.

This new teleserye from ABS-CBN opened began by showing the family of Lily (Xyriel Manabat) settling anew in the town of Poblacion Ardiente. The young girl is accompanied by her loving parents.

Dante (Christian Vsasquez) is a lawyer from the public attorney's office who was reassigned to work in the town, while Camia (Sunshine Cruz) is a teacher.

When their car broke down before they entered the town, they chanced upon the car of Poblacion Ardiente's mayor Julio Ardiente (Tirso Cruz III). The newcomers helped the politician with his needs.

It turns out that Mayor Julio is treated like a patron as everyone in the town loves him very dearly.

However, Mayor Julio has dark secrets of his own.

His daughter Emilia (Aiko Melendez) actually has marital problems with her womanizing husband Raul (Wendell Ramos).

Emilia and Raul have two young sons: Arnaldo (Izzy Canillo) and Diego (Jesse James Ongteco).

Arnaldo is Mayor Julio's favorite. He is smart and ambitious, and he plans to be like his grandfather who runs the town of Poblacion Ardiente.

Meanwhile, Diego is the less competent grandson whom his grandfather considers to be a disappointment. Diego is also addicted to eating (especially lechon), which further angers his grandfather.

Mayor Julio punished Diego and forced him to stand in a land pile of ants.

Later on, Diego was reflecting on his life beside a cliff.

When Lily saw him, she shouted, thinking that he will jump off the cliff. Diego was so shocked that he fell down.

Fortunately, Lily was able to catch him. This paved the way for them to become friends.

Little did they know that their lives will be intertwined in the future as Lily transforms into Ivy (Maja Salvador), and Diego (Joseph Marco) and Arnaldo (RK Bagatsing) grow up to be two good-looking men.


AGB RATINGS. How did this new show fare based on Nationwide Urban Television Audience Measurement (NUTAM) data from AGB Nielsen?

Based on AGB, Wildflower got a TV rating of 13.2%.

The new Kapamilya show aired from 5:36 PM to 6:27 PM.

Its counterpart, Wowowin got a TV rating of 13.5%, based on AGB. The show hosted by Willie Revillame aired from 5:00 PM to 6:28 PM.


PEPsters, what can you say about the pilot episode of Wildflower?



ADVERTISEMENT - CONTINUE READING BELOW