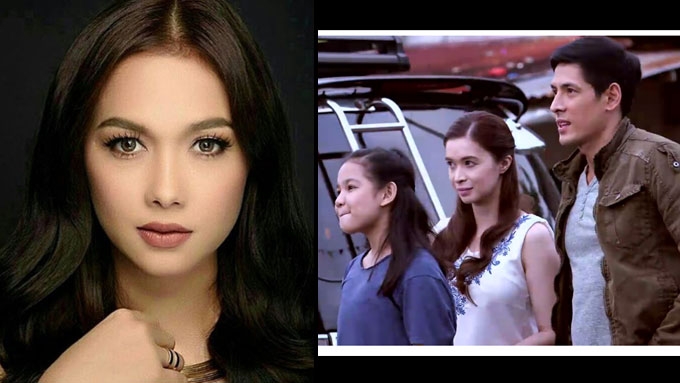 ---

Maja Salvador makes a teleserye comeback after her 2015 TV series Bridges of Love.

In her new show Wildflower, Maja plays a woman who vows to avenge her family against a powerful political clan.

In the pilot episode aired on February 13, viewers had the chance to see the young Ivy who arrived in Poblacion Ardiente with her parents (played by Sunshine Cruz and Christian Vasquez).

Before anger turns her into Ivy, get to know her first as Lily (Xyriel Manabat), a young girl who grew up surrounded by her loving parents Dante (Christian Vasquez) and Camia (Sunshine Cruz).

Her father, who worked as a Public Assistance Office (PAO) lawyer, decides they move to Poblacion Ardiente after he receives death threats for a case he handled.

The first week in Poblacion Ardiente goes well for them, especially Lily, who easily finds a friend in Diego (Jesse James Ongteco).

However, misfortunes continue to haunt their family when Diego's father, Raul Torillo (Wendell Ramos), lusts over Camia and sexually harasses her.

Dante doesn't hesitate and immediately files a case against Raul, who happens to be the husband of town mayor Emilia Ardiente Torillo (Aiko Melendez). Emilia then takes matters into her own hands to protect their family's reputation.

In just a snap, Lily's life suddenly crashes when his father suspiciously dies in a heart attack, while she is forced to leave her mother. Luckily, Lily escapes the wrath of the Ardientes and finds a home with Prianka Aguas (Priscilla Meirelles), who adopts and raises her like her own.

Few years after, Lily finally returns to Poblacion Ardiente as the seductive and powerful Ivy (Salvador), who seeks revenge against the Ardientes.

Everything will work out as planned, until she crosses paths with her long-lost friend, Diego Ardiente Torillo (Joseph Marco).

Also joining the cast are Tirso Cruz III, RK Bagatsing, Vin Abrenica, Malou De Guzman, Ana Abad Santos, Arnold Reyes and Izzy Canillo. The teleserye is directed by Onat Diaz, Raymond Ocampo, and Cathy Camarillo under R.S.B Unit headed by Ruel Bayani.


KANTAR RATINGS. How did Wildflower fare in Kantar nationwide ratings?

According to Kantar, Wildflower got a national TV rating of 20.1% on its pilot episode on February 13, 2017.

Its counterpart, Wowowin, got a TV rating of 14.7%.


PEPsters, what can you say about the pilot episode of Wildflower?



ADVERTISEMENT - CONTINUE READING BELOW