Aside from entering a new chapter and introducing new characters on the show, Encantadia is trending again on social media.
This time, a photo that looks like a screengrab from one of its episodes has gone viral online.
In the said scene, Diwanis-turned-Sang'gres Lira (Mikee Quintos) and Mira (Kate Valdez) were standing in the kingdom of Lireo.
Lira and Mira were looking at Ashti Hara Danaya (Sanya Lopez) at her throne, who was actually Avria pretending to be Danaya.
What caught the attention of netizens was a monobloc chair at the left side of the photo.
Of course, these kinds of chairs do not exist in the Encantadia kingdom.
On March 2, a Facebook page called Meanwhile in the Philippines was quick to make a meme out of it, saying: "Napaka–modern ng Encantadia! Kitang kita ang monobloc!"
Encantadia fans, collectively called Encantadiks, were quick to defend the Kapuso show, reasoning out that it was just an outtake or edited, and a monobloc chair was not seen in the episode aired that night.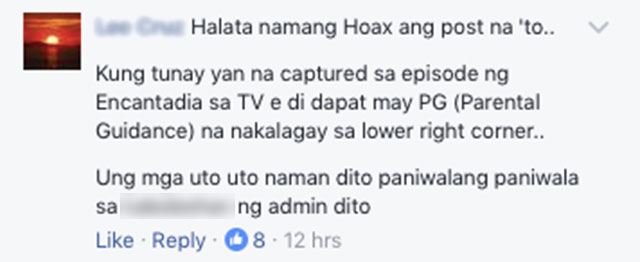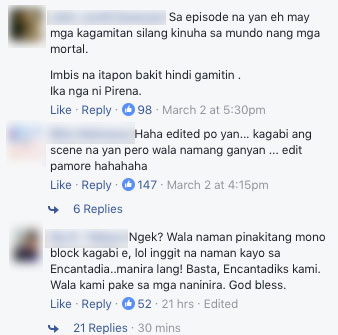 Encantadia headwriter Suzette Doctolero also left a comment on the Facebook post to defend her show.
She wrote, "Di yan ipinalabas. Check mo sa eps at wala yan. Ewan sinong ungas naglabas ng outtakes."

The administrator of Encantadia's official Facebook page also commented on the Facebook post.
The comment reads: "Avisala! :) Hindi mukhang rush ang judgment n'yo... Char!!! Wala pong umere na ganyan sa TV. Try checking the actual episodes on Iflix, etc."

Suzette also responded to netizens on Twitter tagging her in the photo.
To one netizen, she said, "yung monobloc chair? Wala sa ep yun. Edit out yun. Ewan sino naglabas niyan."
@IamResonating yung monobloc chair? Wala sa ep yun. Edit out yun. Ewan sino naglabas niyan.

— Suzette Doctolero (@SuziDoctolero) March 2, 2017
She also told one netizen, "upuan ng crew. Di kasama sa eksena at wala naman yan sa palabas kagabi d ba."
Encantadia's official Facebook page then released a statement explaining the viral photo.
It reads: "Avisala! This is to clarify that the photo used on the meme below is a raw material.
"The chair was on standby for the artists to use whenever they are waiting for their scenes or blocking.
"This photo was not part of the actual episode that aired on television last March 1, 2017. You may check it on Iflix to verify. Avisala eshma!"


However, the Meanwhile in the Philippines Facebook page saw that GMA Network's YouTube account made one of its videos to private.
It even posed the question: "Kung hindi na-screenshot ang monobloc chair sa #Encantadia2016, hindi kaya madi-disable ang video na ito? #EncaLeak #Singular"


Based on an episode clip of the March 2 episode that is still available on YouTube, it can be seen that Lira and Mira's scene looks exactly the same as the one in the meme, except there is no monobloc chair.