Did you know that former ABS-CBN President and now Chief Content Officer Charo Santos-Concio almost left the Kapamilya Network?
This was the time when ABS-CBN was losing in the ratings game to rival network GMA-7.
She admitted this through her recently-launched book My Journey: The Story of an Unexpected Leader.
When Ma'am Charo was the Executive Vice President for Entertainment, the TV network was affected by the economic crisis. Advertisers lessened ad minutes, which forced network executives to cut down on operation expenses.
At that time, the Kapuso network was beefing up its programming. Ma'am Charo recalled in her book, "Our solid hold on the Top 20 shows began to slowly slip away. Our rival, GMA-7, started to close in on the lead we had for over a decade."
This prompted Ma'am Charo and her team to revamp most of their shows and focus on doing teleseryes, which audiences clamored for at that time. These innovations escalated production costs.


BIRTH OF THE FANTASERYE. The Kapamilya Network was able to come-up with Marina (2004), which caused the fantasy series to become a popular genre in the Philippines.
She described the fantaserye, "Our underwater scenes were visual feasts – beautiful mermaids moving gracefully through oceanscapes and breaking surface to bursts of sunlight.
"We successfully fended off the competition from our primetime slot, averaging 38.6 percent audience share and peaking at 41 percent."
However, this new genre also had its own share of problems that further escalated production costs.
Marina had three key locations: Anilao and Calaca in Batangas and Hundred Islands, Pangasinan.
She said, "Despite our efforts to tighten our belts, our production budget was 50 percent more than the usual teleserye."
While Marina was winning in the ratings game, GMA-7 launched its own fantasy series in 2004: Mulawin. It depicted a world of winged humanoids led by Richard Gutierrez and Angel Locsin (who would eventually transfer to ABS-CBN in 2008).
Ma'am Charo described the project, "They spent enormously on the project, raising the bar on extravagant costumes, expensive special effects, and production values."
The Kapamilya Network then produced another fantasy series, the superhero-themed show Krystala (2004) starring Judy Ann Santos. However, according to Ma'am Charo, "Our budgets were thin and we were emotionally spent.
"In the heat of the battle, what I had feared became very obvious. We began to lose our sense of story.
"We were being hammered about ratings, cost control, and profit so incessantly that we forgot about our emotional connection to our audience."


"WE ARE NOW NO. 2." Ma'am Charo recalled that it was towards the end of October 2004 when Vivian Tin broke the news that ABS-CBN was no longer the top TV network in the Philippines.

"We are now No. 2." Vivian, a former AC Nielsen executive, showed the TV ratings at that time.
Ma'am Charo continued, "GMA-7 had taken the lead on all the top 20 time slots, including the coveted primetime slots.
"TV Patrol lost to 24 Oras, Marina lost to Mulawin, and Krystala just couldn't gain enough momentum. The gaps in the lead were devastating."
While some people in the room were in denial or angrily disputed the results, Ma'am Charo simply said, "Tanggapin na natin. No. 2 na tayo."
For this reason, former ABS-CBN CEO and chairman Gabby Lopez hired Cito Alejandro as new ABS-CBN President and General Manager.
The plunge in the ratings had a negative impact on the female executive.

As Ma'am Charo put it in her words, "For the very first time in 16 years, many of us felt embarrassed to be part of ABS-CBN. We took the bad news personally."
Ma'am Charo's team tried different programming strategies in an attempt to gain lost ground.
In November 2004, Sir Gabby invited Ma'am Charo and the heads of the Entertainment Group to dinner, including the business unit heads and TV directors.
Ma'am Charo expected a night of fun. However, the exact opposite happened when Sir Gabby called their attention.
The executive-actress recalled in her book, "I don't remember exactly how he phrased it, but I thought I heard him say: 'I want to talk about what's wrong with production. You have to change the way you are doing things. How could you let this happen, Charo?'"
The exchange of ideas and discussion did not go very well, leading to a shouting match and everyone walking out of Sir Gabby's house.
Ma'am Charo remembered, "Gabby caught up with me as we filed out of his home. He tried to reach out and make sense of my silence.
"Finally, I said to him: 'I am very, very angry, Gabby. Very angry.' Then we left."
The ratings fiasco weighed heavily on Ma'am Charo who believed that she was to blame for this development.

"We became No. 2 on my watch. There was no one else to be held responsible but me."
The lady boss then e-mailed her team members and encouraged them to put things behind them. However, after she sent the e-mail, she herself couldn't move forward.
Ma'am Charo then did the unthinkable: "I wrote a resignation letter, which I asked my executive assistant, Linggit Tan, to hand carry to Cito and Gabby.
"I felt I was a failure and no longer worthy to be at the helm of my team."
Sir Gabby and Cito did not accept her resignation and just told her to take the time she needed.

Ma'am Charo stopped going to work and took an indefinite leave.
Her absence was reported by the media, with rumors spreading that she was protesting Cito's appointment as president and that she wanted him out.
During her break, Ma'am Charo disclosed that she received offers from rival networks.

However, "I decided to come back to ABS-CBN because I felt responsible for the people there, with whom I had grown up."
When she returned after four months, the network was still facing the same problem: GMA-7 was still No. 1.
The whole team went on a retreat in Baguio to map out the future direction of the company.

They posed the question: "Are we really just about ratings, revenue, and profit?"

After a long discussion, executive producer Chit Guerrero recalled what Geny Lopez often told them in the past: "Hindi ba sabi ni Kapitan, 'we are in the service of the Filipino.'"

Kapitan referred to Geny, the Chairman Emeritus of ABS-CBN and the father of Gabby Lopez.


BACK TO WORK. Eventually, ABS-CBN was able to prevail in the ratings game again, after producing the TV show Mga Anghel Na Walang Langit (2005), a remake of Fernando Poe Jr.'s 1970 movie.
Ma'am Charo proudly narrated, "Finally, we were able to nudge at the lead of Mulawin. The fact that we succeeded with a simple, low budget show against the high production values of the fantaserye, gave me even more courage to stand by our storytelling instincts."
The Kapamilya Network also produced the drama series Gulong ng Palad (2006) and acquired the rights to air a franchise of Pinoy Big Brother, bringing them back to the top slot.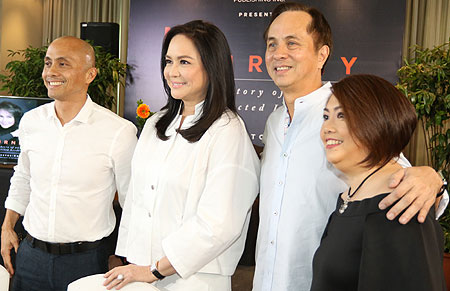 L-R ABS-CBN Publishing managing director Ernie Lopez, Charo Santos-Concio,
Eugenio "Gabby" Lopez III and Ma'am Charo's co-author An Mercado Alcantara

Last March 29, Sir Gabby joined Ma'am Charo at her book launch held in Rockwell Club.

More than a decade later, Ma'am Charo acknowledges that competition is still very stiff in the ratings game.
The Kapamilya network is set to launch new shows such as the third installment of the Lobo series titled La Luna Sangre starring Kathryn Bernardo and Daniel Padilla.

The Kimerald love team of Kim Chiu and Gerald Anderson is also slated to make a comeback via Ikaw Lang Ang Iibigin.
Meanwhile, GMA-7 is set to do a sequel of the Mulawin series titled Mulawin vs. Ravena.