After several months of being away from the limelight, Kris Aquino returns to Philippine television to host a travel show.
Titled Trip Ni Kris, this one-hour-and-30 minute TV show aired on GMA-7, right after Kapuso Mo, Jessica Soho.
Her TV comeback focused on Nueva Ecija, a province that she described as three hours away from Manila by car.
She showcased the beauty of the province that boasts of clear rivers and limestone formations.
While hosting Trip Ni Kris, she delivered hilarious hirits that made us miss the former ABS-CBN TV host even more.
Here are 8 funny moments of Kris Aquino on her GMA-7 show:
8. No heart for crablets
One dish served to Kris included crablets (maliliit na talangka). The TV host asked the representative of the restaurant if the crablets would have grown bigger if they weren't harvested, "Lalaki pa ba itong mga ito?"
When the lady said yes, Kris reprimanded her by saying, "Ang sama mo, kinuha mo siya nung baby pa siya."
Cue awkward pause.

7. Outshining an Amorsolo descendant
Kris had a chance to meet Dominguita "Chu" Rivera, a granddaughter of National Artist for Painting, Fernando Amorsolo.
When Kris asked Chu how many paintings and sketches Amorsolo created in his lifetime, she revealed that there were 40,000. Chu then mentioned that she did not have any original paintings, only original sketches.
Kris, who inherited an Amorsolo painting from Ninoy and Cory Aquino, quickly exclaimed, "Kinabog kita!"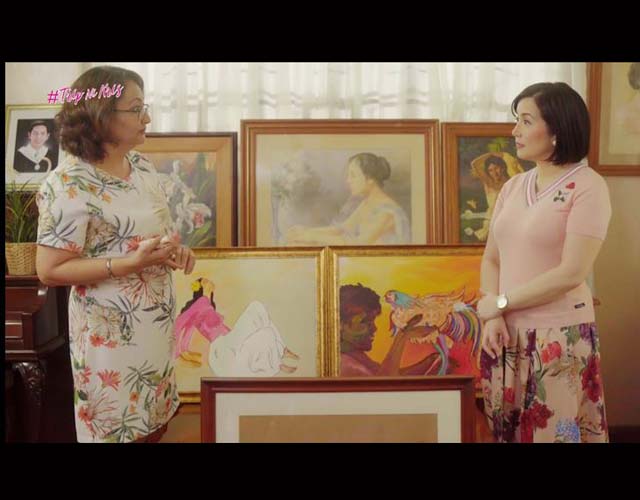 6. Love changes all.
While interviewing a couple who ran a pastillas shop, Kris found out that the woman entered into a relationship even though she knew the guy was a drug addict.
Kris probed further until the guy said he was drug-free when they got married.
The TV host then asked out loud, "Is it possible na pag minahal mo ang isang tao, magbabago ka talaga?"


5. Kris voluntereed Renan Morales to milk a carabao.
Renan is a Councilor in San Antonio, Nueva Ecija.
Part of their itinerary was visiting the 658-hectare campus of Central Luzon State University.
As they were discussing about carabaos, the guide asked Kris if she would be willing to milk a carabao.
Kris then voluntereed Renan to milk the carabao, which he gamely agreed to do.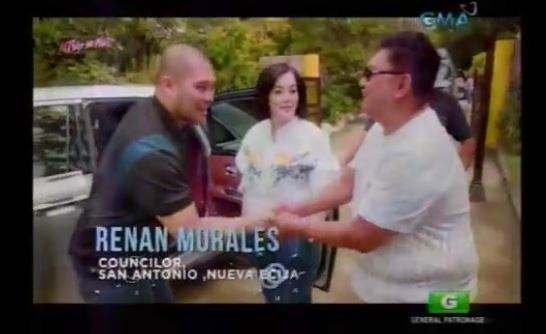 4. Depends on the looks.
During a car ride, Renan also happened to ask Kris if she would be willing to try swimming in a pool.
She gave her conditions: "Kung maganda yung swimming pool. Kung lalakasan nila ang wifi."

3. Salad triggers philosophical discussion.
While making their own organic salad, a former designer named Armando said he put his soul in making this dish.
Kris agreed by saying, "Kung hindi mo binibigay ang buong pagkatao mo, parang may kulang."


2. Pa-mhin-ta!
While eating their organic salad, they talked about condiments and Armando said he is not fond of pepper.
Kris exclaimed, "I love pepper! Ang dami kong friends na paminta!"

1. Bolero moves.
Renan is a councilor of San Antonio Nueva Ecija who is tagged as the Besfren ng Bayan. In fact, Kris even called him best friend on the show.
Renan also happens to be the son of the producer of Trip Ni Kris. The politician is being linked to Kris.
While they were seated inside a car, Renan asked Kris for her Chinese zodiac.
When she said she was born in the Year of the Pig, he said: "Memorized ko yung Year of the Pig. Lagi silang they need rest. They want to watch TV. They want to eat a lot. They are sweet."
Moments later, Kris curiously asked, "Ano 'yang mountains na 'yan?"
"Sierra Madre," pointed out Renan.
A disbelieving Kris exclaimed, "Binobola mo lang ako!"

As her show ended, Kris reminded viewers: "There is so much to see and appreciate here in the Philippines.
"A place like Nueva Ecija, ang dami palang magagandang places."
As if signaling future episodes of her travel show, Kris ended by saying, "I look forward to being with you again sa susunod na Trip Ni Kris."

PEPsters, what can you say about the TV comeback of Kris Aquino?