Sunshine Dizon and Ryza Cenon's afternoon series Ika-6 Na Utos is known for its intense, sometimes campy, but very entertaining confrontation scenes.
Their characters Emma (Sunshine) and Georgia (Ryza) continue to fight for the love of Rome (Gabby Concepcion).
Directed by critically-acclaimed director Laurice Guillen, who helmed award-winning movies Tanging Yaman (2001) and Santa Santita (2004), Ika-6 Na Utos airs from Monday to Saturday after Eat Bulaga!
Just recently, the show became viral and a source of memes when Sunshine and Ryza's confrontation scene involved a nerf gun!
For this reason, PEP.ph (Philippine Entertainment Portal) listed down 10 of their most talked-about confrontation scenes that entertained viewers on TV and online:


1. The Nerf Gun fight
How can a stroller lead to a big argument between two pregnant women?
Emma (Sunshine Dizon) already saw a stroller perfect for her baby. However, Georgia (Ryza Cenon) happened to like exactly the same model.
Georgia then felt that Emma wanted to steal everything away from her, including the stroller and her husband Rome (Gabby Concepcion).
Emma then told her, "Excuse me, ang tagal ko nang tinapon si Rome. Isaksak mo pa siya sa baga mo for all I care. Pero itong stroller na ito, akin ito!"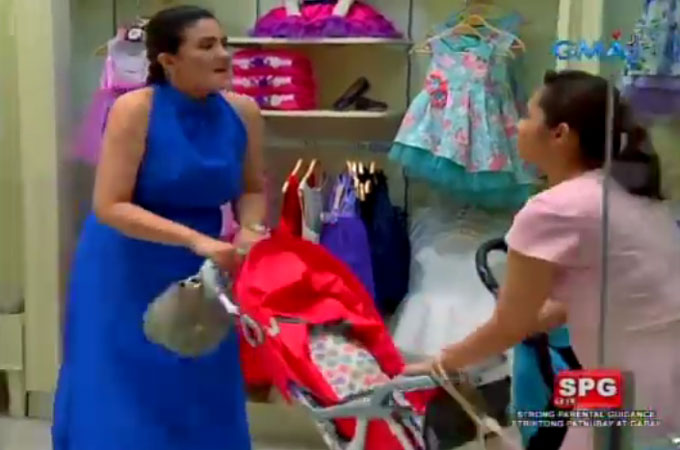 Their battle for the stroller then led to a pillow-stuffed toy fight!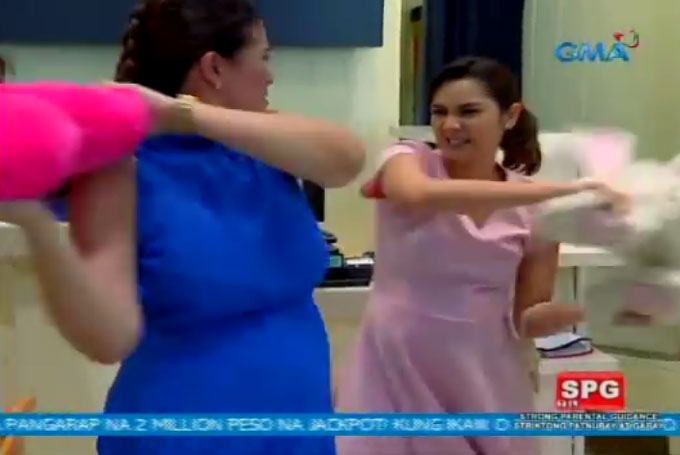 After pushing each other, Georgia saw a nerf gun and aimed it at Emma.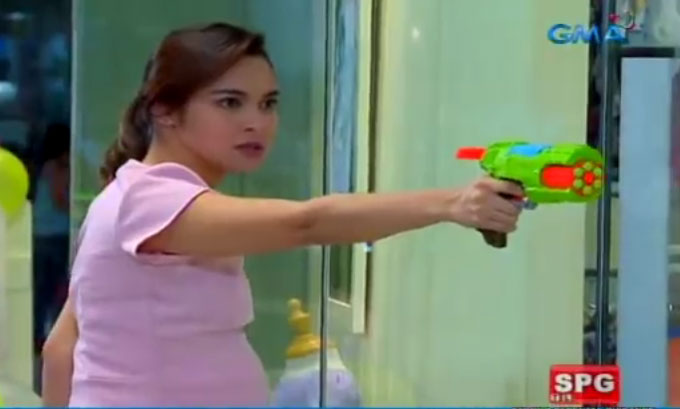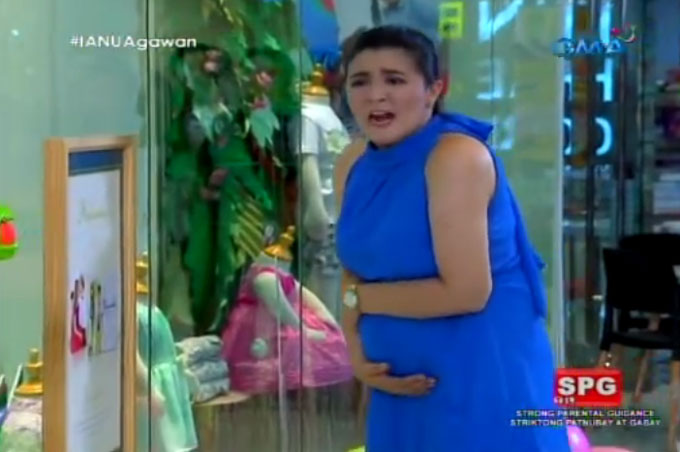 The physical fight ended when Emma accidentally pushed Georgia and the latter's tummy started aching.
This particular scene became viral all over social media. Currently, the video posted on YouTube has already 811,417 views.


2. Emma vs. her ex mother-in-law
Emma chanced upon Rome's mother Margarita (Carmen Soriano) and her friend Zeny (Mel Martinez). Margarita was shocked to see that Emma is pregnant.
As always, Margarita insulted Emma and her family.
Emma's mother Lourdes (Daria Ramirez) defended her daughter and insulted Margarita and Zeny. Lourdes told them, "Kukuskusin ko pati ugali mo para nang sa ganon, maging malinis ka din. Pati ikaw bakla ka! Buy one, take one ang kasamaan ninyong dalawa!"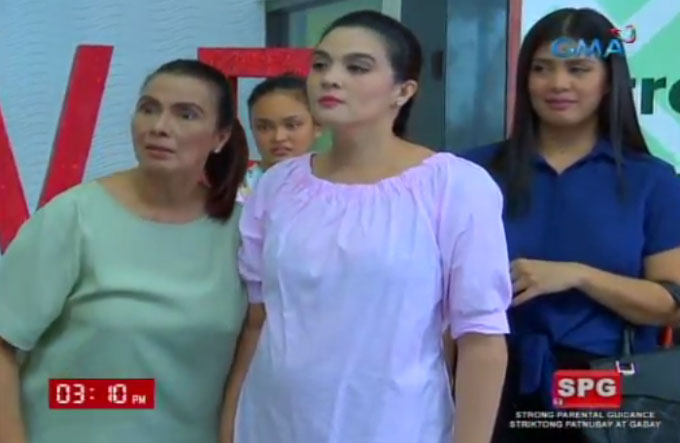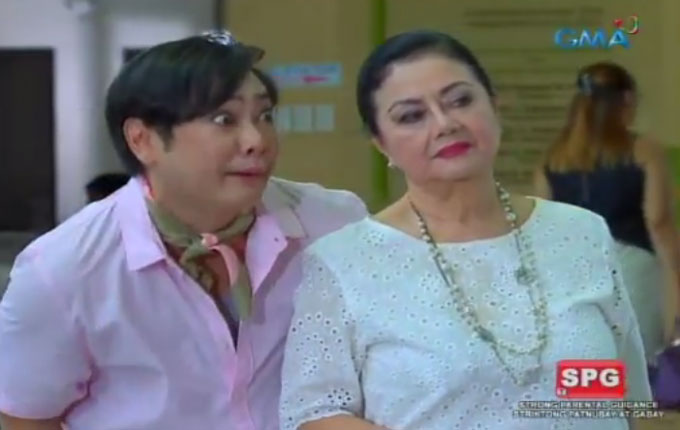 Margarita then described Emma and her baby as "basura."
Emma retaliated by saying, "Ah talaga? Kaya pala basura din si Rome, dahil nanay niya ang reyna ng basura ang mga ugali!"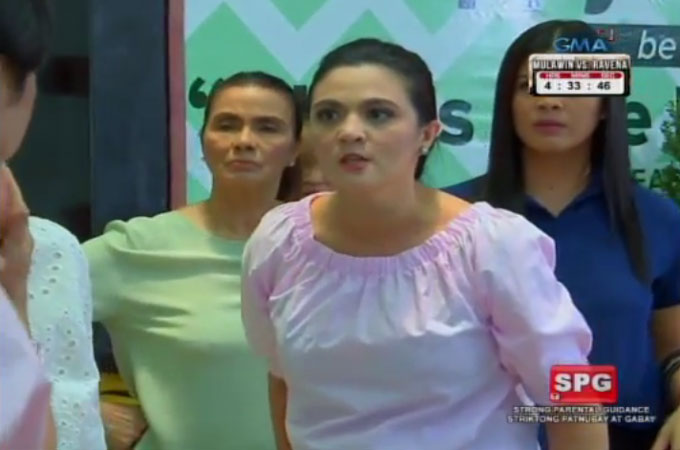 Insulting words continued to be exchanged until Emma lost her temper and slapped both Margarita and Zeny.
When Zeny insulted her again, Emma slapped Zeny's face, pushed him, and splashed a pail of water at him!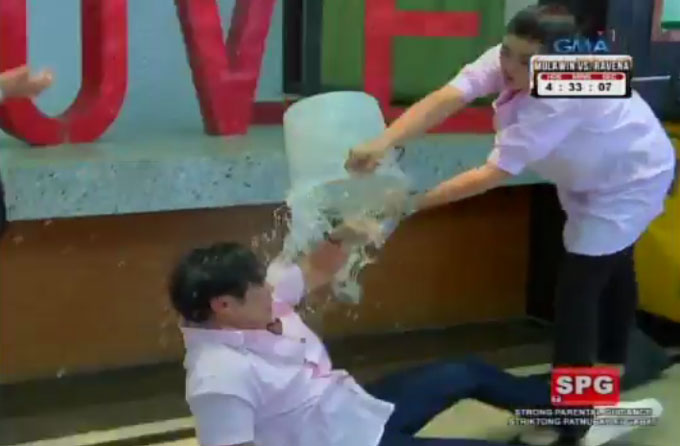 3. The Bridal war

Even in their wedding gowns, Emma and Georgia had the same taste.
Emma's best friend Flor (Rich Asuncion) gave the tip that Georgia was planning to buy the same wedding gown that she liked. Unfortunately, it did not fit Georgia.
Georgia was shocked to see Emma fitting the gown that she wanted.
Georgia became furious and accused Emma of stealing everything that she wanted for her wedding with Rome.
Emma clarified, "Wala akong inagaw sa 'yo kahit kailan. Ikaw ang maraming inagaw sa akin. Gusto mo bang i-enumerate ko pa isa isa para maalala mo?"
The saleslady then suggested another wedding gown for Georgia.
When the two brides were already in their gowns, another fight ensued when Georgia ruined the gown with red ink.
In response, Emma tore out the sleeves of Georgia's gown and insulted her rival.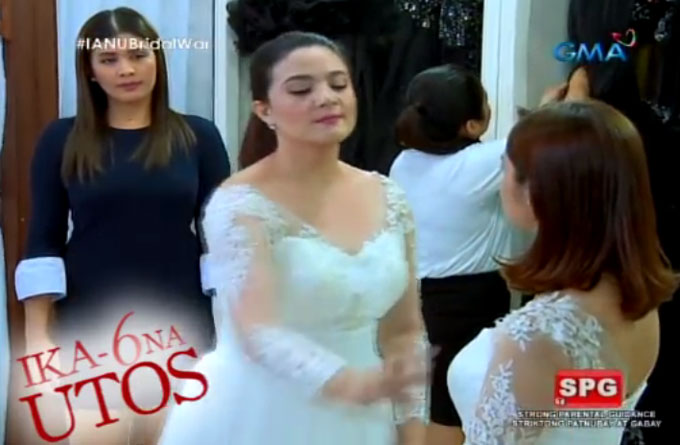 Emma said, "Ayan, pwede naman pala maging tube. Ang ganda 'no, ang sexy! Labas lahat ng kaluluwa mo. Ngayon makikita na talaga ng mga bisita mo na ginamit mo ang katawan mo para makuha si Rome. Ang bongga! Ganda, bagay sa 'yo."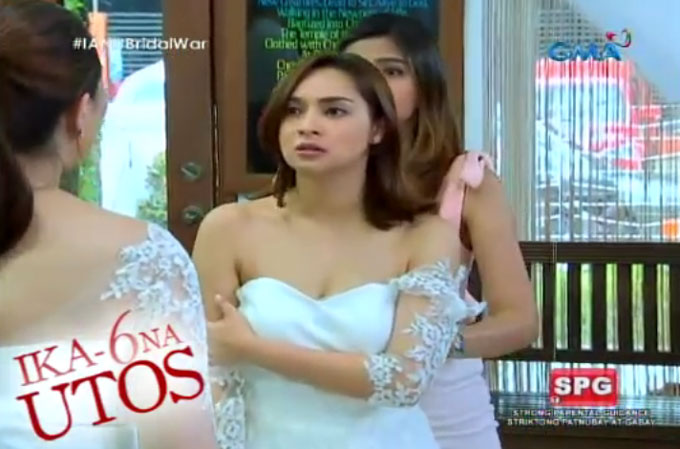 Georgia then pulled Emma's hair and a catfight took place until the guards separated the two ladies.

As of this writing, the video uploaded by GMA Network registered 948,912 views.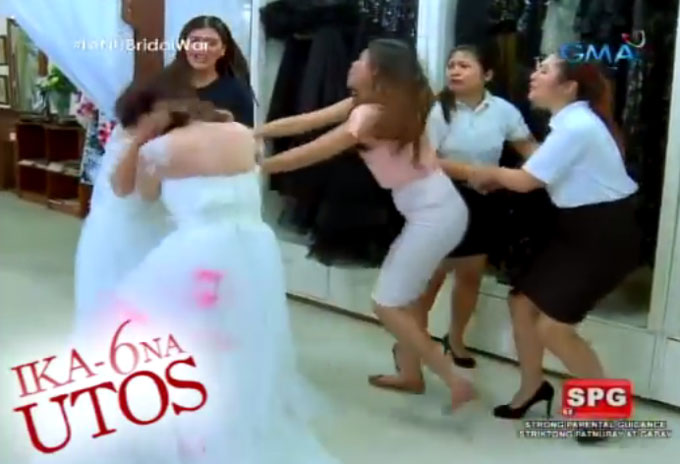 4. The Food Tasting battle
The battle of Emma and Georgia continued even when they tried hiring the same food caterer.
Georgia observed that they always hire the same services for their respective weddings.
Later on, while trying dishes, Emma had several food suggestions for her fiancé Angelo (Mike Tan). Georgia also did the same to Rome.
At one point, Rome told Georgia, "Gaya-gaya ka lang, e."
When Georgia tried to add another dish to their menu, she was advised that they would go over their budget.
In response, Georgia gave a disparaging remark for Emma.
She said, "It's okay! VIP ang mga guest namin. They deserve the best! Hindi ko iseserve nang pipitsuging pinakaluan na shrimp lang! Masyadong plain at saka boring. Nakakasawa tulad ng iba diyan! Mas exciting at masarap ang shrimp in salted egg!"
Emma heard all of Georgia's words and told Angelo, "You know what, Angelo? We should take care of our guests. Hindi yung puro cholesterol, gall bladder stones ang aabutin nila sa entrée natin sa ating party.
She then stressed, "Alam mo kasi, yung mga masarap at exciting, kadalasan, hindi 'yan maganda para sa sarili. Katulad ng mga kabet!"
Pissed off, Georgia answered, "Ang dami talagang ampalaya sa paligid, ang sarap buhusan ng sugar para sumaya sila sa buhay nila."
Georgia then stood up and tried to splash orange juice on Emma. However, she backed off when Emma showed her boiling hot soup.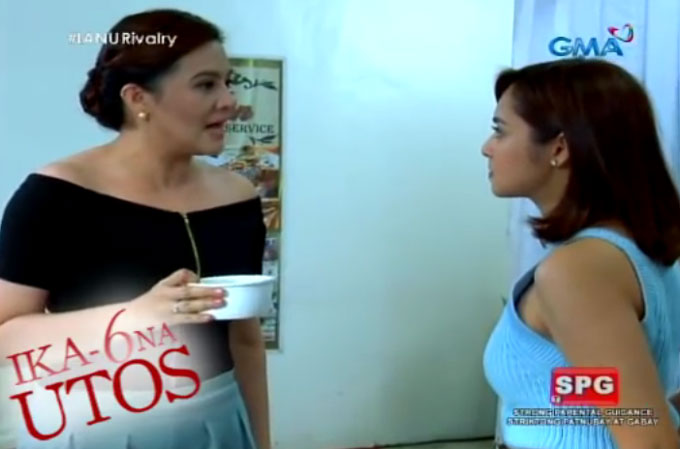 Emma then challenged her, "Subukan mo na ibuhos sa akin 'yan nang maibuhos ko rin ito sa mukha mo nang sa ganon, ikaw ang maging pinaka pangit na bride sa kasal mo!"
The video currently has 708,880 views on YouTube.

5. Catfight on a rooftop
One time, Georgia rushed to Emma and tried to convince her to leave her ex-husband.
Emma found it ironic that Georgia was accusing her of the things she used to do when the latter stole Rome from her.
Emma asked: "Bakit, nakikita mo na ba ang sarili mo sa akin ngayon? Kung paano mo winasak ang pamilya mo?"
Georgia then threatened Emma and said she cannot steal Rome anymore from her.
Emma reminded Georgia, "You're not even married. You're not even his wife. At mukhang wala siyang balak pakasalan ka. Once a mistress, always a mistress."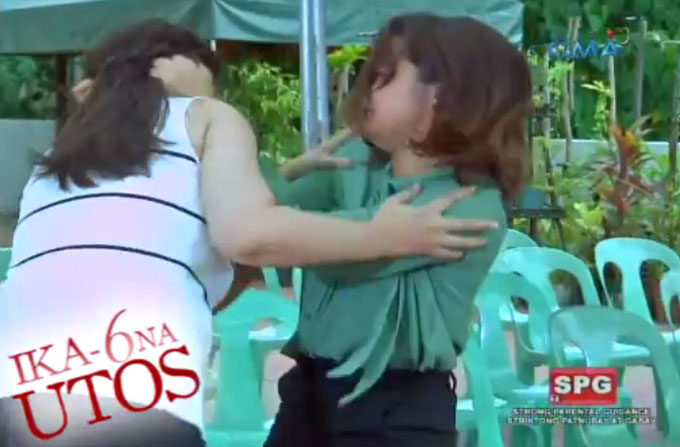 A catfight then ensued between the two until Georgia almost fell from the rooftop.

This video currently has 979,195 views on YouTube.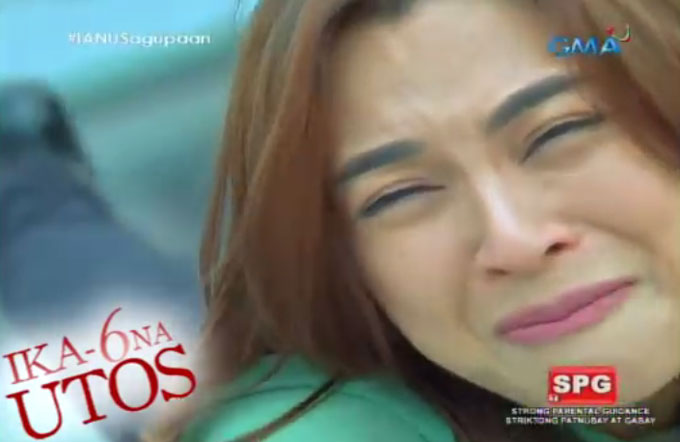 6. Stuck inside an elevator.
Georgia became furious when she found out that Rome and Emma were stuck inside an elevator.
When Emma heard Georgia screaming outside the elevator, she told Rome, "Grabe naman 'tong si Georgia, akala naman niya, re-rape-in kita."
To anger Georgia more, Emma made suggestive, seductive sounds. True enough, Georgia assumed that they were having sex inside the elevator.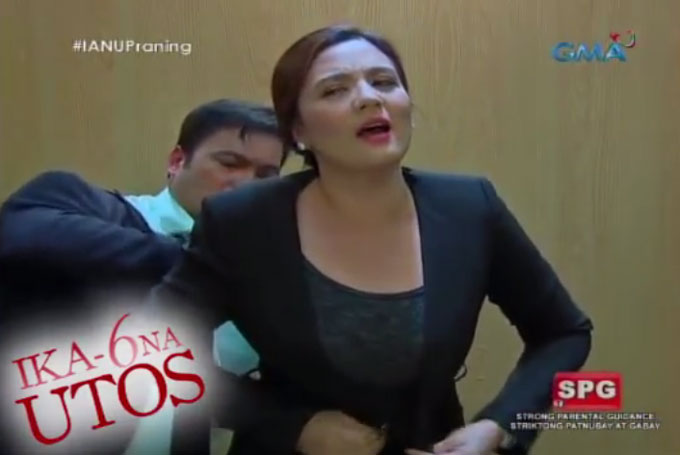 Apparently, Rome was just giving Emma a massage!
When the elevator finally opened, Georgia was stunned to see that nothing happened between the two of them.
Emma then told her, "Ang dumi dumi ng isip mo! Pwede ba, linis linis din minsan! Mamaya, mangyari 'yang mga iniisip mo."

This video currently has 732,444 views on YouTube.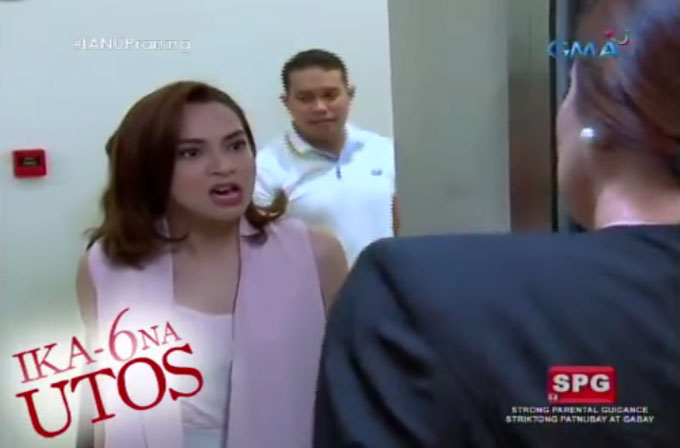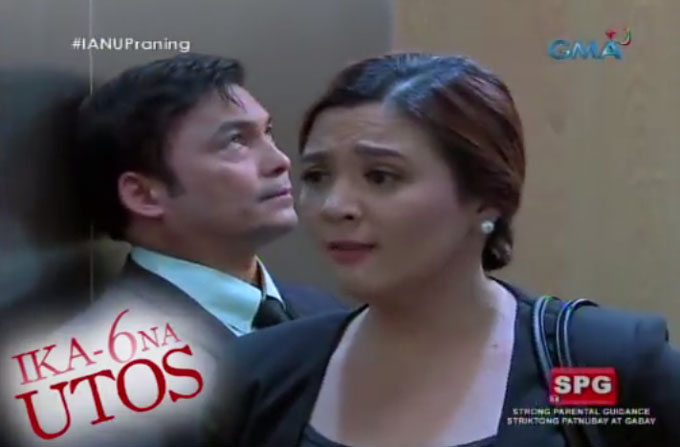 7. Emma to Georgia: "First Honor sa kasinungalingan, Summa cum laude sa panloloko."
Emma continued to make fun of Georgia and tease her that she was trying to steal Rome from her.
When Georgia asked Emma about her plans, the latter answered, "Inaakit ko at nililigawan ang boyfriend mo, at malapit niya na akong sagutin."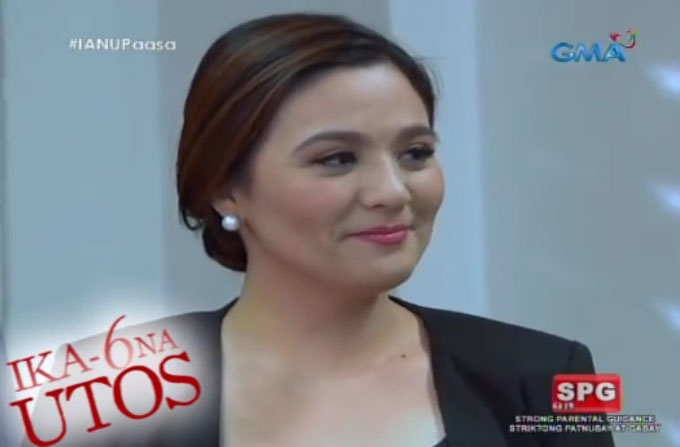 Georgia was angered by Emma's words and shouted, "Hoy ikaw, tigilan mo 'yang kalandian mo dahil hindi mo makukuha si Rome!"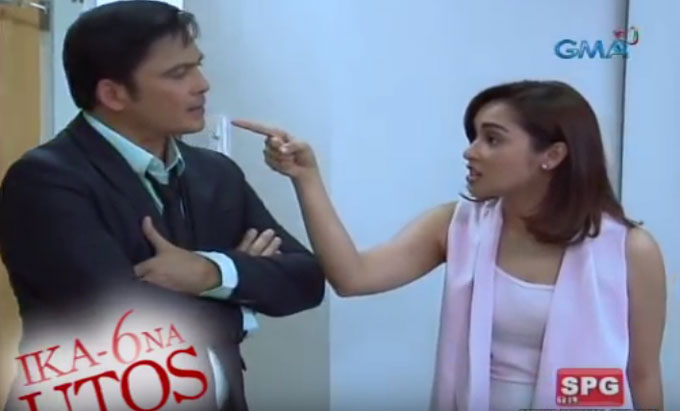 Emma clarified, "Nililigawan ko talaga si Rome na ibenta niya sa akin ang kumpanya niya, at inaakit ko siya with a very good deal para mapunta sa akin ang gusto ko."
When Emma left Rome's office, Georgia followed and confronted her, claiming that she has been trying to seduce Rome all this time. She told Emma, "Alam na alam ko 'yan!"
However, Emma laughed at her claims and said, "Ay oo nga pala, I forgot, first honor ka nga pala sa kasinungalingan at Summa cum laude sa panloloko!"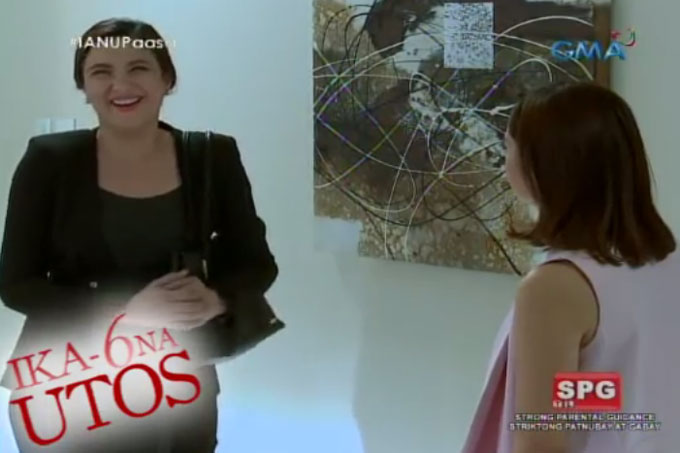 This video has already reached 1,091,593 views on Youtube.


8. Emma shows Georgia's "baho."
At a party, Georgia saw Emma talking to Rome, assuming that she was flirting him.
After drinking a glass of wine, Georgia confronted Emma and accused her of seducing Rome.
When Georgia was about to slap Emma, she suddenly felt the call of nature.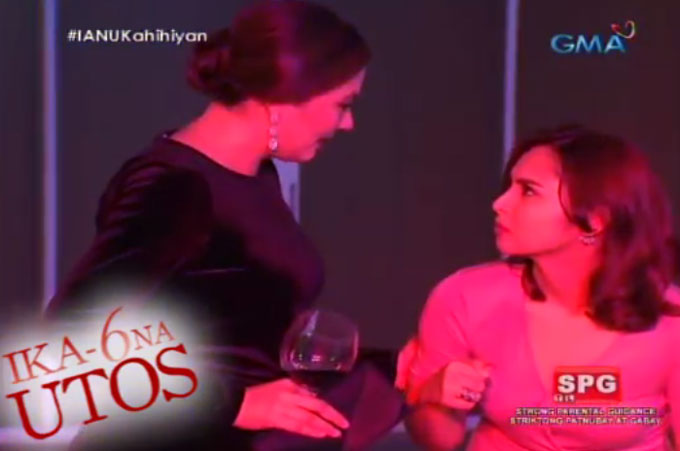 Apparently, Emma asked a waiter to put a substance in Georgia's drink that caused her to suddenly get LBM.
Georgia tried to go to the CR but Emma stopped her. She told her rival, "Hindi ko na kaya."
Emma then responded, "Anong hindi mo na kaya? Na nandito ako? Kayanin mo, Georgia, malayo pa ang finish line, at marami pang exciting na mangyayari!"
Georgia then ran away to rush to the bathroom. However, she bumped into a waiter, causing her to fart in public for everyone to smell.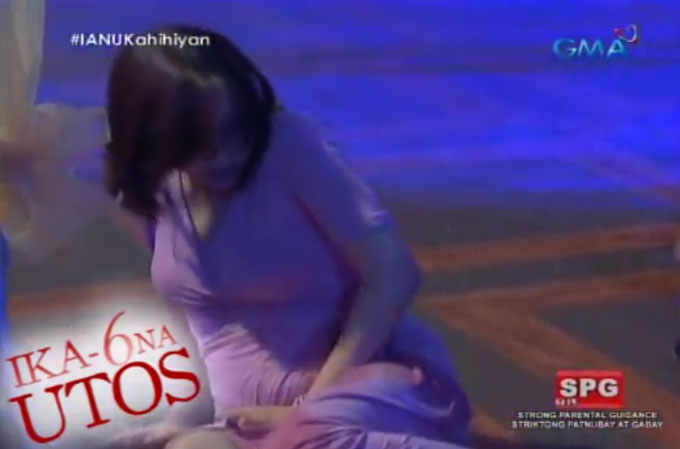 Emma quipped, "E, di lumabas din ang tunay niyang baho."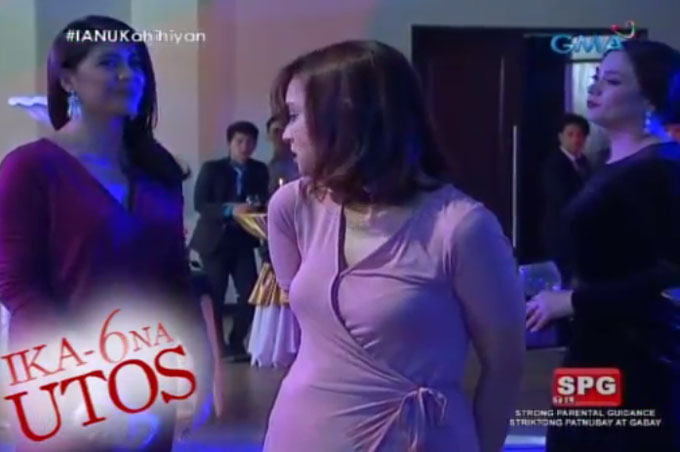 Emma and her best friend Flor then gave each other a high-five.

The video has already reached 1,071,009 views on Youtube.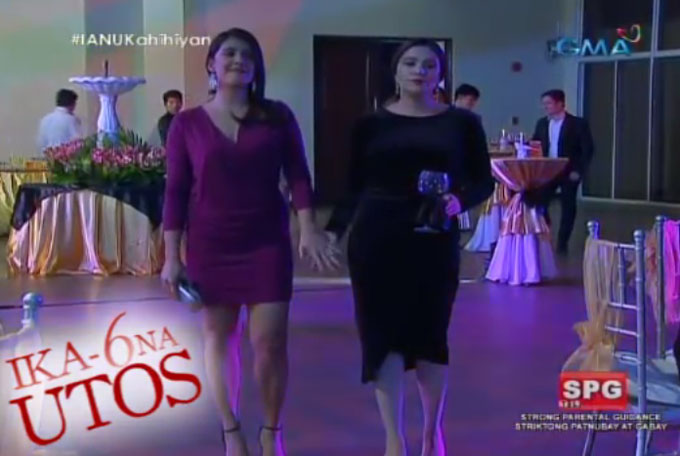 9. The dress fight
Even before fighting over a stroller and a bridal gown, Emma and Georgia already had a fight for a dress they both liked.
Emma believed that the extra small-sized dress won't fit Georgia, but she cannot lose in this battle.
Georgia had a hard time fitting into the dress, while Emma wore the dress perfectly.
Emma then observed, "Sigurado ka bang extra small ka? Kasi parang namumutla ka na at mukhang sakal na sakal na yung mga tubo ng dugo mo. E, kung makakapagsalita nga yung katawan mo, baka sinumpa ka na!"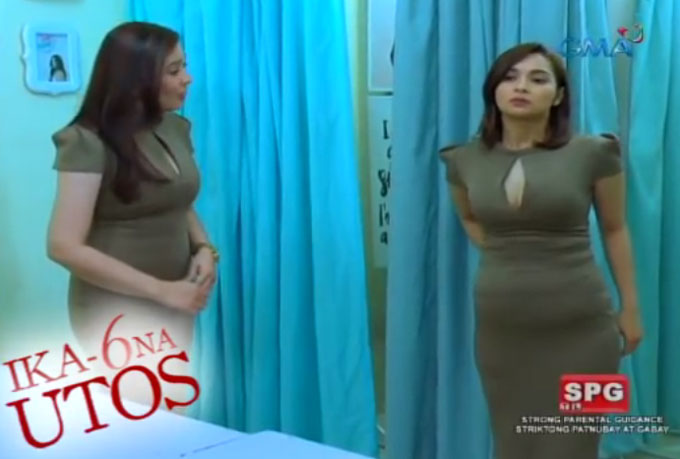 Emma admitted that she had been sending sweets to Georgia so that she would gain weight.
Georgia was about to give Emma a slap but her dress got ripped!
Emma blurted out more insulting words for Georgia. The latter tried to attack her, but she ended up falling on the floor, near a trash can.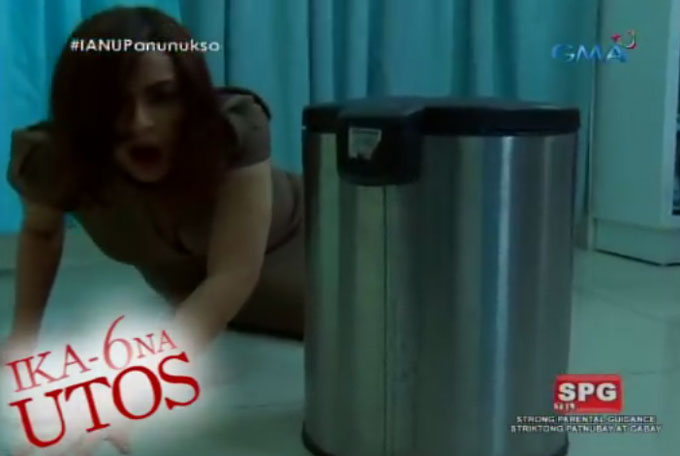 Emma then asked Georgia to put herself in place, most especially when it comes to Rome, "Huwag ka munang umarteng para kang asawa, dahil sa mata ng Diyos at sa mata ng mga tao, kabit ka pa rin. At ang mga kabit, binabasura 'yan ng mga lalaki para balikan ang mga tunay na asawa!"
As for Emma's last word, she gave this piece of advice: "If I were you, makipagbonding ka na sa basurahan. Because sooner or later, diyan ka rin itatapon."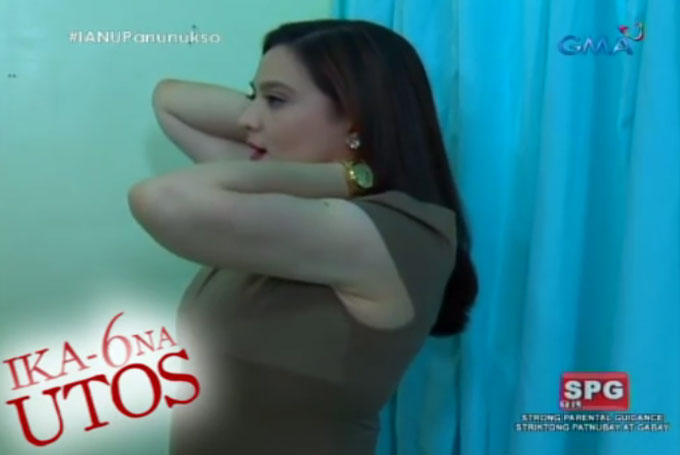 To date, the video has already 1,162,334 views on YouTube.


10. Mall scandal
This video has the highest number of views on YouTube. Currently, it has 1,171,131 views.
In the scene, Emma and Angelo rushed to Georgia and Rome while strolling at the mall.
Emma confronted Rome since he was trying to hide their only child, Austin.
Georgia then butted in the argument and insulted Angelo and Emma's relationship while bragging that she and Rome are already together.
Emma then answered, "At proud ka pa, ha! 'Yan ba Rome ang pinagmamalaki mo? Ganyang klase ba ang gusto mong tumayo bilang ina ni Austin, ha? Babaeng pinagsawaan na ng kung sino-sinong lalaki! Professional homewrecker at mistress, demonyo pa!"
Georgia then attacked Emma and a catfight happened as they reached the escalator.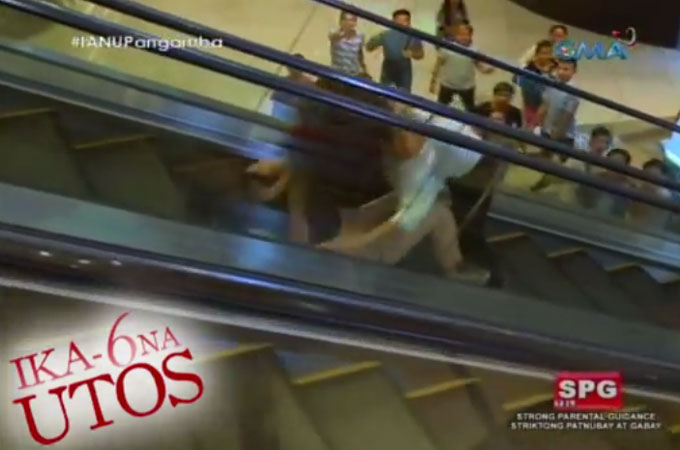 When Georgia realized that she could not win the fight, she tried escaping Emma.
However, Emma chased her and smashed an ube cake on her face!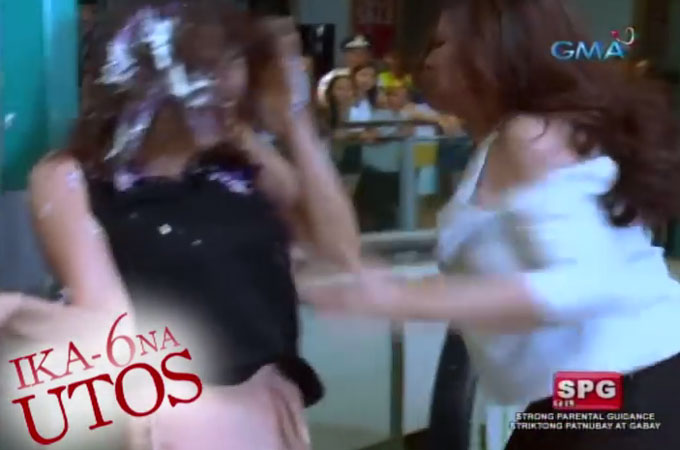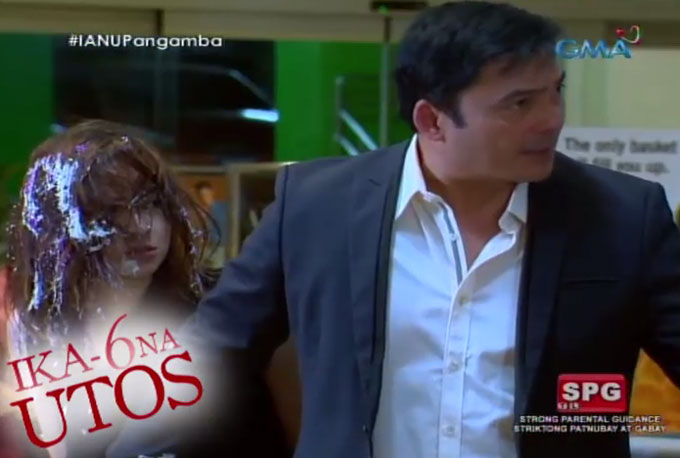 PEPsters, what are your favorite scenes from Ika-6 Na Utos?
Share your thoughts in the comments section below.