Ever since Ian King came out and admitted that she is a transgender called Angelina Mead King, people have been very interested in her relationship with Joey Mead.
The two got married in Los Angeles in November 2011. In July 2016, it became known through her Instagram account that the car enthusiast is now a trans woman nicknamed Angie.
In the June 22 episode of TLC's The Kings, Angie and Joey Mead opened up about their relationship and what they went through in order for them to stay together despite the challenges.
The TV special also highlighted the time when Angie got to personally meet Caitlyn Jenner, formerly known as Bruce Jenner.
Angie said about meeting the Olympic gold medal-winning track star: "Who am I to be having lunch with this person who is ultra famous?"
Joey Mead pointed out that Caitlyn owns a purple Porsche so she noticed Angie's car.
Caitlyn asked: 'Who owns this car?' and this paved the way for them to meet.
Joey Mead narrated, "I think she was asking more about the car and Angie said, 'I recently came out.' Caitlyn was like, 'Oh hey, good for you.'"
"I'm just watching this process like 'Here, can I have your number?'
Angie admitted, "Amazingly, she's so down-to-earth and super friendly which caught me off-guard.
"Hollywood portrays people in so many different ways. I'm sitting with an award-winning Olympian and she's gorgeous and it's just like amazing...and [I'm thinking] 'Is this real?'"
During the Q&A portion with fans, Angie added: "Caitlyn Jenner is an amazing person. She walked up to us in the car lot and I'm so happy that I get to bug her every time I'm in the U.S. and we get to have dinner and just talk about other things and we still reconnect to see how we can help the industry and support trans equality and gender equality."
Joey Mead even described Caitlyn as the "TFF" or trans friend forever of Angie.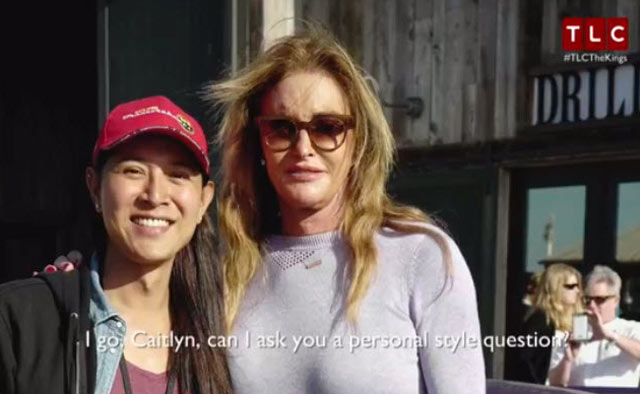 Here are 5 times that Angelina Mead King and Joey Mead proved that #LoveWins in The Kings:

5. Labels and definitions don't matter.
In the TV special, Angie is described as an alpha-male who is into cars and extreme sports. For this reason, it took a long time before Angie's male friends came to terms with her transitioning.
Angie disclosed that it took some of them two years before finally accepting her identity.
Xavi, Angie's childhood friend, put it best when he said:
"As long as they've got love for each other, regardless of what the definitions are. Those don't matter. As long as they love each other."

4. Philippine version of The Danish Girl
When Angie came out, there were those who considered her as the Filipino version of The Danish Girl.
This 2015 movie is based on the true-to-life story of a transgender artist who is one of the first people to undergo gender confirmation surgery.
Angie recounted the time when she went on her first shopping trip with spouse Joey Mead:
"I was nervous and my heart rate was like a million miles a minute.
"It's like the scene in The Danish Girl where you see Eddie Redmayne grabbing the dress and the stockings and you can see the emotions in his face, like the satisfaction.
"It was such a wonderful feeling, both nerve-wrecking and rewarding all at the same time."
She also considered herself lucky to have Joey Mead by her side.
"I think other transwomen would be super jealous of our relationship because she's my stylist, photographer, makeup artist, model mentor. "
3. Dealing with abandonment issues.
When Ian started cross-dressing, she asked her spouse if she could make it a permanent part of her lifestyle.
Joey Mead: "I don't believe I'm a conservative woman and when Ian told me: 'How would you feel if I lived my life like this daily?'
"It was a difficult process because I'm thinking: hang on.
"It was really wild and I was like, 'I don't think I can continue. I don't think that's where I can be.'
"That caused a lot of mental dilemma."
She continued: "What's wrong with me? I thought I was in a real dark pit of negative emotions.
"Why am I reacting this way when I was part of the beautification and that's okay with me. What's happening to me? Why am I not able to accept the full package of transition?
"That's when I realized that Ian changing into Angie was a form of abandonment.
"Hence, I was going through self-desctruction. The moment I understood this and what I was doing, and was able to forgive why I was doing this to myself, to my spouse, things started clicking."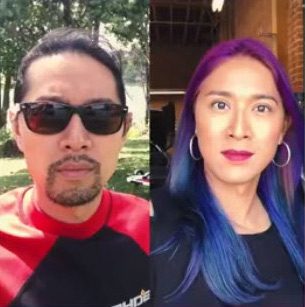 2. Being a trans lesbian woman.
Joey revealed that a lot of people are curious about her sexual preference now.

"People keep thinking, 'Are you a lesbian now, Joey?'"
"It made me think about titles like 'So what's your preference sexually'?
"Well, I've always appreciated women but I've never been drawn to them like on a sexual level."
Joey then asked her spouse Angie: "You know you're married to a woman so are you the lesbian?
"There should be a different term: trans lesbian woman."
Angie answered, "I'd say yes, I think I am because...
Joey quickly pointed out, "...you like women."
Angie confirmed, "Yes, I'm not attracted or turned on by men. It's confusing."

1. Love is all they need.
After everything they've been through, the two have reaffirmed their commitment for each other.

Joey tearfully admitted, "I don't see my life without this human being. I really love...I really love her and I knew that that's all I need.
"I'm fulfilled."

(Read: Joey Mead's husband Ian King is now a trans woman)