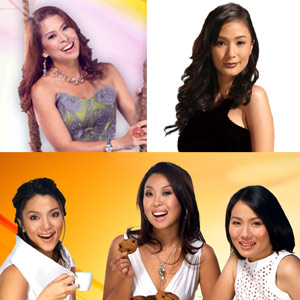 ---

Q Channel 11, the free TV channel catering to women, is allset to present three new locally produced entertainment shows that aims tobring more lifestyle offerings, A-list shows, and topnotch talents to Filipinoviewers.

Formerly called QTV 11, this TV channel will air the pilot episodes of HouseLife, True Confections and Fashionistas by Heart in the nextfew weeks.
House Life is ahome improvement show hosted by Tessa Prieto-Valdes, herself a licensedinterior designer. Joining her is ateam of young and talented interior designers: Tristan Jovella for thedo-it-yourself projects, and Aissa Gonzalez and Marilen Faustino-Montenegro forthe aesthetic concerns of the home. Tessa and her team will tackle anything andeverything to help viewers live their dream life in their dream home. HouseLife debuts on Q on September 29 (Monday) at 7:25 pm.
True Confections is athirty-minute weekend show that's simply hard to resist because it's all aboutsweets! Hosted by resident sweet tooth Sam Oh together with world-class pastrychefs Aileen Anastacio of Goodies and Sweets and Fleur de Lys Patisserie'sJackie Ang-Po, True Confections will share all the delicious secretsbehind everyone's favorite desserts from classic to modern, from simple(no-bake goodies) to fancy creations. True Confections begins October4.
Fashionistas by Heart ishosted by no less than stylish screen sweetheart Heart Evangelista. She will bejoined by two style spies, Jocas de Leon and The Debutante's ultimate ITgirl Shinina Juban. The show will be all about getting glammed up and lookingfierce and fabulous in the best, smartest way possible. Fashionistas byHeart will sashay on Q Channel 11 very soon.
All these new shows fit inperfectly with Q's current shows that are getting better and brighter everyday.
ADVERTISEMENT - CONTINUE READING BELOW

Other shows now airing on Q Channel 11 include cooking shows Ka-Toque,featuring the young and energetic chefs Darlo Lopez, Mitchie Sison, NiñoLogarta, Jonah Trinidad and Jeremy Favia; Quickfire, which featuresten-minute kitchen wonders from Chef Rosebud Benitez; and Chef to Go,hosted by top chef (and hottie) Chef Rob Pengson.
Intelligent discussions ofvarious woman-related topics are made available everyday from Monday to Fridayvia Moms hosted by the trio of Lani Mercado, Sherilyn Reyes, and ManilynReynes and The Sweet Life, hosted by Lucy Torres-Gomez, together withWilma Doesnt and Grace Lee. Giving viewers a weekly serving of exclusive andexplosive showbiz news is highly respected showbiz personality Ricky Lo on TheRicky Lo Exclusives.
There's also the award-wining inspirational show ProudlyFilipina, hosted by Charlene Gonzales-Muhlach; and the first-rate lifestyleshow Living it Up! featuring the stylish fab four Tim Yap, Issa Litton,Sam Oh, and Raymond Gutierrez, together with music correspondent Greggy Santos,just to name a few.
Thankfully, Q's efforts have been richly rewarded bythe support of its viewers and advertisers. This allows Q Channel 11 tocontinue to offer the best shows, to offer inspiration and fresh perspectives,and to go beyond entertainment; all to help viewers get more out of life.
Click
HERE
to view photos of Q Channel 11 shows.