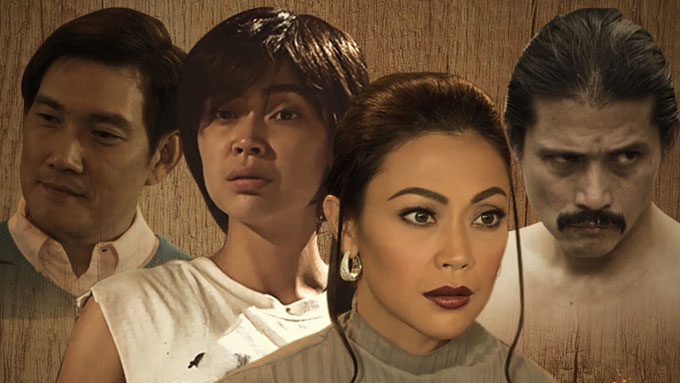 IMAGE From Star Creatives
---


Viewers have not seen Jodi Sta. Maria and Richard Yap in television since their smash hit Be Careful With My Heart aired its final episode in 2014.
The JoChard love team is reunited for Sana Dalawa Ang Puso, ABS-CBN's light-hearted morning series directed by Rory B. Quintos and May Cruz-Alviar.

Spicing up the new show is Robin Padilla, whose mustached presence was last seen in the 2017 movie Unexpectedly Yours.
The January 29 pilot episode showcases the same lighthearted, comedic tone that served as the foundation of Be Careful's magic.

Jodi plays two roles: there's Mona, the boyish daughter of poverty-stricken parents played by Edgar Mortiz and Alma Moreno.
Mona's family is the typical Filipino brood with financial difficulties. They live in a small shack that sits on the vast farmland of their boss, played by the venerable Leo Martinez. Money is tight, but they somehow make ends meet by taking care of their landlord's prized roosters and by co-managing a somewhat dodgy finance company. Thanks to their hardscrabble lifestyle,the family is just a few bucks away from buying back their old house, which serves as a treasure trove of their happiest memories.
Life takes a turn for the worse when one of their partners shuts down their finance company without warning, leaving them at the mercy of a thuggish client who will not have second thoughts of killing them if they don't cough up his money.
Jodi also plays Liza, the daughter of a powerful businessman named Juancho (Christopher de Leon). Charmed is the best way to describe Liza's life—she lives in a mansion straight out of Architectural Digest, she has tons of helpers at her beck and call, and she's the acting president of a cosmetics brand. The problem, however, is that company's products are having a hard time capturing a substantial share of the market, and the board is hounding Liza, telling her to sell it off.
ADVERTISEMENT - CONTINUE READING BELOW
Then there's another issue—it's 2018 and yet Liza's going to be married off by Juancho to Martin (Yap), the son of her father's sometime rival and now friend Miguel (Buboy Garovillo).
Since both Liza and Mona can pass off as twin sisters, viewers already have a pretty good idea how they can solve each other's problems. It doesn't hurt that Mona has already fallen head over heels for Martin after seeing him, in all places, in a dusty, crowded cockpit.
Audiences will have to wait and see how Robin Padilla's character will play a part in the conflict since he was not yet seen in the pilot episode.
AGB RATINGS. How did the pilot episode of Sana Dalawa Ang Puso fare in the ratings game based on AGB Nielsen data?

The new ABS-CBN romance comedy registered an AGB rating of 5.5%.

Its rival program in GMA-7, The Lolas' Beautiful Show, registered an AGB rating of 3.7%.

The Kapamilya rom-com got a TV rating that is 1.8 points higher than the Kapuso talk show.