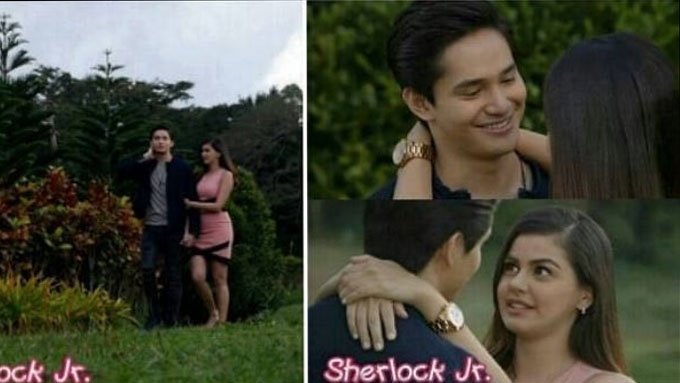 ---

GMA-7's newest primetime show, Sherlock Jr., aired its pilot episode on January 29, 2018. The show instantly showcased a mix of drama, comedy, and action—with the last one taking the spotlight when the story began.
Sherlock Jackson Jr. (Ruru Madrid) was about to buy food from a street vendor, when, suddenly, a masked man pointed a gun at him. The crowd dispersed as Sherlock fought the robber. When the robber fired the gun, the bullet came into slow-motion focus as it sped its way to Sherlock. At this point, a dog ran toward the leading man. Suddenly, the canine spoke and shouted, "Jack!"
The scene ends and the characters started moving in reverse, implying a flashback.
A voice over (Mikee Quintos) then started introducing the main character, Sherlock Jackson Jr., an investigative reporter.

The voice over mentioned, "Ayaw pala niyang gamitin ang pangalan niyang Sherlock. Galit kasi siya sa tatay niya. Kaya ang ginagamit niya ang palayaw niyang Jack."
"Siya ang amo ko," said the voice over as the scene showed photographs of Jack with a dog. The narrator dog continued, "Pero hindi siya ang bida ng show na 'to 'no—kundi ako, si Siri, the wonder dog." Siri revealed that Jack was not her original master.
The next scene proceeded with the introduction of a female character named Irene (Janine Gutierrez), a lifestyle reporter. The montage showed the history between Irene and Siri, as narrated by the latter.

In 2015, Irene bought Siri from a pet shop. Siri was instantly enamored the first time she saw Irene. Irene, however, first approached another dog, who was in a cage beside Siri. In the end, Siri was picked among other dogs.
ADVERTISEMENT - CONTINUE READING BELOW
The following scenes demonstrated the love that Irene and Siri's have for each other: Siri would sleep beside Irene; they would have breakfast together; and they would often play catch in the park.
One day, while watching TV, Irene came across a TV show where the character's parents had died. The story made Irene cry, "Kawawa naman siya, namatay na parents niya. Mag-isa na lang siya, parang ako." Siri, who was lying down beside Irene promised to never leave her. Irene, hugged Siri and promised that they would never leave each other.
A few years later, in 2018, while Irene and Siri were having picnic in the park, a guy slowly approached Irene from the back. The guy, whom Siri described as "panira" turned out to be Irene's boyfriend, Jack, who was trying to cover her eyes and surprise her.
Siri relentlessly barked at Jack, who was also obviously afraid to go near Siri. Jack explained to Irene that his fear of dogs stemmed from an experience when he was a child, where he was bitten by a dog, and had to be injected with medicine 12 times. Siri, in her mind, was also expressing her disdain for Jack.
After the picnic, Jack, Irene, and Siri started walking at the park, when suddenly two guys on a motorcycle passed by them, and one guy stole Irene's bag.
Jack and Siri ran after the motorcycle. After a tiring chase, Siri got to one of the guys first, while Jack took the other one down. Siri was proud to have protected her master. The scene ended with Jack apparently disappointed because he didn't catch the attackers first, and couldn't protect his girlfriend as fast as he wanted to.
ADVERTISEMENT - CONTINUE READING BELOW
The next scene introduced Perla (Ai-Ai delas Alas), the fast-talking, caring mother of Jack; Jenny (Kate Valdez); and Caray (Sofia Pablo). Perla was seen collecting articles written by Jack and putting them in a scrap book. When Perla mentioned Sherlock's name, Jack annoyingly reminded his mother how he hated his real name. It was then explained, through Jenny, that Jack hated his father because his father left him and Perla, while Perla was pregnant with Jack.
The scene also showed how, while cranky all the time, Jack is a fatherly brother: he told Jenny to not use the phone while eating and reminded Caray to eat her vegetables.
As they were about to finish eating, two drunken men started banging at the gate of their home. It turned out that one of the men was Jack's stepfather, and Perla's second husband, Rado (Roi Vinzon). While Perla was helping her husband to the house, Jack looked at his father, and scolded him for his behavior. Rado called Jack his "panganay," to which Jack replied, "Hindi mo ako anak."
Viewers were introduced to a police officer and a good friend of Jack named Pido (Andre Paras). Jack opened up about his problems at home to Pido, who told him that at least his stepfather didn't leave his mother, like his real father did before he was even born. It is through this conversation that it was revealed that Jack's father is British.
Before the scene ended, Jack was looking at the police records of one Mr. Lau, and mentioned a lead in the investigation, who could actually be dead already.
ADVERTISEMENT - CONTINUE READING BELOW
At Jack's home, Jenny was reading one of the Sherlock Homes series novels. Jack saw this and confiscated the book, which made Jenny angry.
When Perla arrived, she saw Jenny's expression and asked what made her angry, which Jenny explained. Perla then reminded Jenny that Jack hated that book so much because it was the only thing that his father left him.
In the next scene, Irene called Jack and invited him for a walk. During the walk, Irene again tried to convince Jack of the greatness of his name, saying that the character that he was named after (the fictional detective in the books by Arthur Conan Doyle), has films, TV shows, and books. Plus, she reminded Jack that she shared the same first name with Sherlock the detective's greatest love: Irene Adler. Jack reminded her that Sherlock and Irene didn't end up together. Irene assured Jack that their story would be different, and they would never leave each other's side.
In the next scene, Irene brought Siri to Jack since she needed a dog sitter while she was away in Baguio for an assignment. Hesitantly, Jack agreed, and brought Siri with him to his car as he was going home.
Upon arriving home, Siri rushed to the living room and toppled everything that was in her way. When Jack entered the room, he saw the chaos that Siri created and screamed, "Serena!"
AGB RATINGS. How did the pilot episode of Sherlock Jr. fare in the ratings game based on AGB Nielsen data?
ADVERTISEMENT - CONTINUE READING BELOW
The new GMA-7 teleserye registered an AGB rating of 11.4%.
Its rival program in ABS-CBN, FPJ's Ang Probinsyano, registered an AGB rating of 12.1%.
The Kapuso teleserye got a TV rating that is 0.7 points lower than the Kapamilya action-drama series.