Erich Gonzales's The Blood Sisters experienced an editing glitch yesterday, March 1.
A Facebook post showing the glitch went viral today, March 2, after a user named Keith Lim posted a clip from the said episode.

The Blood Sisters features Erich Gonzales portraying the triplets Erika, Carrie, and Agatha.
The clip shows Erich's characters Carrie and Erika meeting the former's boyfriend Samuel (Enchong Dee).
Erika enters the scene and as Carrie moves closer to her, Carrie's right arm suddenly faded.
Keith wrote in his post, "Dili perfect pagka edit. Ayuha pod ninyo Dreamscape oi! Naputol ang arm ni Carrie pag sud ni Erika..."
The caption, in Tagalog, reads: "Hindi perfect ang pagka-edit. Ayusin niyo naman Dreamscape! Naputol ang braso ni Carrie nung pumasok na si Erika."
Dreamscape Entertainment is the drama unit helming The Blood Sisters.
Currently, the post, which was shared to public, has already more than 6,300 reactions and 10,000 shares.



The post received mixed reactions from viewers.
While some netizens joked about it, there were others bashing the user for his harsh words against the drama series.
There were others who defended the user who uploaded the video.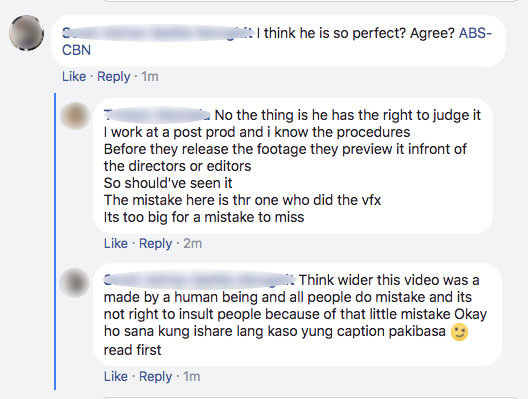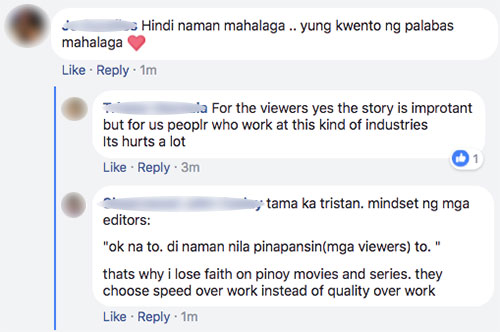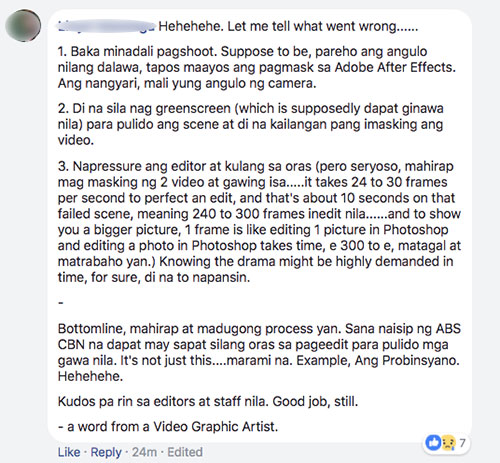 In recent episodes, Erika and Carrie have already crossed paths, and are now living together under one roof.
Agatha, who is currently in Baguio, is set to go to Manila to find a job.
ABS-CBN have been airing teasers about the triplets meeting soon.