The rain is an important element of a teleserye.
At times, it becomes a backdrop that is used to add dramatic effect to a scene—specifically in romantic kissing scenes.
It adds flair to confrontation scenes and fight sequences and it enhances the mood, especially when the lead character is delivering dialogue underneath the pouring rain.

PEP.ph (Philippine Entertainment Portal) listed down 10 memorable scenes in Filipino teleseryes involving rain:
JAMES REID AND NADINE LUSTRE IN ON THE WINGS OF LOVE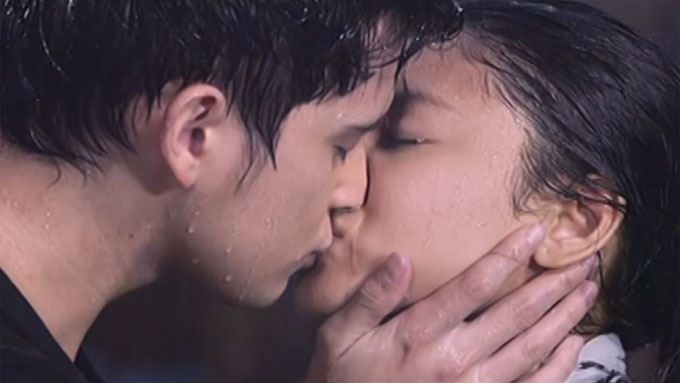 Leah (Nadine) tried dating another guy, despite being "married" to Clark (James) in the United States.
However, her attention shifted to Clark when she saw him going out with another lady.
Despite the heavy rain, Leah followed Clark outside the bar and regretted her desire of dating another man.
She was then surprised to see Clark behind her, and asked if she's looking for him.
Leah, now wet, got irritated by Clark's questions and dismissed his presence while obviously showing her jealousy. Leah later asked him why he left his date and came back for her.
He answered, "May nagsabi sa akin, kapag mahal ka, babalikan ka."
Clark removed the hood covering his head, and gave Leah a passionate kiss on the lips.
ALDEN RICHARDS AND MAINE MENDOZA IN DESTINED TO BE YOURS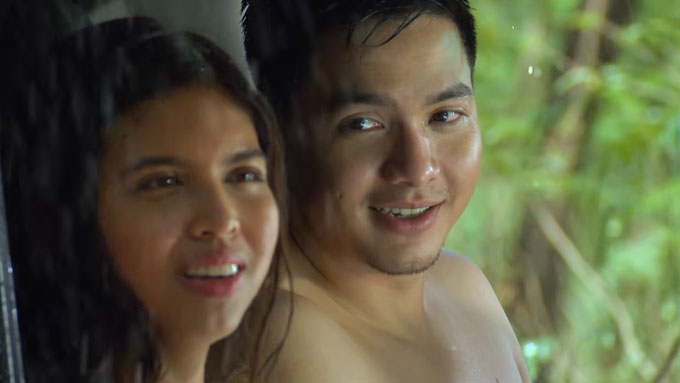 Benjie (Alden) and Sinag (Maine) got lost in a forest, causing them to fight.
Sinag even threatened Benjie that she will leave him.
In the middle of their argument, it began to rain heavily and Sinag immediately went inside Benjie's car.
Still visibly irked, Sinag dismissed all of Benjie's questions—causing him to keep quiet.
He suddenly took off his wet shirt to change to dry clothes.
Sinag was surprised to see her ex-boyfriend topless, and looked away from him.
Benjie then teased Sinag, "Pwede mo namang tignan."
Sinag tried to hide her smile and teased Benjie: "Akala mo naman, may abs ka! Laki ng tiyan mo, huy!"
LIZA SOBERANO AND ENRIQUE GIL IN FOREVERMORE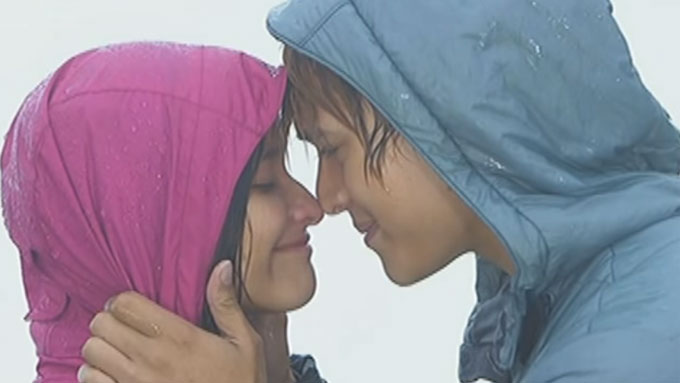 In the show's final episode, Agnes (Liza) climbed Mt. Pulag alone, despite wishing that her love Xander (Enrique) is with her.
She thought it wouldn't happen since they already broke up.
As she looked at Mt. Pulag, Agnes talked to herself out loud and professed her love for Xander.
Rain started to pour down, adding to Agnes's sadness,. She was thinking that no one would reply to her declaration of love.
However, she was surprised to hear Xander's voice. Apparently, he followed her.
On the mountain, Xander proposed marriage to Agnes.
Agnes, of course, said yes.
Xander then shouted, "May forever!" before they did their sweet nose-to-nose gesture.
CLAUDINE BARRETTO IN IISA PA LAMANG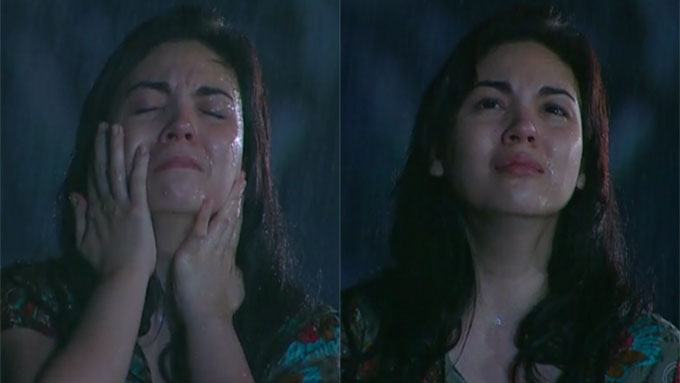 Catherine (Claudine) and her lola Aura (Susan Roces) are often insulted and treated badly by Isadora (Cherry Pie Picache).
One night, Isadora rudely asked them to leave their house located inside Hacienda Amadesto.
Aura confronted Isadora and fought for their ownership.
They engaged in a physical fight and Aura ended up spitting at Isadora's face.
Isadora then pointed a gun at Aura, forcing her and Catherine to leave their house.
As they were leaving Hacienda Amadesto, with the workers and Isadora watching from afar, rain suddenly poured down.
Catherine, who was the victim of Isadora's evil ways, looked back on the hacienda as raindrops trickled down her face.
She then vowed, "Babalik ako. Maniningil ako. Pinapangako ko, kukunin ko lahat ng kinuha niyo at inagaw sa akin."
COCO MARTIN AND ARJO ATAYDE IN FPJ'S ANG PROBINSYANO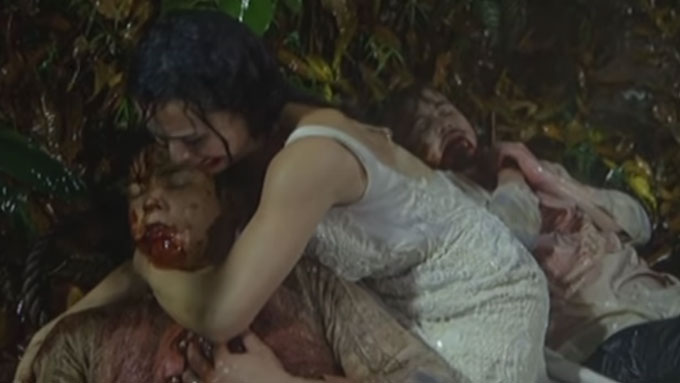 During the wedding of Cardo (Coco) and Alyanna (Yassi Pressman), Joaquin (Arjo) plotted to get his revenge and kill Cardo.
As the rain poured down, Joaquin kidnapped Alyanna and tried to rape her.
Cardo came to rescue Alyanna and had a physical fight with Joaquin as they rolled around in the mud.
This epic fight was put to an end when Cardo stabbed Joaquin in the neck.
RK BAGATSING IN WILDFLOWER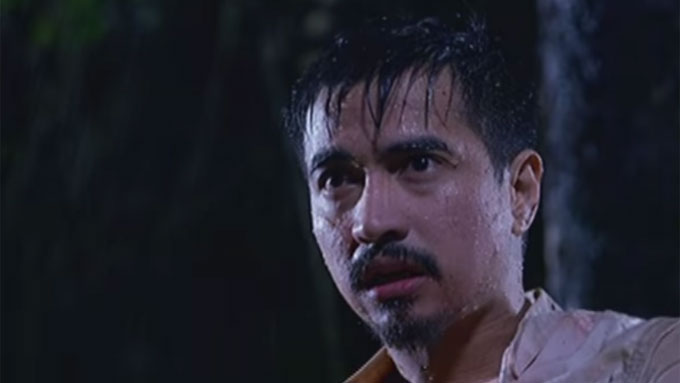 Arnaldo (RK) planned to kill Lily (Maja Salvador) and Diego (Joseph Marco) on the night of their honeymoon.
Arnaldo first rushed to Lily and Diego's room and tried to kill them.
Since Arnaldo was able to escape, Lily went out to catch him while Diego followed.
Diego caught up wth Arnaldo and they rolled around in the mud caused by the heavy rainfall.
After Arnaldo knocked Diego down, he pointed a gun at the newlywed couple.
Lily reminded Arnaldo of his sins, and told him that no one will love him because he is a criminal.
This triggered Arnaldo's insecurities and caused him to kill himself.
KYLINE ALCANTARA IN KAMBAL KARIBAL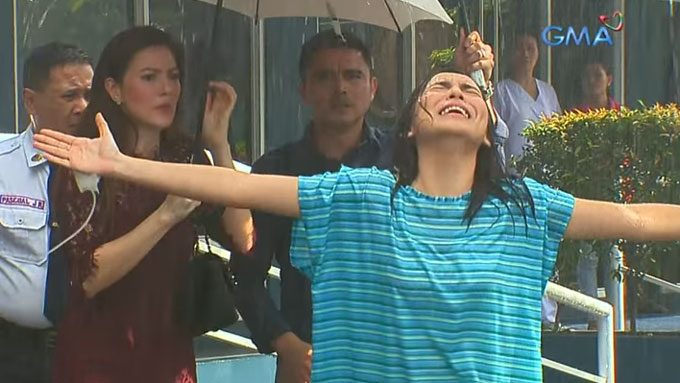 In the early episodes of Kambal Karibal, Crisel (Pauline Mendoza) was surprised that her attempt of getting inside Cheska's (Kyline) body succeeded.
After finding herself inside Cheska's body, she immediately stood up and went outside the hospital.
Seeing the heavy downpour, Crisel was reminded of her childhood when she was not allowed to play in the rain because of her illness.
Without thinking that she is using Cheska's body, Crisel rushed outside the hospital and played in the rain.
Cheska's mother Geraldine (Carmina Villarroel) was surprised to see her daughter playing outside the rain even though she was still hospitalized.
DINGDONG DANTES IN ENCANTADIA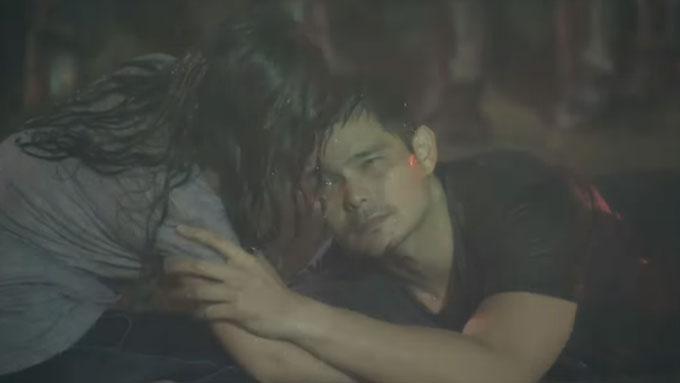 In the first week of Encantadia, Raquim (Dingdong) met his death when Hagorn (John Arcilla) and his pack of Hathors entered the mortal world to find him and the young Amihan (Angelica Ulip).
Raquim faced Hagorn and Hathors in the middle of a heavy downpour.
He almost won against the battle but eh got distracted upong seeing Amihan being tortured by Agane (Rochelle Pangilinan).
This allowed Hagorn to stab Raquim three times, leading to his death.
DENISE LAUREL AND CHRISTIAN VASQUEZ IN NASAAN KA NANG KAILANGAN KITA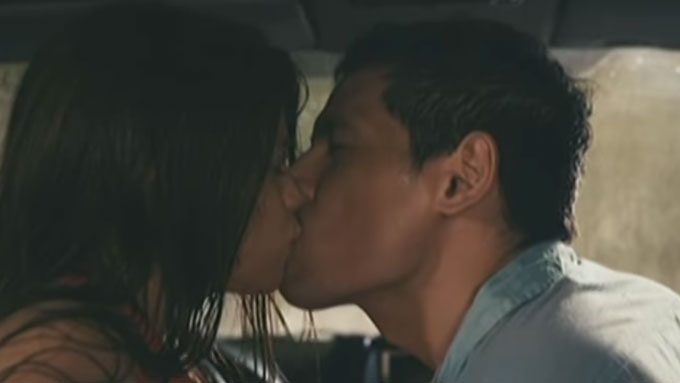 Leandro (Christian) and his student Toni (Denise) were talking at a parking lot when the rain suddenly poured down.
They rushed inside Toni's car and dried themselves off with a shared towel after getting wet.

After exchanging naughty glances, the two suddenly gave each other a passionate kiss and made love inside the car.
There's just one problem in this situation—Leandro is married to Cecilia (Vina Morales).
RICHARD GUTIERREZ AND CHYNNA ORTALEZA IN HABANG KAPILING KA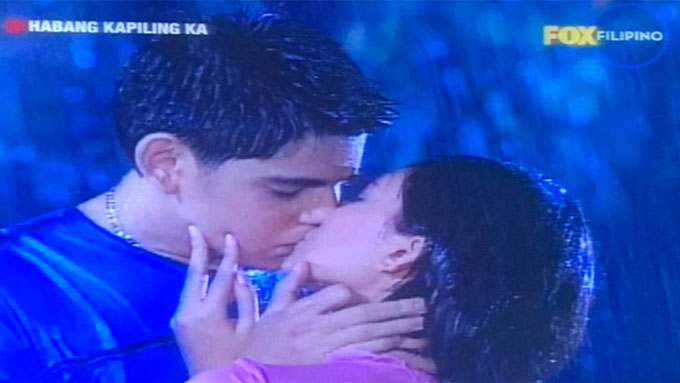 In this scene, Basillio (Richard) was trying to win back the love of Donna (Chynna) after their break-up.
Basilio waited for Donna to come out of her house but he was caught in a sudden downpour.
Donna went out with an umbrella to fetch Basilio. Before they entered the house, Basilio kneelt in front of Donna and asked for forgiveness.
Donna asked him to stand up, threw away her umbrella, and gave him a sweet kiss in the pouring rain.