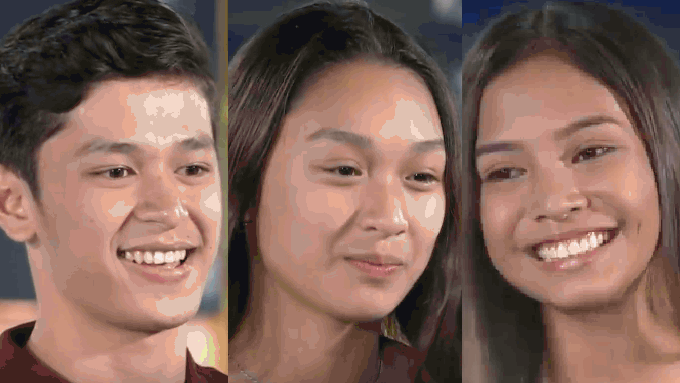 ---
Emotions ran high in the Pinoy Big Brother Otso house as another teen housemate got evicted out of the house.
The latest evictee was Aljon Mendoza, the 17-year-old Shy Charmer ng Pampanga.
Aljon only received 22.13% of the public SMS votes. He lost to Kaori Oinuma, Karina Bautista and Jelay Pilones, who garnered 30.15%, 24.31% and 23.41% respectively.
Karina sobbed heavily after Aljon's eviction was announced. The two were almost inseparable in the house as best friends, the term they chose after they got closer to each other. They had to set boundaries because Karina has a boyfriend in the outside world.
The Star Dreamer voted by the public to move from Camp Star Hunt to Bahay ni Kuya is Reign Parani. Reign became an official teen housemate after getting 35.72% of the public votes. He beat fellow Star Dreamers Kurt Herona, Sansan Dagumampan, and Gian Wang, who garnered 35.72%, 20.01% and 12.91%, respectively.
Reign, tagged the Sporteen Sweetheart ng Canada, was known in Camp Star Hunt for her bright and friendly personality. She entered Camp Star Hunt two weeks ago, during the night of Art Guma's eviction.
ADVERTISEMENT - CONTINUE READING BELOW
Lastly, the newest Star Dreamer is Lienel Navidad, a 16-year-old beauty queen from Albay.
NOMINEES.
The four nominees were Aljon, Jelay, Karina and Kaori.
There was no usual nomination round this week. Instead, the nominees got onto the eviction block via two different reasons.
Aljon's nomination was a penalty because of a rule violation. He was caught threatening ex-housemate Criza with a nomination in the previous week.
Then Jelay, Karina and Kaori were nominated because they had the shortest times in the last episode's Ligtask challenge, were they had to transfer exotic animals from one glass cage to another.
Lie, Seth, Ali and Rhys did this Ligtask challenge quickly, so they were saved from eviction.
NEW HOUSEMATE.
This week, the Star Dreamers in Camp Star Hunt had to work in a parol factory. They were divided into two teams of four. Team A had Reign, Kurt, Sansan and Gian. Team B had Missy, Achilles, Gabby and Krist.
ADVERTISEMENT - CONTINUE READING BELOW
The two teams learned how to create small parols that they have to sell to the public. They also had to create a large parol each, and these were posted on Facebook so that the netizens can vote for the parol that they like the most.
The winning team was judged according to the amount of their parol sales and the number of likes they received on Facebook.
The team with the highest sales was Team A, but Team B received the highest likes.
Aling Vicky, the parol-maker who guided the Star Dreamers for the task, gave the tie-breaker. She chose Team A because they were more harmonious as a team. Team B had problems because Gabby could not get along with Krist.
Because Team A won, Reign, Kurt, Sansan, and Gian were given the chance to become an official teen housemate.
NEW STAR DREAMER.
The newest Star Dreamer was introduced to the public. She was Lienel Navidad, tagged the Beauty and the Best Ate ng Albay.
ADVERTISEMENT - CONTINUE READING BELOW
The 16-year-old beauty queen has won several pageants in her hometown. She said she wants to become a housemate to help her family and her brother who has Down's Syndrome.
Before the episode ended, Kuya revealed to the housemates that they will have a new challenge this week called DecemVersus.
Here, they have to battle Star Dreamers in several challenges so they can win a Christmas gift for themselves. If they lose, two of them will be evicted.
How will the housemates react to the existence of Camp Star Hunt? Viewers will find out in the next episodes.