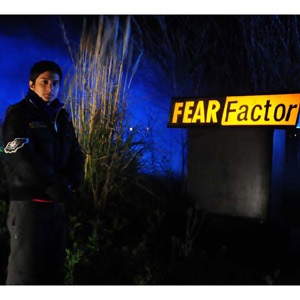 ---
The reality show-competition Pinoy Fear Factor premiered on ABS-CBN last night, November 10. Host Ryan Agoncillo will be seenweeknights as he guides 12 participantes(7 men and 5 women) ontheir journey to test their physical strength and mental tenacity in aseries of challenges and Hollywood-like large-scale stunts in Buenos Aires,Argentina.
The Pinoy Fear Factorhost was first seen by viewers as he prepared to ride a motorbike, remindingeveryone that this is one his hobbies. Despite the hazards of this hobby, Ryancontinues to be passionate about riding. He himself narrated that he was downfor two weeks because of an injury he incurred while riding a motorbike sevenyears ago.
Ryan then revealed that the participantes had to travel twocontinents or a total of 19,196 kilometers away from the Philippines to facetheir fears and get the chance to win the grand prize of P2 million and a house& lot.
Pinoy Fear Factorthen gives viewers some drama as the participantes narrate the story of theirlives. From Hotel Rembrandt in Quezon City, the viewers are shown how the otherparticipantes were secured and whisked away to the airport.
ADVERTISEMENT - CONTINUE READING BELOW
The viewers are first introduced to 20-year old RJCalipus Jr., a kargador and father of 2 from Tondo, who is hoping togive his kids a better future should he win the contest. On the oppositespectrum is Phoemela Baranda, 27, TV host and model from BF Homes,Parañaque. She is hoping to show her other side, apart from the image that thepublic sees when she reports on entertainment news.
Jose Sarasola, 22, an aspiring chef, who works in aMakati hotel feels that joining the show will give him something different.This is not the first time Jose has joined a contest. He also joined in Studio23's Wazzup Wazzup Zupistar TV hostsearch two years ago. Another young participante is 21-year old MarionAngelo dela Cruz, a balikbayan from Austria but resides in Valenzuela. Hesaid that he would not be able to eat the exotic food that the show will offer.
The participantes take a four-hour flight from Kuala Lumpur,Malaysia. On the plane, the youngest participante, Janna Dominguez ofMalabon shows off "Bonbon," a lion stuffed toy that represents her family. Sheshows her playful side by playing with a kid passenger. Elmer Felix is a25-year old Kapampangan and veterinarian. He challenges his fellowparticipantes by saying that he has a lot to offer.
ADVERTISEMENT - CONTINUE READING BELOW
At the Kuala Lumpur stopover, 25-year old Gail Nicolas ofQuezon City surprised viewers with the fact that she has been working alreadysince she was 17 years old. She got her biggest break when she was hailed asthe winner of the 2007 Mossimo Bikini Summit. Right now, Gail is one of thefive cover girls of FHM's November issue.

Collegiate basketball player Ram Sagad had some encouraging words fromhis brother. The 23-year old hopes that his athletic skills will give him anadvantage during the competition.
Struggling businessman Manuel Chua, 21, fromCabanatuan City wishes to be a good provider for his daughter. SavannahLamsen, 23, a ledge dancer from Quezon, dreams of entering showbiz so thatshe can give her family a comfortable life.
The group made a stopover at Johannesburg, South Africa andthen had a two-hour flight to Cape Town also in South Africa.
Jommy Teotico then makes a funny revelation that thegroup hadn't taken a bath yet for nearly 48 hours. The 24-year old model is aformer playboy who hopes that winning the show will ultimately change his life.LJ Moreno, 27, a pre-school teacher chose to change her life as wellwhen she decided to quit showbiz and get a college degree.
ADVERTISEMENT - CONTINUE READING BELOW
After the 12 participantes introduced themselves, Ryan welcomedthem at El Campo Miedo in Buenos Aires. This also starts the confusion oftranslating everything from Spanish to English that you would see for the restof the show.
The participantes were then escorted to their quarters todeal with jet lag and the coldness of the Argentinian winter.
A couple of the contestants wake early the next day, notknowing what time it was. The participantes did some early morning exercisesand had some fun as well. The girls tested Savannah by blindfolding her andletting her guess whose abs she was touching.
MECHANICS. Pinoy Fear Factor host Ryanemphasized that the stunts were designed by trained professionals and not to becopied at home. The participantes stride confidently to the venue where thechallenges will take place.
There are three elimination rounds where the participantesare given challenges they must survive. The bottom six participantes of thefirst round will go on to the next round of eliminations. The bottom three ofthe second round will go on to the third elimination round. The participantewho performs with the longest time, does not finish the task, or does not dothe stunt gets eliminated and goes back home to the Philippines.
ADVERTISEMENT - CONTINUE READING BELOW
On the other hand, the top six of the elimination round getto participate in another round of stunts where only the best participante getsthe top prize. And at the end of the show only one shall be hailed as the ElUltimo Participante of Pinoy Fear Factor.

The Philippines is the 30thcountry to do a local version of Fear Factor in Argentina and the third country to use the Fear Factor Extreme formatfollowing South Africa and India.

Argentina was chosen amongthe four existing Fear Factorhubs in the world that include the United States, Malaysia and South Africa,because stunt experts, and resources are readily available in the saidcountry.

Pinoy FearFactor: Argentina,South America,hosted by Ryan Agoncillo, airs weekdays after I Love Betty La Fea onABS-CBN.