The first batch of teens of Pinoy Big Brother Otso ended in a cliffhanger.

In the last episode, viewers were introduced to the Big Four: Karina Bautista, Lie Reposposa, Jelay Pilones, and Kaori Oinuma. The public was advised to send their SMS votes to determine who among these will be the batch winner.

In the episode aired tonight, January 6, on ABS-CBN, they did not reveal who won in the voting. Instead, the voting percentages were just revealed without identifying who got what.

The percentages are as follows: 37.48%, 29.22%, 23.52% and 9.79%.

After the voting was halted, the teen Big Four were able to get out of the house to make way for the next set of Star Dreamers, composed of adults.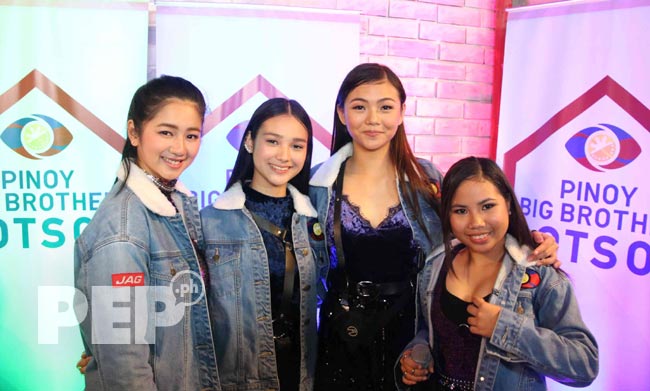 NEW STAR DREAMERS
This episode also marked the start of the second batch of housemates for PBB Otso. This time, regular adult housemates will be featured for eight weeks.

There is a format change for this second batch. Instead of having eight housemates from the start like what happened in the teen batch, all of the adults have been put in Camp Star Hunt.

Camp Star Hunt has also been split into two camps, with four adult Star Dreamers each. They will compete with each other to win a spot in the main house.

Camp A had the following Star Dreamers:

* Abi Kassem - Kolehiyala Cutie ng Isabela

Abi is a 20-year-old college student who grew up in Lebanon with her Lebanese father and Filipino mother. She had to come back to the Philippines when her father died.

* Mitch Talao - Trans Mama ng Lucena

Mitch is a 29-year-old transwoman who is proud of her family life. She has a baby with her lesbian partner.

* Andre Brouillete - Amazing Alo-Hunk ng Hawaii

Andre is a 21-year-old model-actor with an American father and a Filipino mother. He went to the Philippines four months ago to pursue a career in showbiz.

* Mark - Incredible Itay ng Compostela Valley

Mark, a 34-year-old senior high school teacher, hopes to reunite with his estranged father. He had to become a boxer when he was young because he was not receiving any financial support.

[Note: Mark's surname was not mentioned in his VTR or his introduction, and is not yet listed in the PBB official pages as of press time]

Camp B had these four Star Dreamers:

* Yamyam Gucong - Iskulit Bai ng Bohol

Yamyam hopes to infect everyone with his positive personality. This 25-year-old wants to enter the PBB house to experience the life of the rich.

* Fumiya Sankai - Konichi-Wonder Vlogger ng Japan

Fumiya is a Japanese citizen who fell in love with the Filipino culture after spending time here to learn how to speak English. He is a popular vlogger in YouTube, where he has more than 285,000 subscribers.

* Lou Yanong - Rampa Sister ng Mandaluyong

Lou is a 21-year-old model who thanks her sisters for helping her live independently while she pursues a career in modeling. She is proud of her boyish and unique personality.

* Apey - Binibining Daldal ng Gensan

Apey is a 22-year-old who loves being the jester. She grew up without parents, so she is masking her sadness with her jolly personality.

[Note: Apey's surname was also not mentioned in her VTR or her introduction, and is not yet listed in the PBB official pages as of press time]

Eight more adult Star Dreamers will be introduced in the next episode.

These 16 Star Dreamers will face challenges so that Big Brother can determine who among them should become the official housemates.

An interesting narrative twist was revealed before the show ended: Mark from Camp A and Apey from Camp B are long-lost siblings. How will they react when they see each other and once they learn their history?

Viewers will find out in the coming episodes of PBB Otso.