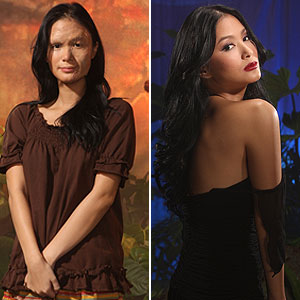 ---

Philippine folklore is replete with tales of another world where mythical creatures dwell deep within the forest. These beings live in a different realm, far away from mortals.

These mythical creatures are called the Engkantos, who, unknown to many, still nest in the fringes of humanity. And from their dark origin comes a mystic tale full of enchanting revelations and transformations.

This is the story of Luna Mystika, GMA-7's highly-awaited telefantasya set to illuminate a magical and entrancing glow on the landscape of primetime TV starting November 17 on the Telebabad block.

Luna Mystika features the country's most promising stars in plum roles as it boasts of a riveting storyline certain to captivate the fascination of Filipinos of all ages and walks of life.

Leading the powerhouse cast are GMA-7's most bankable and sought-after stars--Heart Evangelista and Mark Anthony Fernandez--who will be paired together as love teams for the first time on television.

Heart plays the dual title roles of Luna, a kind-hearted girl born with a hideous face, and her mystical twin sister Celestina; while Mark portrays Dexter, a blind lad who is torn between the love of Luna and Celestina.

Joining Heart and Mark in this spellbinding saga are Dante Rivero as Joaquin Sagrado, Chanda Romero as Benita Alejandro, Sheryl Cruz as Alice Sagrado, Romnick Sarmienta as Dominic, Rita Avila as Diana Sagrado, Gardo Versoza as Dante, and Ariel Rivera as Simon.

Completing the cast are Mark Herras as Kamilo, Luis Alandy as Andoy, Kris Bernal as Malou, Aljur Abrenica as Libado, Iwa Moto as Donita, John Lapus as Karya, Beth Tamayo as Lanie, Pauleen Luna as Adita, Michelle Madrigal as Anata, Hero Angeles as Alguwas, Mosang as Piryang, Marky Lopez as Efren, Bearwin Meily as Bikodong, Melissa Mendez as Bessie, Jade Lopez as Susing, Paolo Avelino as Johnny, Prince Stefan as Henry, and Survivor castoff Jace Flores as Lucas.

The story begins in the outskirts of Barrio Mausok where the town folks still believe in the presence of Engkantos. There lives the affluent Sagrado Family, Joaquin and Benita and their two beautiful daughters Alice and Diana.

The two sisters' beauty is a sight to behold in the barrio as men fall head over heels in love with them. But Diana apparently attracts more suitors than Alice causing the latter to harbour enmity for the favored one.

What infuriates Alice more is that even her lover, Dominic, falls in love with Diana. Surprisingly, regardless of her countless suitors, Diana gives her heart to Simon, a beastly-looking young man with a distorted face feared to have descended from the Engkantos.

Soon the news spread about their relationship and Diana's parents try to end their romance. However, it's too late since Diana is already with a child. The parents believe that they have only one choice and that is to get rid of the baby. But Dominic immediately comes to help Diana and brings her to Manila. This further aggravates Alice's hatred towards her sister.

During her pregnancy, Diana thinks she will have twins since her tummy is so big. But upon her delivery, only one baby comes out, much to her bewilderment. Unknown to them, aside from the human baby Luna, Diana also gives birth to a baby in the form of a shadow!

Diana will leave her baby Luna in Dominic's care to look for Simon while Luna grows up having Celestina, her twin shadow as her only friend. Since Luna's biological father is Simon, she also bears his ghastly features and is often taunted by her friends. At these moments, Luna finds Celestina by her side.

When Luna turns seven, Dominic decides to bring her back to her relatives in Barrio Mausok. But her fate in the hands of her real family becomes a horrifying nightmare filled with sufferings and hardships. Worse, Alice and her wicked daughter, Donita, make it their business to torment poor Luna. Around this time, Luna will meet Andoy, son of an albularya and Dexter, a blind boy who detests the Engkantos.

Life will change when Luna and Celestina become teenagers. Celestina appears to be unhappy with just being a shadow to Luna and yearns to have a body of her own. On their visit to the forest, Luna eats a fruit from an enchanted giant tree. This fruit turns out to be key to their mysterious origins. When the moon shines brightly at night, Celestina will transform into a fair-skinned and alluring woman and Luna will become her shadow but during the day, Luna will once again regain her body and Celestina returns to her shadow state.

Upon Dexter's return, he will search for Luna, his first and only love. Fearing Dexter's rejection, Luna hides her horrible appearance from Dexter and waits for the night to come just in time for Celestina to get hold of her body. Eventually, Celestina falls for Dexter. Despite this deception, Dexter sees better and he knows the real Luna, the woman he loves.

Following Dexter's rejection, Celestina despises Luna and schemes to destroy her twin sister!

Will their common affection for Dexter destroy their relationship as sisters? How far will Celestina's selfishness drive her to evil? Will Luna ever get a chance to be with the one she truly loves? And will Celetina's wicked plans prevail?

Witness the mystical and enchanting world of Luna and Celestina, in this top-notch production under the helm of directors Mike Tuviera and Gil Tejada, with production design created by Rodell Cruz, fantastic and fabulous costumes made by Bill Gustillo, and exceptional visual effects by Riot, Inc.

Love, magic, and transformation will begin with Luna Mystika on November 17 on GMA Telebabad.
ADVERTISEMENT - CONTINUE READING BELOW