ABS-CBN kicked off 2019 with the airing of The General's Daughter pilot episode last night, January 21.
Angel Locsin's character, 2nd Lt. Rhian Bonifacio, gets caught in the middle of the battle between two nemeses that will change her life and identity.

The prime-time action-drama series opened with a daring rescue operation led by Angel's Rhian.

A fishing boat full of Filipino fishermen gets blocked by a foreign coast guard ship. The coast guard personnel accuse the Pinoys of carrying drugs, an allegation that the fishermen vehemently deny.

The scuba diving Rhian sneaks onboard and attacks the patrol guards. She is able to rescue almost all of the Pinoys, except for a young boy who is held hostage.

Rhian captures a naval officer and trades him for the young boy. After the exchange, Rhian flees for her life and jumps into the water to escape the barrage of bullets coming her way.

Her enemies continue firing bullets into the water and a bullet grazes Rhian's head, causing her to lose consciousness.

She gets washed up onshore at Barrio Sto. Francisco.
A young man with autism named Elai (Arjo Atayde) sees Rhian and calls her a sirena (mermaid). Isabelle (Maricel Soriano) treats Rhian's wounds and lets her stay in their home.

When Rhian finally wakes up, she cannot remember her name and her true identity. However, she managed to use her combat skills when she defended Elai from some thugs.

Little does she know that Captain Ethan del Fierro (JC de Vera) has been tasked by the Armed Forces of the Philippines to look for her.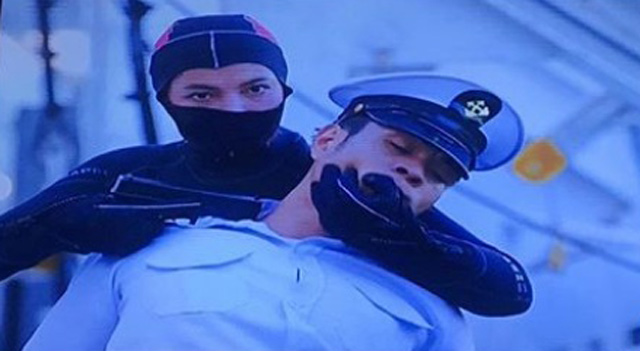 The General's Daughter revolves around Rhian Bonifacio, the daughter of the respected military general who yearns for the love of her parents. She constantly proves herself to them to get the affection she deserves.

Tirso Cruz III is cast as General Santiago Guerrero, Rhian's father who hones her to become their biggest weapon against their mortal enemy. Also part of the cast is Janice De Belen as Amelia, Santiago's wife, who carries a deep grudge because of the death of their son.

Albert Martinez, on the other hand, plays General Marcial De Leon, Santiago's rival, whom the latter blames for his eldest child's death. Eula Valdez is also part of the show as Corazon, the loving wife of Marcial.

Growing up, Rhian was led to believe that her biggest enemy is the De Leons. To please her parents, she enters the military as a spy and eventually infiltrates Marcial's personal life.

As she gets closer to Marcial and his family, Rhian also inches her way towards the truth that will redefine her life--her true father is Marcial, and Santiago only made her a pawn to kill his arch nemesis.

Aside from the lies she must put up with, love will also be one of Rhian's enemies as Franco (Paulo Avelino) and Ethan (JC de Vera) both fight for her affection.

Rhian will also meet her biggest rival Jessie (Ryza Cenon), the ex-girlfriend of Ethan, who will compete with Rhian to bring back her former lover to her arms.

This project also marks the return to television of Maricel Soriano. The Diamond Star brings life to Isabelle, the woman who gives refuge to Rhian after she gets shot in a mission. With Isabelle's help, Rhian will discover the truth about her identity and find the love she has been fighting for.
Arjo Atayde plays Elai, a special child who will show Rhian that a person's true character is found in a person's heart.
Also bringing love to the series are Ronnie Alonte as Ivan and Loisa Andalio as Claire--two lovers who will let love reign despite the chaos around them.
The General's Daughter also stars Art Acuna, Anne Feo, Cholo Barretto, Kim Molina, Kate Alejandrino, Luz Valdez, and Nico Antonio. It is under the direction of Manny Palo and Mervyn Brondial.


KANTAR RATINGS
How did the pilot episode of The General's Daughter fare in the ratings game, according to Kantar Media ratings?
The Angel Locsin-starrer registered a Kantar rating of 34%. The ABS-CBn action-drama series became the second-highest most watched prime-time program, next to Coco Martin's Ang Probinsyano.
Meanwhile, its rival program on GMA-7 titled Onanay got Kantar rating of 14%.
The GMA-7 teledrama is top-billed by Jo Berry, Cherie Gil, and Nora Aunor.
The Kapamilya Network's new prime-time series got TV rating that is 20 points higher than its Kapuso counterpart.