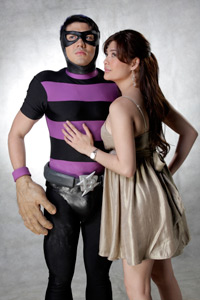 ---

Superheroes generally avoid the limelight but the Pinoysuperhero Flash Bomba is of a different mold.
TV host-actor Luis Manzanodescribed his new character as someone who enjoys public attentionand adulation.
"Showbiz na superhero. Siya lang talaga 'yongnagpapa-interview. Ang ibang superhero, usually pagkatapos mag-rescue alis nayan. Ito, magsi-stay ako, magpapaunlak pa ko ng interview, magpapa-picture atsabi nga sa VTR ako lang 'yong [superhero na] nagpapa-fans day. Nai-enjoy ko'yong spotlight, na nagsisigawan 'yong tao, so 'yon ang pinaka-difference niya."
SUPERHEROFOR ALL SEASONS. Flash Bomba is the latestinstallment in ABS-CBN's weekend fantasy anthology series Komiks Presents. The programfeatures superheroes created by legendary Filipino graphic novelist MarsRavelo.
Luis portrays a rich and confidentfellow named Roldan Legazpi. Raised with a strong belief on his capabilities,Roldan conquers his physical disability—caused by a previous huntingaccident—through a series of physical activities that develop his upper-bodystrength. An encounter with a supernatural entity ultimately alters Roldan'slife. He discovers his superhero identity in the person of Flash Bomba.
With Roldan's physical attributes, FlashBomba possesses odd features as well.
"In essence kasi, if a superhero has adisfiguration, kung nakakatulong sa kanyang tumulong sa kapwa, e, di why not. Imean I never thought that napakalaking kamay at paa ay makakatulong sanapakaraming tao so it's not really bad for me," says Luis about Flash Bomba's unusually large hands and feet.
Other than his bizarre physical appearanceand superhuman abilities, Flash Bomba is unique as asuperhero who relishes the celebrity perks of hisstatus—carefree qualities that alter the hero's sense of self as he balanceshis noble mission against his ego.
ADVERTISEMENT - CONTINUE READING BELOW
COMPLETINGTHE PUZZLE. FlashBomba turns out to be the missing piece in the much-anticipated Isang Lakassuperteam composed of past KomiksPresents heroes like Lastikman and Kapitan Boom.
The Isang Lakas crew is a superhero groupconceptualized by ABS-CBN inspired by America's Super Friends and JusticeLeague.
Joining Luis in the cast of Flash Bomba are RoxanneGuinoo, Sid Lucero, Lito Pimentel, Nanette Inventor, Alan Paule, Empoy and RioLocsin.
ABS-CBN's KomiksPresents Mars Ravelo's Flash Bomba will open on February 7.