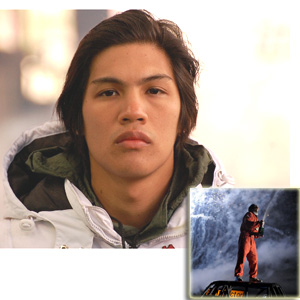 ---

Sheer courage, strategy, and a little bit of luck sealed the fate of Jommy Teotico as the first El Ultimo Participante of Pinoy Fear Factor: Argentina, South America, beating Janna Dominguez to the P2 million prize and house and lot during last Friday's (February 20) explosive El Ultimo Duelo.

In the final challenge called "Car Roll Over" stunt, Jommy and Janna had to drive a car over a ramp, which would trigger an explosion and cause the vehicle to flip in air and tumble to the ground.

The goal was to finish farthest from the ramp and while Janna's car turned turtle 17 meters and 10 cm away from the ramp, Jommy's car luckily went back to normal position, eating more distance for a 22 meter and 50 cm-finish.

Even host Ryan Agoncillo was left in awe as he watched the Fearless Duo in a scene only witnessed in action movies. In the end, Jommy proved he deserved the hard-earned happy ending, outlasting everyone after 11 grueling rounds of stunts and challenges.

"Jommy may be 'Scorpion King' after gobbling 20 scorpions in a stunt, but to me he's like a cat with nine lives," said Janna, who gained the respect of everyone for being the last woman standing while also being the youngest in the group. Jommy did escape elimination in the second, third, and fourth rounds of elimination. However, he soon gained ground by turning in strong performances and using trash talk to distract his opponents.

"That was my edge, I stayed focused while I tried to get their minds out of the game," said pump squad's chief leg-puller.

However, antics aside, the 25-year old model was able to prove he had game. Not only did he beat Manuel, the show's most dominant player, to the P50,000 prize of the second non-elimination round, he also broke a Fear Factor world record in the "Car Container Re-entry stunt" even if he wasn't an experienced driver.

Sixth eliminado LJ Moreno said she saw Jommy's success coming. She shared Jommy took it badly when he didn't qualify in the first non-elimination round. However, after reading a passage about everything happening for a reason, he found a renewed motivation to win. "I told him, who knows? It might be one of us who would win the whole thing," LJ said.

Now P2 million-pesos richer and the owner of an Avida house and lot, Jommy is bent to continue challenging himself, this time in the showbiz arena. Pinoy Fear Factor's El Ultimo Participante dreams of becoming an action star-comedian to further help his family. Whether or not, he succeeds in this challenge he can still be proud to be the best of all the twelve Filipinos who braved the cold Argentina for 33 terrifying stunts.

ABS-CBN business unit head Laurenti Dyogi raved about the success of the program and was all praises for the participantes, especially the world record-holders.

Aside from Jommy, Marion and Manuel also broke Fear Factor world records, setting new and high standards to gain the respect of the Argentine crew and international Fear Factor fans alike.

Marion thrashed a Turkish participante's time in the "Buried Alive" stunt, while Manuel conquered the "Slippery Car" and "Net Under Helicopter" stunts to set new speed records.

"Not a single participante walked away from facing his or her fear. All of them—Gail Nicolas, Ram Sagad, Phem Baranda, Jose Sarasola, Elmer Felix, LJ Moreno, RJ Calipus, Savanah Lamsen, Manuel Chua, Marion dela Cruz, Janna, and Jommy—gave their best to win the prize and bring honor to the country. Every Filipino should be proud of them," said Dyogi.

Credit also goes out to the Pinoy Fear Factor staff and participantes for keeping the identity of the winner till the end. The group finished their 35-day shoot in Argentina September last year.

While real-life action takes a break on TV, real-life drama is about to stay with the new seasons of Pinoy Big Brother regular, teen, and celebrity editions. Click HERE for audition schedules.
ADVERTISEMENT - CONTINUE READING BELOW