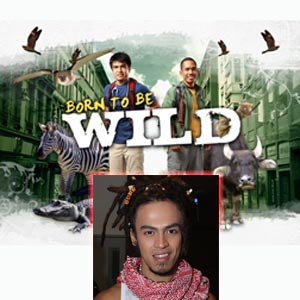 ---


During the March 19 episode of Born to Be Wild, Romi Garduce was given a tribute since it was his last episode for the GMA-7 show before he went on a hiatus.

"Ngayong taon po, magiging busy tayo sa mga expeditions. maghahanda po muna tayo para doon at siyempre meron pa po tayong conservation projects," explained Romi regarding his departure from the late-night show.

"Isang pagbabalik-tanaw ang handog ng Born to Be Wild para sa aking partner na si Romi Garduce," said Doc Ferds Recio at the start of the show.

The segment then showed memorable moments that the two hosts had with the staff members of the show.

In conclusion, Doc Ferds told the audience: "Mawawala si Romi for a while but we will see him every now and then pero we will definitely miss him."

Meanwhile, viewers can look forward to new adventures with the new co-host of the show, former Survivor Philippines castaway Kiko Rustia.

Doc Ferds and Kiko will kick off their first adventure this Wednesday, March 25, on the Kapuso Network. In the premiere episode of the all-new Born to be Wild, the two hosts will be thrust into strange worlds—one with vistas straight out of legend, and the other with a tale as real and gripping as it gets.

Doc Ferds finds himself in Ho Chi Minh City, where the sounds of anguished bears are muffled behind the urban noise. Asiatic black bears are captured and trapped in suffocating cages for their bile which is believed to be medicinal. An estimated 3,000 bears live in these horrible conditions in different bear farms across Vietnam. Because of the trauma from bile extraction, some bears already manifest signs of insanity, banging their heads against cages and biting off their body parts. Doc Ferds participates in a mission to rescue bears in captivity, and helps to rehabilitate these animals.

Back in Manila, the team discovers that we are also a market for bear bile. Vials and capsules of bear bile are sold in different medicinal stores, further demonstrating that the Philippines itself is part of this vast international business—the illegal sale of wildlife products and the wild animals themselves.

In the middle of a dirt road, Kiko Rustia is a hitchhiker waiting for the next great adventure. Not knowing where his feet will take him, he hops on the first jeep that comes along. He ends up rappelling down one of the largest cave systems in the North. Caves, known as the least explored places on Earth, shelter creatures uncommon to the human eye. Later, he ends up cruising on the country's longest river, and finds the best surprise at its end.

Kiko can't believe his luck when he stumbles upon a quaint island with unbelievably white sand and turquoise blue waters, and an old lighthouse standing proudly on a hilltop—as well-preserved as the untouched island itself. This unique view of the Philippines from the lighthouse is nothing short of mind blowing. And so begins Kiko's quest to travel endlessly in search of nature's wonders.

Born to be Wild with Doc Ferds Recio and Kiko Rustia airs March 25, Wednesday night right after Saksi on GMA-7.
ADVERTISEMENT - CONTINUE READING BELOW