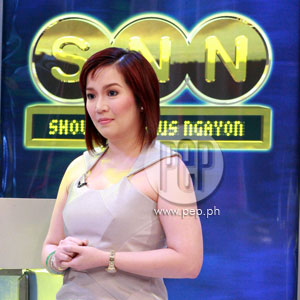 ---

Thenewest and literally, the biggest game show in ABS-CBN, Pinoy Bingo Night,will premiere on Monday (March 30) with Kris Aquinoas host.

402studio players vie for over P2 million every weeknight inside the hi-techset while home viewers alsoget a chance to win as a lucky televiewer will win an instant prize daily.

PinoyBingo Night brings together an interesting cast led by Kris Aquino, who is sure to bringher expertise and charming candidness to the show. Joining herto provide additional excitement and fun are Mel Feliciano and Brod Pete, whoplay the roles of "commissioner" and "bingo caller," respectively.

Melis the former choreographer of the '90s dance group "Solid Gold Dancers." He is nowa floor director for ABS-CBN game shows like Kapamilya, Deal or No Deal and The Singing Bee. He is tasked to look over the studio audience participantsand verify their "Bingo" claims.

BrodPete, meanwhile, is one of the country's most recognized comedians. The witty funny man is expected to call the numbers the wayFilipinos normally do in malls, carnivals, and in homes. He aims to infuse moreof the Filipino flavor to Pinoy Bingo Night, which is the Philippine versionof America's National Bingo Night.

Expecta grand time as the whole country plays together through Pinoy Bingo Night, starting this Monday (March 30) with host Kris Aquino after Hot Shot onABS-CBN.