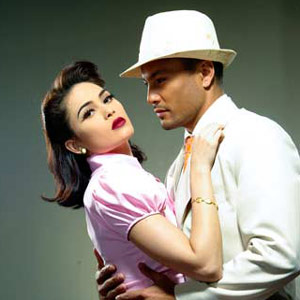 ---
The story of Maruja tacklesthe idea of reincarnation and a love that lasts throughout the centuries.Cristy Rivera (Kristine Hermosa) is the reincarnated Maruja who hasparanormal abilities. Her special gift allows her to help lost souls finishtheir unresolved earthly duties.The magazine columnist is constantly getting vivid dreams about a mysteriousman but her only clue is the name Gabriel. As the story progresses, thefaceless man in her dreams will slowly reveal himself.

Under the direction of Jerome Pobocan, Komiks Presents Mars Ravelo's NasaanKa Maruja? is the TV remake of the 1967 Maruja film originallytopbilled by Ms. Susan Roces and Romeo Vasquez. The 1978 follow-up film GumisingKa, Maruja also starred Ms. Susan and Phillip Salvador. In the 1996 remakeof Gumising Ka, Maruja, the lead stars were Carmina Villaroel and RustomPadilla (now known as BB Gandanghari).

Togetherwith Kristine are her leading men Derek Ramsay, John Estrada as well as castmembers Karylle, Kitkat, Enchong Dee, Bing Pimentel and Ms. Gloria Romero.
This Saturday afternoon series will air its pilot episode on ABS-CBN onMay 2, 2009. Komiks Presents Mars Ravelo's Nasaan Ka Maruja airsright after Cinema FPJ. It replaces the timeslot of Flash Bomba.
FAITHFUL TO THE ORIGINAL. Direk Jerome Pobocan reveals why Komiks Presents: Mars Ravelo's Nasaan ka, Maruja? is "close to hisheart."
During the general press conference of Maruja held at ABS-CBNlast April 21, he told the press: "Nung ni-rinemake ito [the 1996 version of Maruja], si Direk Joey yung director and ako yung assistant director.Nung ginagawa ko 'to [2009 version] sabi ko, 'this is close to my heart' and Idid this before plus the fact that maganda talaga yung story."
ABS-CBN's remakewill still remain faithful to the plot of the beloved komiks. However, theyadded some elements to the story to give it a contemporary feel. "We jazzed itup a bit but we remain faithful to the original, which is something likemodernizing yung plot...like reincarnation."

He later added: "Masyadong matanda yung reincarnation plot kung hindi moilalagay sa level na kaya ma-eenjoy din ng mga bata that's why we [the creativeteam] thought about putting in the psychic abilities of Cristy."


ADVERTISEMENT - CONTINUE READING BELOW

SYNOPSIS. In the original komiks published in the '60s,Nasaanka Maruja? told the story of Maruja and Gabriel, a couple madly in lovewith each other. However, Maruja's mother disapproved of their relationship.Maruja was forced to marry another man, and she took her own life right afterthe marriage, with a promise to Gabriel that they would be reunited someday. Ahundred years later, Maruja was reincarnated as Cristy and was finally reunitedwith an aged and dying Gabriel.

In the television version, Cristy Rivera (Kristine Hermosa) is a magazine columnist who possessespsychic abilities that help her see dead people. She has a half-sister named Helen (Karylle) who isengaged to Ross Lozano (Derek Ramsay). Cristy is unaware of the fact that as achild, Ross used to draw sketches of Maruja even before they met in real life.

Meanwhile, another man is also captivated by Cristy's beauty and personality.Michael(John Estrada), theeditor-in-chief of the magazine where Cristy works, is also in love with her.

Gloria Romero is cast as Lola Luding, Cristy and Helen's grandmother; EnchongDee plays Brian, Ross's brother; and Kitkat portrays the bubbly friend ofCristy.


Menggie Cobarrubias playsAlfred, Cristy and Helen's father while Bing Pimentel plays Alfred's secondwife named Shirley. She finds it hard to accept her Cristy as her stepdaughter,causing conflict in the story.


Watch the TV adaptation of the 1967 Lino Brocka masterpiece starting May 2,2009 in Komiks Presents: Mars Ravelo's Nasaan ka, Maruja?