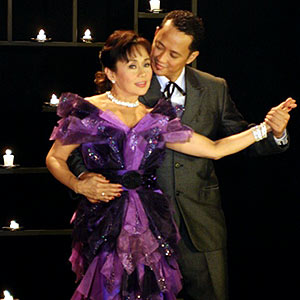 ---
The Vilma: A Woman for all SeasonsTV special will air on ABS-CBN starting tonight, August 1. This five-part TV special will air on all Saturdays ofAugust at 9:15 PM.

But this month notonly celebrates Vilma Santos' colorful life, flourishing career and upcomingfilm. For the first time in Philippine television, ABS-CBN offers a grandback-to-back celebration of two of the industry's most highly regarded andrespected TV and film icons—Charo Santos-Concio and Vilma Santos.


The whole month of August is dedicated to the 18th anniversary celebration ofthe country's longest-running drama anthology show, Maalaala Mo Kaya, with its host Charo Santos-Concio and the firstever TV special for Vilma Santos. A dear friend of Charo, Vilma's TV specialwill air right after MMK for a non-stop and never-before seen TV specialexperience.

The first episode (August 1) showcases the respectedactress as an actress/artist and it will be hosted by Claudine Barretto.


During a recent press conference with the Star for All Seasons, Vilma was askedto name who among the stars of today have the capacity to last as long as shehas in the entertainment industry.


"Hiningan na 'ko ng ganyang opinion pero walaakong sinabi. Wala akong sinagot," admits Vilma. "Except ang sinabi ko lang, maskinung promo ng Anak, ang isa talagang nagustuhan ko si Claudine. Kasigustong-gusto ko 'yung pagiging flexible ni Claud. Si Claud kasi, whethermapa-sexy, tanggap siya ng tao. Magpakamartir, kapani-paniwala. Magkontrabida,kapani-paniwala. Parang tanggap siya ng tao kasi yung pagiging flexible niya.


"Maybe because kahit paano, nadaanan ko sa career ko 'yun na tinanggap ng tao.Naging kontrabida na 'ko, 'di ba, Sinasamba Kita,pero kumita, tinanggap ng tao. Naging serial killer. Nag-pasexy na din ako,mistress. Naging madre na din ako. Yung flexibility nung mga ganung bagay, andyet tinatanggap nila."


When asked about Vilma's high regard for her, Claudine shared, "You know,I'm a Vilmanian through and through. I promised Ate Vi that I can only be thebest Claudine Barretto that I can ever be but there will never be another VilmaSantos. She's the only one."
ADVERTISEMENT - CONTINUE READING BELOW

Humbled by Vilma'spraises for her, Claudine also expressed, "As a Vilmanian, I don't want tosay that someone will replace or follow Ate Vi's steps unless it's her son. ButI'm very honored of course especially since it came from the Star for allSeasons who won the most number of awards. Ate Vi is very respected in theindustry and even in politics. It's a privilege that she noticed my talent. I'mvery thankful."

The following episodestackle Vilma as a TV host, dancer and performer on August 8 with host Vhong Navarro, as a wife, mother, sister andfriend on August 15 with host AngelLocsin, as an empowered Filipina leader on August22 hosted by her ex-husband, Edu Manzano. Capping off the one monthcelebration is an exclusive sneak peek into her upcoming movie In My Life with son Luis Manzano andJohn Lloyd Cruz on August 29.
Mark your calendarsand block off your Saturday evenings for the whole month of August. Have a datewith the one and only Star for all seasons and catch Vilma: A Woman for all Seasons TV special on all Saturdays of August,after Maalaala Mo Kaya on ABS-CBN.
ADVERTISEMENT - CONTINUE READING BELOW