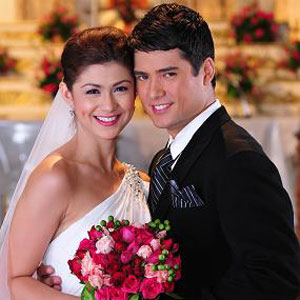 ---
Since the pilot episode of Rosalinda last July 6, thelove story of Fernando Jose (Goeff Eigenmann) and Rosalinda (Carla Abellana)has been hampered by problems of all sorts.

But this time, the lead characters of this GMA-7 teleserye were able to pulloff the unimaginable: get married to each other without opposition from theirparents.

In the August 12 episode of Rosalinda, the nuptial of Fernando JoseAltamirano and Rosalinda Perez pushed through with their close friends andfamily members in attendance.

Standing as bridesmaids were Becky (Sheena Halili) and Lucy (Kristal Reyes),the youngest sister of Rosalinda.
ADVERTISEMENT - CONTINUE READING BELOW
The parents of the couple were unaware that the controversial wedding wasactually taking place without them being invited to the event. Even Fedra(Katrina Halili), a woman obsessed with Fernando Jose was clueless about theongoing wedding of the young man.
Valeria (Sheryl Cruz) was enraged to find out that her son Fernando Jose wouldbe tying the knot with Rosalinda. She and her friend Berta (Ayen Munji-Laurel)rushed to the church but along the way, they saw the mother of Rosalinda,Soledad (Glydel Mercado). Valeria orders Berta to run over Soledad, which shedid so with reluctance.
At that time, Fernando Jose and Rosalinda were already exchanging their vows.
During the reception, the groom made a touching speech about his lovely bride:"Nalaman ko na pwede akong maging masaya at hindi nabubuhay sa dilim. Ikaw angnagbibigay liwanag sa buhay ko. You are my sunshine. Ikaw ang nagpapaligaya sabuhay ko."
At this point, Valeria arrives and screams at her son to stop the ceremony.
In the next episode, viewers will see the first night of Fernando Jose andRosalinda as husband and wife.
Rosalinda
airs weeknights on GMA-7 right after
Darna
.