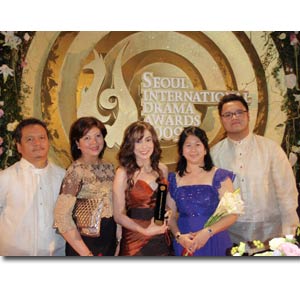 ---
Eva Fondatook home the special prize award during the recent Seoul InternationalDrama Awards 2009 for the drama category. The series' lead actressCristine Reyes personally received the award in Korea.

TheKapamilya actress is very happy and overwhelmed because her program isknown not only in the Philippines but in this neighboring country. The actress also shared thatwhen she went to Korea, some Koreans wouldaddress her as Eva Fonda. Cristine did not expect the warm welcome thatshe received from her supporters who also asked for her autograph andphoto with her.

This is thefirst time that the Philippines was awarded since the prestigiousinternational award giving body started four years ago.

169 soapoperas from 37 countries joined, including entries from Russia, Turkey,UK, Singapore and Iran. Cristine as well as the entire Eva Fonda staff are thankful for the award which gives recognition to their hard work.

JoiningCristine in Korea were ABS-CBN Head of TV Entertainment Linggit Tan andthe two directors of Eva Fonda, John Red and Frasco Mortiz.
Alsonominated as Best Actress, Cristine presented two awards during therecent awards ceremony which was held last Friday, September 11, at the Olympic Park in South Korea.