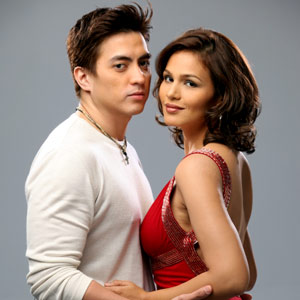 ---
Iza Calzado realized that the stakes were high as soon as she learned about the background of Kaya Kong Abutin ang Langit, the afternoon drama series entrusted toher by GMA-7.
Released in 1984 and directed by MaryoJ. delos Reyes, Kaya Kong Abutin angLangit was touted by critics as Maricel Soriano's launching vehicleas a serious actress after a string of films under the fantasy-comedy and lightromance genre.
"Malaking challenge ang gampanan angrole na ginawa ng isang Maricel Soriano," admitted Iza during the press conference held last September 22 at Studio 5 of the GMA NetworkCenter.
Kapuso Network executive Wilma Galvante, however,dismissed Iza's reservation. For Ma'am Galvante, Iza has earned enough stripes as anactress for her to merit the coveted lead part: "The role is right for her andwe are glad that she along with Sunshine [Dizon for Tinik sa Dibdib] accepted it because it's a good project and wenever doubted their talents to carry out the demands of the role."
DESIREBEGETS GREED. Izaportrays the character of Clarissa Rosales, an impoverished social climber whowill do everything to escape poverty no matter what.
Conquered by greed, Clarissa vows tobecome rich someday to alleviate the life of her mother Naty (Lani Mercado) andher sister Nancy (Angelica dela Cruz). The opportunity to be rich finally camewhen the employer of her deceased father, the Gardamonte couple, offered toextend a helping hand.
Clarissa successfully earns the trustand affection of the wealthy couple Ralph (Ricardo Cepeda) and Monina (PinkyAmador), treating her as one of their family members much to the objection of theironly daughter, Therese (Isabel Oli).
Therese will make Clarissa's lifedifficult. Yet despite the ill treatment she receives from Therese,Clarissa will endure everything rather than lose the convenient life given toher by the Gardamonte couple.
Clarissa, however, wants more.Unfortunately, as Clarissa aims for a more convenient life to help her family,she ends up alienating them in the process and worse, losing her self identity.
ADVERTISEMENT - CONTINUE READING BELOW
Completing the cast of Kaya Kong Abutin ang Langit are Bobby Andrews, Paolo Paraiso, Ryan Yllana,Victor Aliwalas and Peter Serrano. Directing the television remake of theclassic film is Topel Lee.
SineNovelapresents Kaya Kong Abutin ang Langit premiereson Monday, September 28,after Daisy Siete onGMA-7's Dramarama sa Hapon.