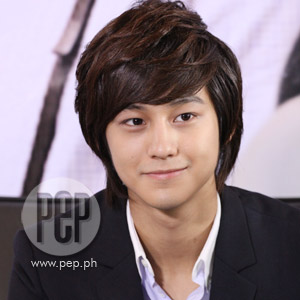 ---
Kim Bum arrived inthe country Wednesday morning (September 30) to become the latest endorser ofRC Cola and shoot a commercial with Philippine's very own teen actress MajaSalvador.

Earlier today, October 3, the Korean actor, who is more popularly known as Yi Jeongin ABS-CBN's recently concluded Asianovela Boys Over Flowers, met with the local press to talk about his latest endorsementand his upcoming sports drama titled Dream.

The stars said that the theme of their ad is "proposal" but they refused todivulge more details.

Maja mentioned that they shot the TV commercial for two days in Binondo and Paco.In the behind-the-scenes video shown to the press, the Kapamilya actress wasseen walking around the streets of Manila while holding a bottle of thesoftdrink brand.

Kim is able to understand questions posed to him in English but he would answerthem in Korean so the organizers had a female translator interpret his answers.

There have also been rumors saying that Kim is in a relationship with their Boysover Flowers co-star Kim So Eun who plays the character Chu Ga-eul.However, the 20year-old actor dismissed this rumor by saying that he is singleright now. The translator explained, "They were classmates. They used to go toschool together so the lady is more of a friend rather than a girl [friend]."

The Korean actor mentioned that he had the last taping day for Dream beforehe boarded his flight for the Philippines. This marks the first time that heplays the lead role in a Korean television series.

When asked to describe his role in his new show, the translator gave thisanswer:

"His [character] used to be a pickpocketer [sic] in an orphanage and turninginto a great person. He turns into a great person dreaming and hoping to be agreat fighter...a great martial arts fighter. It's more of the process so it'stelling people that anybody can be a hero if you really try."

The trailer of the show was shown to the press earlier and it showed how Kimtrained hard to become a boxer.

Before ending the interview, Kim said that he would love to know more aboutFilipinos and the Philippines. In fact, his translator pointed out, "He'sreally in love with the Philippines. He just arrived here and he was stuck in ahotel and more than 12 hours of shooting [for the TVC]. But he was touched bythe people. In no time, he will be coming back whether for work of for apersonal visit, I will definitely be coming back."

He also entertained the press with the Tagalog words that he learned during hisstay here. Kim enumerated, "Payong, Salamat po, palakpak [motioning clappinghands]."

Did he also learn how to say 'I love you'? Kim pointed to Maja and said, "Shedidn't teach me that."

Meanwhile, the commercial that he and Maja shot will be aired for the firsttime on October 18 right before ASAP '09.


ADVERTISEMENT - CONTINUE READING BELOW