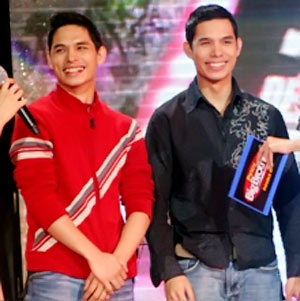 ---
HousemateJP Lagumbay of Pinoy Big Brother Double UP did a voluntary exit justtwo days after he entered the Pinoy Big Brother house. The Jetsetter Dad of QC decided to go after he was informed that his application for leave was declined by his employer. Big Brother told him he had to report to the airline office by 8 am of Tuesday (October 6) or he would face sanctions.
JPwas torn between staying for his twin brother JM and leaving to attendto his job and family. He wanted to stick around for his brother, whowas the one who really wanted to be in "PBB," but he can't risk losingthe job that supports his family.
Meanwhile,theories on the double up twins still abound in the female-dominatedHouse B, but the girls remain clueless about the existence of anotherhouse. The opposite is happening in House A, where most of the malehousemates live. They haven't noticed the switching of twins but aresuspicious that Big Brother has another house on the other side of thewall.
Didthe double up twins fail their first task, or will they be able todisprove the housemates' theories? What will be Big Brother's takeregarding JP's early voluntary exit? Will JM have to join him in hisdisappearing act?
Catchthe latest news about the housemates and Kuya in Uber with MarielRodriguez after Maria De Jesus. Get the full story on Pinoy BigBrother Double UP with Toni Gonzaga after Dahil May Isang Ikaw, andsee the housemates in real-time while playing games with BiancaGonzalez on PBB Double UPlate, midnights on ABS-CBN.