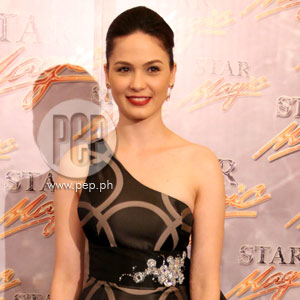 ---
Inthe October 9 episode of Dahil May IsangIkaw, Denise (Karylle) and Ella (Kristine Hermosa) confronted each other regarding the past of their parents. Denise kept trying to convince her sister to keep the truthabout the past hidden but Ella believes that exposing the truth will makethings better for her and her boyfriend Miguel (Jericho Rosales).

Ella admonishes her sister, "Kung pakiramdam mo, walang nagmamahal sa 'yo,kasalan mo 'yon." Denise slaps Ella but her sister answersback with another slap. Denise accuses Ella of destroying their family. Denicedeclares, "Sawa na ko maging anino mo, Ella. From now on, sisiguraduhin ko ikawnaman ang malalagay sa posisyon na iyon!"

Meanwhile, Jaime Alferos (Gabby Concepcion) confronts Tessa Ramirez (Lorna Tolentino)in an elevator regarding the past. They have different versions of the past butthey insist that the other party was at fault.

Jaime claims that he did not hurt Tessa since she broke his heart first. "Nilokomo ako!" says Jaime but Tessa points out, "Hindi kita niloko. Naghintay ako perosinabi sa akin ng mama mo na kayo na ni Patricia Aragon sa America. Tumawag akosa America at kinumpirma sa akin ni Patricia na girlfriend mo siya. Pinagsabaymo kami, Jaime, sinungaling ka!"

Jaime refusest o believe her version and an outraged Tessa slaps him hard onthe face. In retaliation, Jaime pins her against the wall and kisses her on thelips.

Little did they know that a hostage situation was about to take place in the office of Aragon Mining. Ella is discussing her future plans with hergrandfather Don Fernando Aragon (Chinggoy Alonzo). Her mother PatriciaAragon-Alferos (Chin-Chin Gutierrez) comes in looking for Jaime. Suddenly, an irate man comes in andaccuses Don Aragon of killing his wife. He reveals that dumping toxic garbagefrom the mines caused his wife and his child to contract diseases. When a securityguard comes in, the man grabs the gun and holds Don Fernando hostage along withElla and Patricia.

Find out what happens to the hostages tonight, October 12, on ABS-CBN's Dahil May Isang Ikaw.
ADVERTISEMENT - CONTINUE READING BELOW