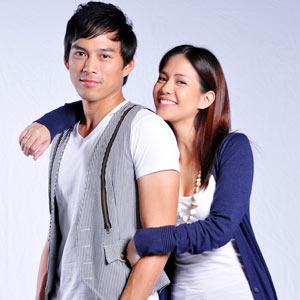 ---
The colorful, fun and heartwarmingromantic series continues in Precious Hearts Romances Presents Somewherein My Heart, which premieres this Monday, October 19, 5:15 pm on ABS-CBN.

They first touched viewers' heartsas Pepper and Rei in the Bud Brothers series as many found themselves hookedto their love team and undeniable on screen chemistry. Because of the demandfrom their fans, the Kaye Abad andGuji Lorenzana tandem will be seen for the second time around.

Kaye narrated that she was very excitedwhen she found out about the story and how some of the scenes, specificallythe love scene, would be done. "Nae-excite ako dun kasi madre ako andat the same time may gusto siya sa akin. Pa'no niya ako aakitin, kung anoyung mangyayari... Talagang dapat mapanood ito ng mga viewers." Guji alsoadmitted that the two are now much more comfortable and at ease workingtogether.

Director Cathy Garcia-Molina shares why she enjoyed directing thetwo young actors, "Totoong tao kasi si Femi, nagkakamali, kumakapit sapatalim, gumagawa ng mga kasinungalingan pero ang laging mahalaga namanis yung redemption after, what you learn after the mistake. Not only her,but also Aaron. Two flawed characters na matututo towards the end."

She added that Kaye and Gujihave become very close off-cam. When asked whether the two have a brewingromance together, the female director laughed and stated that viewersshould just catch their 'sweetness' on screen. The question everyoneis now asking: Is there real life romance between Kaye and Guji?

The story revolves around two totallyopposite people: Femi (Kaye), a no-nonsense woman who is used to hardwork and who only wants to help her family get a better life and Aaron(Guji), a rich loner whose only dream is to be an artist, which goes againsthis dad's plan for him. Femi has a huge crush on campus heartthrob Aaronand eventually they get along well.

They will once again meet in a reunion10 years later, only to face a shocking revelation: Femi is now anun! Will there still be hope for a second chance on love?


The unusual love story of Precious Hearts Romances Presents Somewherein my Heart will air its pilot episode on October 19 (Monday), 5:15 pm after PinoyBig Brother Double Up Uber on ABS-CBN.


ADVERTISEMENT - CONTINUE READING BELOW