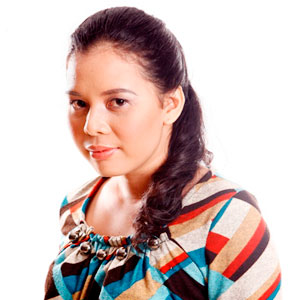 ---
Last November 21, the 23-year-old medical representative Riza Mae Patria became the 3rd person evicted from Pinoy Big Brother Double Up.
The "Bibang Probinsyana ng Siquijor" has never had a fight with anybody inside the house but this did not save her from being evicted. Patria's demeanor was over-shadowed by other housemates with strong personalities.
Carol Batay is putting up a very good battle and it seems that the people wanted her to stay longer inside Kuya's house. Carol received the highest percentage of the votes with 69.15% versus the next housemate's 11.74% (Rob Stumvoll). Very close to Rob is Yuri Okawa with 11.35% and Patria who only received 7.40% of the votes.
Patria had mixed emotions when she came out from the PBB house. She is sad to be leaving behind her new friends but also happy to see her friends and former housemates who immediately greeted her upon her exit.
In the nomination night held last night, November 22, five housemates were named as nominees for eviction. These are: Carol Batay, Rica Paras and Jason Francisco from House A as well as Rob Stumvoll and Patrick Villanueva of House B.


Jason was voted by his housemates because of his "pasaway" and laid back attitude, while Carol, was considered a weakest link by some of the House A players. On the other side of the wall, Rob was nominated because of his temper during the games while Patrick was voted because most of his housemates feel he is the most distant among them. New housemates Rocky and Sam were both immune from nominations as per PBB Rules.


For the big twist of Kuya, he announced that all female housemates will switch houses and they were given only one hour to pack their clothes and bid farewell.


Thus, House A is now composed of Kath, Mariel, Sam, Yuri, Jason, Johan, Paul Jake and Tibo.

House B is now composed of Carol, Melai, Cathy, Rica, Patrick, Rob and Rocky Salumbides.

How will the housemates deal with their former rivals? Find out this week.
ADVERTISEMENT - CONTINUE READING BELOW

Join Mariel Rodriguez in Uber after Banana Split Daily Servings, Toni Gonzaga in PBB Double Up after Dahil May Isang Ikaw, and Bianca Gonzalez in PBB Double Uplate, every after midnight. Catch the 24/7 live streaming on Skycable Ch. 150.