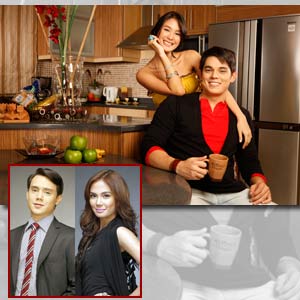 ---
Full House will finally open its doors on Philippine television starting this Monday, November 30. Watch the Pinoy adapatation of this beloved Korean TV series on GMA Telebabad.
Richard Gutierrez and FAMAS 2009 Best Actress Heart Evangelista breathe life to the characters of Justin and Jessie, respectively, two opposing personalities who, through a series of comedic events, meet and end up sharing more than what they bargained for in the first place.
Justin, a famous actor, is scheduled to shoot an international movie in Prague. Right at the same time, Jessie, a struggling writer, presumably won an all-expense paid trip to the same destination as Justin's. By a twist of fate, the two find themselves seated beside each other on the plane.
Upon their arrival, Jessie discovers that the trip is actually a hoax arranged by her brother Donald (Rainier Castillo). She intends to seek help from Luigi (Patrick Garcia), Justin's visiting friend whom she met at the hotel, but he has left the country already. With no one else to turn to, Jessie borrows some cash from Justin after fooling him into thinking that Luigi is her ex-boyfriend.
Jessie eventually comes home to an empty house and an empty bank account. Worse, she finds out that her brother had already sold their house to its new owner, Justin. Jessie refuses to give up her house as does Justin since he had already paid for it in full. So they came to an agreement: Jessie, now that she is beholden to Justin, will work as Justin's maid in order to pay off her dept and eventually buy her house back.
ADVERTISEMENT - CONTINUE READING BELOW
Things go as planned until Justin gets himself involved in another controversy after trying to make Elaine (Isabel Oli), the woman he's been secretly in love with, jealous. To save his showbiz career, Justin is now forced to marry Jessie--but only on paper. Their resulting agreement sets off a series of outrageously amusing events that will eventually lead them to the inevitable trap of... falling in love!
Completing the cast of this riotous romantic-comedy series are Keempee de Leon, Epi Quizon, John Lapus, Rainier Castillo, Sheena Halili, Raquel Villavicencio, Chraiz Solomon, Marky Lopez and in very special roles, Ronald Valdez and Ms. Pilita Corrales.
The original Full House has the distinction of being the highest rating Asianovela shown on Philippine primetime since 2003.
The local version is helmed by director Mark Reyes and written by Denoy Navarro-Punio. The production team paid careful attention to every detail including the costumes, production design, and most importantly, the locations, hence the decision to shoot several sequences in Prague, Czech Republic. For the first time, primetime viewers will have the chance to experience the magnificence of Prague, which is known for its excellent architecture.
The cast also immersed themselves in their characters by watching the original version to ensure that everything is done to the letter. Richard will play the part originally played by Asian heartthrob Rain while Heart, on the other hand, will reprise the character played by actress Song Hye Kyo.
Full House opens on November 30 after Stairway to Heaven on GMA Telebabad.
ADVERTISEMENT - CONTINUE READING BELOW