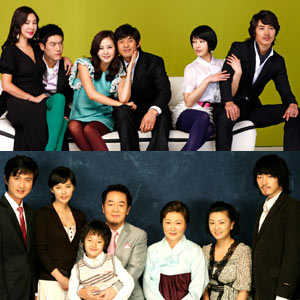 ---
Starting this Monday, March 22, TV5 viewers will be treated to four top-rating and most sought-after Korean drama titles on its noontime block called "Gusto ko Noon!" led by the quirky comedy My Wife is a Superwoman, the romantic drama First Wives Club, the heartwarming drama Smile, Honey, and popular family-teen comedy High Kick!


Gusto ko Noon! is TV5's newest weekday noontime block which will feature alternative programming.


PEP (Philippine Entertainment Portal) asked TV5 why they decided to offer these top-rating Koreanovelas during the noontime block.


"It's actually the strategy of TV5 to do counter-programming. When everyone else is going high-energy with noontime shows, here we are offering the best titles of Koreanovelas on noontime. Parang yun ang magiging primetime namin. We want to provide an alternative."

TV5 tapped local singers to perform the theme songs of their chosen Koreanovelas. Kris Lawrence sang "Suddenly," the theme song of First Wives Club; Chicosci sang "Diamond Shotgun" for High Kick; Krissy and Ericka sang "Runaway" for Smile Honey; while Sabrina performed "A Thousand Miles," the theme song of My Wife is a Superwoman.

Garnering 7 top awards at the 2009 MBC Drama Awards in Korea, hit drama series My Wife is a Superwoman is lead actress Kim Nam Joo's comeback project after eight years of acting hiatus. Because of this show, Kim Nam Joo bagged the Female Top Excellence Award and Actor of the Year award by Korea's Minister of Culture, alongside Female Excellence Awardee and co-star Lee Hye Young (Dal Ja's Spring, Winter Sonata). My Wife is a Superwoman centers on the story of smart housewives competing against each other through their husbands' positions in the office, in obsession for a glamorous life to be high society.
ADVERTISEMENT - CONTINUE READING BELOW

Wives usually sacrifice their lives for the good of the family. But what if the sacrificing becomes one-sided for the wives and they discover that their husbands are cheating on them? What is real happiness, love, and truth in marriage? These questions and more shall be explored in the no. 1 romantic drama on Korean Free TV First Wives Club, starring top award-winning Korean actresses Kim Hye Sun (Jewel in the Palace), Kim Hae Sook (Winter Sonata, Spring Waltz, Autumn Fairytale) and controversial Korean beauty queen Oh Hyun-kyung.

The heartwarming drama Smile, Honey stars 2009 SBS Drama 'New Star Awardee' Lee Min Jung (who also starred in Boys Over Flowers) and Lee Cheon Hee (Only You). It starts with the story of a rich girl (Lee Min Jung) whose fiance dumps her after learning that her family's company is already bankrupt. The girl's family has no choice but to move in to their former chauffeur's household, where the two families struggle with living together despite lots of bickering, as well as shared laughter and warm family moments.

Coinciding with the launching date of its third season in Korea, the very popular family-teen sitcom High Kick! comes to TV5 next week starring cute Korean actors Jeong Il-Woo and Kim Hye-Seong as brothers who have different personalities. Kim Bum (Boys Over Flowers) stars as Kim Hye-Seong's funny bestfriend, as well as Na Moon He (My Name is Kim Sam Soon) and Lee Soon Jae (Queen Seon Duk) in this funny story of romance, family, friendship, and coming of age.
ADVERTISEMENT - CONTINUE READING BELOW

With this dynamic line-up of Korean drama serials, TV5's Gusto ko Noon! block of alternative entertainment will surely be a refreshing treat to TV viewers who may have grown tired of similar offerings of shows during noontime and are ready to try something completely novel, yet familiar.

Prepare for the big wave of Asia's favorite and top-rating Koreanovelas My Housewife is a Superwoman at 11:45 AM, First Wives Club at 12:30 PM, Smile, Honey at 1:15 PM, and High Kick at 1:45 PM, airing from Monday to Friday starting March 22 on TV5.