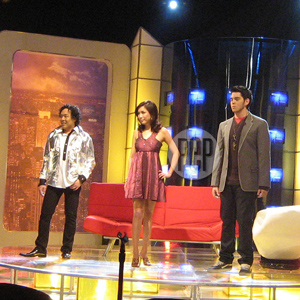 ---
PEP (Philippine Entertainment Portal) was there when Showbiz Central, the replacement to S-Files, was aired live for the first time. Writer Paul Mata reviews the Kapuso Network showbiz program that dares to go up against the Sunday showbiz program of the Kapamilya Network.
Showbiz Central
Hosts: John "Sweet" Lapus, Pia Guanio, Raymond Gutierrez
Director: Rico Gutierrez
Schedule: Airs every Sunday, 4 p.m. - 6 p.m. on GMA-7
John "Sweet" Lapus took the lead as host of GMA-7's new entertainment show, Showbiz Central, last Sunday. His co-hosts are Pia Guanio and Raymond Gutierrez.
The show opened with dramatic lighting, with the hosts giving viewers a preview of the hot showbiz topics ahead. It was surprising to see this kind of lighting effects since other shows—foreign and local—have bright lights focused on the hosts. This gives the show a sense of mystery, but I doubt if dim lighting will gain acceptance in the next several weeks.
ADVERTISEMENT - CONTINUE READING BELOW
The show is broadcast live from Broadway studio. This allows the show to have a studio audience, unlike its predecessor, S-Files, or even its Saturday counterpart, Startalk. The audience is also allowed to interact with the guest celebrity and ask questions. An audience member was straightforward in asking Angel Locsin about the status of her relationship with Oyo Sotto.
One flaw of the pilot episode is that the audio system did not work properly at first. Raymond Gutierrez was left shouting his questions to Angel while the staff was looking to give him a replacement microphone. Everything seemed fine afterwards.
The "Central Jury" was introduced to viewers, with Sweet hinting that controversial radio host DJ Mo Twister was part of the panel. Others in the panel were game-show host Arnel Ignacio and talent manager Shirley Kuan. The role of the Central Jury is to ask guest celebrities juicy questions.
But this is television, and Mo Twister, who has become famous for the "Forbidden Questions" segment of his radio program Good Times, was in for a disappointment when he attempted to make Rustom Padilla answer the question that he tapped out on in the radio program. DJ Mo asked Rustom to reveal the famous male personality he had slept with in the past. Rustom refused. Had Rustom continued to answer, it would have been a big coup for the show.
ADVERTISEMENT - CONTINUE READING BELOW
CENTRAL JURY. There will be a rotation of the jury members after a month. It remains to be seen who will wind up in next month's panel.
Showbiz Central is not all about local showbiz news. Raymond was tasked to present a round-up of Hollywood news from the previous week. However, some of the items looked like they were from a month ago. This is the Information Age, and Hollywood news segments need to be current, or this segment will not fly.
From the video archives of the Kapuso network, the show dug up the first cameo roles of current celebrities for its segment "Artista Facts." It was brief and short and a rather good addition to the show. However, we can't help but wonder what will happen to the segment when it runs out of video files? But that's probably not going to happen anytime soon; this is the Kapuso network, after all.
ADVERTISEMENT - CONTINUE READING BELOW
The showbiz talk show also presented its own countdown, the Top 7 Curviest, which gave viewers the vital statistics of select hot young stars. This list left men ogling while raising women's eyebrows.
Showbiz Central had many stories and interviews spread out over the duration of its two-hour telecast. Some of the segments could have been pieced together to make a more cohesive story line. For instance, Angel Locsin's taped segment about the purchase of her Hummer could have been packaged together with Mark Herras inquiring about a new vehicle.
It also had lot of live interviews—around six in all. Live interviews tend to eat up a lot of time. The writers and producers of the show should be more conscious of interview length and pacing.
With such long segments, Showbiz Central ended up having no time for the hosts to say goodbye and close the show. It might also have left televiewers saying, "Tapos na rin sa wakas..."
ADVERTISEMENT - CONTINUE READING BELOW
View MORE PICTURES of Showbiz Central's pilot episode. Click Multimedia, then choose Photos.