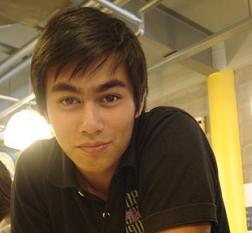 ---
Celebrities invaded Kuya's House this week and added sugar and spice to the life of Pinoy Big Brother Teen Clash of 2010 housemates.

Rising teen star Empress Schuck visited the teenternationals' haven as "Rosa" the hunchback (her character in the upcoming ABS-CBN drama series Rosalka). Big Brother asked her to challenge one of the housemates in a makeover match. Rosa's chosen "foe" is April Sun, the Cantonese hottie. Rosa [a.k.a. Empress] practiced her makeover skills on Jenny Jin while Sophia Ko was April's talent. The male teens were asked to score the makeover skills of both April and Rosa. Both garnered the same score--it was a tie to the delight of both competitors. Rosa had a great time with the teenternational bunch. And before Rosa left, she presented a gift to Bret.

Meanwhile, Team Villa was visited by ex-housemate and Pinoy Big Brother Double Up winner Melai Cantiveros and popular young actress Maja Salvador. They posed as "helpers," wearing "fencing" masks and donned helper clothers. Kuya instructed them to to perform a number of tasks on selected teen members in a span of thirty minutes. And like a true "pro," they were able to clean Yen Santos' ears, pluck Jovic Susim's eyebrows, clean Ivan Dorschner's feet, put baby powder on Tricia Santos' face and apply calamansi juice on Joe Vargas' elbows and knees. The celebrity helpers aced all the challenges. While performing their tasks though, the housemates became "suspicious" about the identities of the so-called helpers. In the end, they were able to figure out the identity of Maja. The housemates were extremely ecstatic to see the celebrities face to face.
ADVERTISEMENT - CONTINUE READING BELOW

Three housemates were slated to end their stay at Kuya's house.

April Sun, Ann Li and Carson Vince comprise the first batch of nominated teenternational housemates. Ann and Carson are "safe" this week, making April the first teenternational evictee. April was met by Mommy Juliet. When asked what lessons she learned inside Kuya's house, April replied "mga rules...independent ako...maging masunurin...dami talaga."


April got the lowest score at 23.33% followed by Carson at 24.13%. Ann, on the other hand, garnered the highest number of votes at 52.54%.Though her stint at PBB was very short, April will never forget the insights, lessons and the new friends she has made.

Nominated from Team Villa are Tricia Santos, Yen Santos, Angelo Pasco, Yong Gopez and Jovic Susim.

Tricia was the first housemate identified by the host as "safe" for this week. Angelo and Yen were the other two members considered "safe." Jovic and Yong are the fifth and sixth members to be evicted. Jovic and Yong are the housemates with the lowest voter scores at 8.54% and 11.67% respectively. Yen got a score of 17.05%, Angelo at 20.21% while the highest votes went to Tricia at 42.49%.

Mommy Grace, Jovic's loving mom, eagerly awaited for Jovic. "The friendship...lahat-lahat ng naranasan ko..." was the pensive reply of Jovic regarding the experiences he will bring as he returns to the outside world.

As soon as Yong stepped out, he got a very tight hug from his Mommy Nelia. An emotional Yong remarked, "Binigay ko ang lahat ko ng best ko sa last task...binigay [ko] ng pagmamahal...maraming pong salamat sa pagpapanood ninyo ng PBB..." Yong was grateful and thankful for the PBB experience.
ADVERTISEMENT - CONTINUE READING BELOW

Catch Pinoy Big Brother Teen Clash of 2010 every night on ABS-CBN.