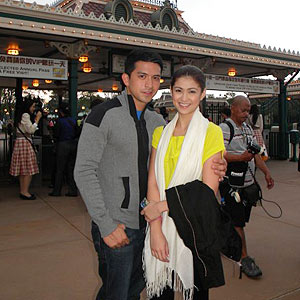 ---
This Sunday, May 30, the bittersweet love story of Dennis Trillo and Carla Abellana in Lovebug's initial offering The Last Romance continues as they sail their hearts in one of the most romantic places to fall in love with: Hong Kong.
The journey of Rackie (Carla) and Hero (Dennis) continues as they slowly find comfort in each other's arms. Even if they didn't seem to get along well on their first encounter, Hero will make the first move to be friends with her since he senses the distress and difficulties that Rackie is facing.
Little do they know, it is not only friendship that will arise between them. Their feelings become more affectionate and tender the moment they kiss and feel that emotion they have been hiding for each other. With this incident, Hero will confess his true sentiments for the lady.
But will Rackie wholeheartedly accept his love? Can she open her heart once more even if she knew that death would tear them apart? How would Remy react upon discovering their situation?
Don't miss the second episode of The Last Romance on the newest romance central of GMA-7, Lovebug, this Sunday, May 30, right after Party Pilipinas.