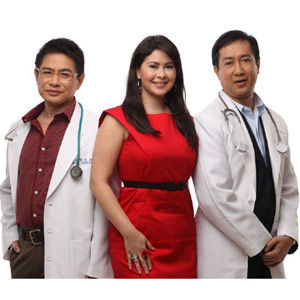 ---
Beginning this Saturday, June 12, a new health and beauty show will keep viewers company from 6am to 7am. Watch Pinoy M.D., Mga Doktor ng Bayan, hosted by a trio led by news anchor and health-conscious mom Connie Sison, together with Dr. David Ampil II and Dr. Raul Quillamor.

Dr. Isaac David Ampil II, also known as Doc Dave, is a renowned cancer surgeon. He is currently an Examiner for the Philippine Board of Surgery and was the Editor-in-Chief of the Philippine Cancer Bulletin from 1998 to 2001. Doc Dave is also a Fellow at the Philippine College of Surgeons since 1993.
Dr. Raul Quillamor, more popularly known as Dr. Q, is a leading obstetrician gynecologist. He is the current President of the Perinatal Association of the Philippines and a member of the Board of Trustees of the Philippine Obstetrical and Gynecological Society. He was also the Section Chief of UERM's OB-Gyne Ultrasound and Maternal-Fetal Medicine in 2009.
Pinoy M.D. is a GMA News and Public Affairs program comprised of different segments that cater to different viewers. The three hosts will be discussing major health issues, health myths, healthy living, and many more. The program aims to provide information that may help viewers understand various factors concerning overall wellness ranging from critical health issues to practical beauty tips.

The pilot episode this Saturday will feature an in-depth discussion on breast cancer. Doc Dave will also take viewers right into the Operating Room for an inside look at an actual breast cancer surgery. Connie, Doc Dave and Dr. Q will also talk about the most common fungal diseases, particularly timely with the early arrival of the rainy season. And finally, the doctors will deliver their verdict on white hair myths.

Pinoy M.D. viewers can also call the program's nationwide toll-free 1800 numbers:1-800-63-7777-7; 1-800-63-7777-8; and 1-800-63-7777-9 for their health questions and concerns. Metro Manila viewers may call 981-1977; 981-1978; and 981-1979. The health helplines will be manned by volunteer doctors and health professionals.
ADVERTISEMENT - CONTINUE READING BELOW

Don't miss the new healthy habit, Pinoy M.D., every Saturday, 6 am, on GMA-7.