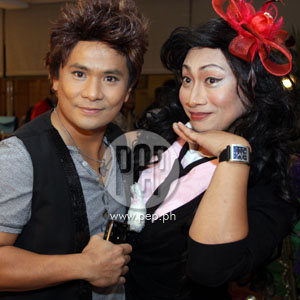 ---
The craziest game show on primetime is making a comeback! Get ready for another season of body-bending and mind-twisting entertainment as GMA Network brings anew the widely popular segment-turned-worldwide craze, Hole In The Wall.
Come July 5, the TV phenomenon from Japan returns on GMA Telebabad with lots of twists and surprises including big cash prizes, outrageous wall and hole designs and an interactive playing area.
Hole In The Wall is hosted once again by multi-awarded comedians Michael V. and Ogie Alcasid as they assume new and different characters every week. Viewers should look forward to the comic antics of the duo. And since Yaya and Angelina have already retired, the first week's episodes will be hosted by Michael and Ogie's new characters—Bianca (Michael) the die-hard Korean Pop fan and Kim Min Yong (Ogie), the Korean heartthrob singer.
"Wala na sila. Ibang characters naman ngayon ang mga nandito," introduced Michael V who was dressed as a high school girl during the press conference held for Hole In The Wall at the 17th floor of the GMA Network Center.
"Ako, konti lang Tagalog. Kasi I came from Korea," said Ogie who stayed in character as the Korean Pop star Kim Min-Yong while talking to the members of the press.
"Buti naman, lalaki na ako dito. Hindi na babae!" Ogie laughed afterwards referring to his former alter-ego Angelina.
"LAGLAGAN NA!" Two teams with three players each must face various walls speeding towards them with crazy-shaped holes. If they fail to fit through the holes, they are knocked back by the wall into a pool of water. Every week, a celebrity will join the players as team captain and 3rd player of the group.
ADVERTISEMENT - CONTINUE READING BELOW
In Round 1, two players will have to go through the "Double Wall," while in Round 2, three players will play the "Single Wall With A Twist." This wall will only have one hole for one player to face. The players will choose their position in the play area. Once the wall is revealed, the players cannot change position. And in Round 3, the "Numbered Wall" will have six numbered boxes shown to the players. Each box corresponds to a type of wall they have to play. These boxes include the "Blindfold Wall," "Prop Wall," "Habol Wall," "Tarzan Wall," "Swim Wall," and "Puzzle Wall."
The team that accumulates the most points in three rounds, advances to the "Jackpot Wall" where they may win as much as P100,000. A different set of "Jackpot Walls" will be used this season including the "Distraction Wall," "Disco Wall," "Houdini Wall," "Dressed-Up Wall," "Dizzy Wall," and an audience participation wall where the team will get another player from the audience to play with them or for them.
Hole In The Wall became a huge hit around the country for its appeal among viewers of all ages. It also turned out to be one of GMA-7's well-loved game shows which raked in high TV ratings in its timeslot.
It's time to face the hole! Join the star power of Michael V. and Ogie Alcasid and get ready to make a splash in Hole In The Wall beginning July 5, Monday to Friday, right before Langit Sa Piling Mo on GMA-7.
ADVERTISEMENT - CONTINUE READING BELOW