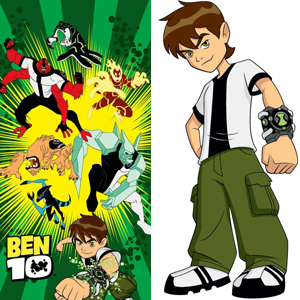 ---
TV5 scores another kiddie hit today, with a new and exciting show in league with Nick Jr. shows like Spongebob Squarepants and Dora the Explorer. The Anak TV seal awardee introduces another worldwide hit with Cartoon Network's Ben 10.
After discovering that he has the knack of transforming himself into several superheroes, ten-year-old Ben Tennyson proves that kids can help right wrongs and save the world while getting into some kid-style trouble.
Ben is equipped with an "Omnitrix" watch, which enables him to morph into strange aliens like Heatblast, Upgrade, Grey Matter, Stinkfly, Ghostfreak, Ripjaw, Wildmutt, Fourarms, XLR8 and Diamondhead. Even with his rather big responsibility, Ben keeps up with his Grandpa Max -- a good-humored, cool mentor who tags him to different adventures with his smart cousin Gwen. Ben also relies on his Grandpa Max and Gwen when he's in the kind of danger his age and superpowers could no longer handle.
Join Ben's exciting activities from Monday to Friday at 9:30 am and 5:00 pm, and on weekends at 9:30 am on TV5.