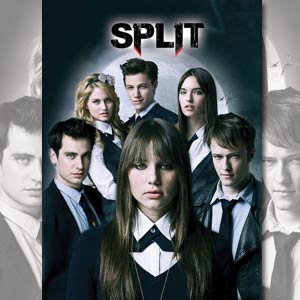 ---
July 5 marks another first by TV5 as it takes a bite of the vampire phenomenon and brings the international hit supernatural series Split to the Philippines starting tonight at 6 pm.
Drawing from the recent success of romantic vampire themes, Split, dubbed in Tagalog, is set to be the first vampire drama series on Philippine Free TV. The show was initially produced for Israeli audiences, but has since become a huge hit in 34 countries barely seven months after its debut. Viewers mostly from Europe and Latin America--including France, Germany, Italy, Spain, Brazil and Russia--are now reportedly hooked on the show. Split has even hit a record 7 million viewers in Israel alone.
The series follows the life of Ella, a unique and introverted 15-year-old high school student who befriends an equally uncanny boy, Omer. She has yet to discover that she is the last offspring of a "split" vampire-human race through Leo, a 500-year-old vampire who disguised himself as a handsome new student to fulfill his mission of finding Ella. She eventually falls head over heels for Leo, but is blocked by her fate of ending the age-old vampire human wars. Along the way, Ella has to face a tough decision: give in to her love for Leo the Vampire or entertain her growing feelings towards Omer the Human.
Teens will find another reason to rush home every night as Split becomes a nightly habit for them from now on only on TV5's Prime Times 5.