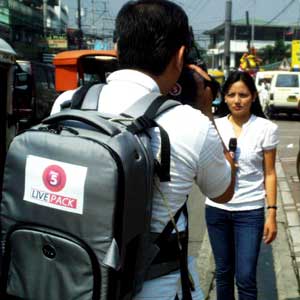 ---
TV5 introduced yet another innovation in live television news coverage during the June 30 inauguration of President Benigno "Noynoy" Aquino III with the use of the News5 Live Pack.
According to a report provided by TV5, the News5 Live Pack is a high definition camera and transmitter set-up that can be carried by a single cameraman wearing a regular-sized backpack. With this new equipment, TV5 is able to broadcast live, whether fixed or moving, from practically anywhere in the country using wireless broadband technology.
Using a News5 Live Pack, TV5 aired high-quality, live moving video as it followed the Aquino convoy from Times Street in Quezon City to the Quirino Grandstand in Manila. A separate News5 Live Pack showed then Vice President-elect Jejomar Binay inside the Manila Hotel as he prepared for the inauguration. Another News5 Live Pack carried live interviews from the crowd gathered in front of the Quirino Grandstand. All these plus other live broadcasts were accomplished without the use of old-style microwave vans and satellite trucks.
"Our News5 Live Pack puts us at the leading edge of TV news technology," said Luchi Cruz-Valdes, TV5 News and Information head. "We are taking the reporting of news as it happens, from where it happens, to a new level."
TV5 News Operations head DJ Sta. Ana added, "The News5 Live Pack gives us the ability to deploy news crews rapidly, and these news crews can remain highly mobile even as they are sending video back to base. These are things no other network can match at this time."
ADVERTISEMENT - CONTINUE READING BELOW
News5 Live Packs were recently sent to Batac, Ilocos Norte and Cebu City to cover breaking news stories. They are also used daily to provide live updates on the traffic situation around Metro Manila within the TV5 morning show Sapul.
Since the acquisition of TV5 by the Manny Pangilinan group, the network made use of new technology such as touch-screen monitors and virtual graphics. As part of its coverage of the recent automated elections, TV5 was also able to provide viewers with an analysis of the results because of its IT set-up and its tie-up with the Social Weather Station.