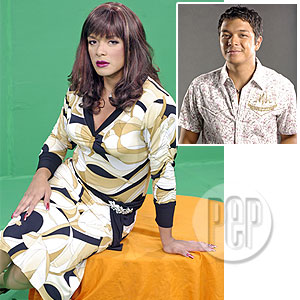 ---
What if fate plays a trick on the playboy by turning him into a girl?
After his career hiatus, the most sought-after actor and heartthrob Jericho Rosales will finally return on this June's Love Spell. With nods for his performances in Panday and Pacquiao: The Movie, the hunk Echo will partner with MYX VJ Iya Villania. The twosome will bring magic to your Sunday afternoons on this month's enchanting "Ellay Enchanted."
The powerhouse cast includes Rock Da Vote star Candy Pangilinan, Cute Ng Ina Mo comedienne with DJ Durano, Dino Imperial, Princess Ryan, and Debraliz in a tale of a playboy who gets a taste of his own medicine—by turning into a girl.
Directed by Wenn Deramas, "Ellay Enchanted" is the story of womanizing bandman Elloy (Jericho Rosales) who dates his bandmate's (DJ Durano) sister, Mayette (Candy Pangilinan), and other women at the same time. When his cheating ways become exposed, the siblings seek revenge and decide to curse him—by turning him into a girl—with the help of witch-cousin Madam Keller (Eugene Domingo). The hocus-pocus turns out fairly well: he shifts into Ellay, but Madam becomes a man.
The only way to reverse the spell on Elloy is for a girl to fall for him, not as a man, but as a woman, before the full moon sets. Joey (Iya Villania), seems to be the only girl that can break the curse because she sees the man inside Ellay. But can the ladies' man trapped in a lady's body make a "kabaro" fall for her?
ADVERTISEMENT - CONTINUE READING BELOW
Find out on Love Spell's "Ellay Enchanted" airing every Sunday starting June 3 on ABS-CBN, right after Your Song.
Click MORE PICTURES to see photos of the cast members of Ellay Enchanted.