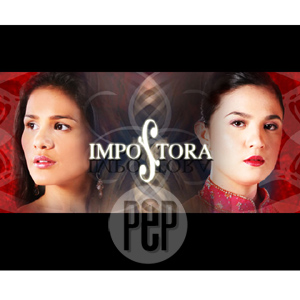 ---
Following the success of Bakekang, GMA-7 introduces another emotionally gripping tale bound to take viewers to the realm of desire, deception, and destiny with the newest drama to invade the primetime block—Impostora.
Premiering tonight, June 4, this drama series is part of the Kapuso Network's offering for its 57th anniversary. Impostora tells the unique story of conjoined twins played by Sunshine Dizon and Iza Calzado.
Unlike in their previous shows, Impostora is more challenging for Sunshine and Iza since they will be playing dual characters. Iza will play the role of twins—the beautiful but vindictive Lara Carreon as well as the ugly and weak-willed Sara Carreon. Sunshine, on the other hand, plays the twins' wicked cousin Nessa Cayetano and also the character of Sara Carreon.
Produced by the creative team behind Bakekang, with director Maryo J. Delos Reyes at the helm, Impostora is about the intertwined lives and loves of conjoined twins but their parents Henry (Romnick Sarmienta) and Adelle (Gelli de Belen) agree to have them separated at the age of eight.
The twins' separation brings about a string of misfortunes that leaves their mother no choice but to put them up for adoption. Lara will be accepted by Betty (Jean Garcia), the wife of Henry's brother Delfin (Gary Estrada), to live with them as playmate of her spoiled, mean daughter Nessa. But Lara will soon run away because she can no longer tolerate the cruelty and abuse of Betty and Nessa. A kind-hearted person, however, will find and keep Lara, who grows up to become a beautiful lady.
ADVERTISEMENT - CONTINUE READING BELOW
Sara, on the other hand, will be adopted by her aunt Gemma (Jan Marini). Unfortunately, Sara's presence in her relative's household remains unacceptable, which even leads Gemma's husband to distort and ruin her face. In spite of being unwanted, Sara stays in the house and grows up with a hideously distorted face.
Lara vows to find her twin sister but to no avail. Unknown to Lara, her twin sister is hiding from the authorities after she accidentally injured and damaged a woman's face.
Fate eventually leads Sara to meet Leandro (Luis Alandy), a plastic surgeon who is willing to help restore her beautiful face. With her goal to evade the authorities and the desire to have a pretty face, Sara agrees to undergo plastic surgery.
But instead of seeing her reflection after the operation, Sara is surprised to find herself with someone else's face! Sara is even stunned to find the woman who owns the face running away with the plastic surgeon. She tries to run after the couple but Nicholas (Mark Anthony Fernandez) suddenly arrives and calls her by the name Nessa!
Sara is able to escape from the police but will she be able to evade her ill-fated situation? Will she choose to live and pretend as somebody else or will she insist on regaining her true identity? What if Sara is destined to cross paths with her twin sister Lara? Will the blood that binds them help her twin sister recognize Sara's real identity? Or will Lara finally take her sweet revenge for her family but with the wrong Nessa?
ADVERTISEMENT - CONTINUE READING BELOW
Impostora also introduces Mart Escudero (Ultimate Hunk of StarStruck 4), Charee Pineda, Jenika Garcia (daughter of Jean Garcia), and real-life twins Charisse and Charlotte Hermoso as the young Sara and Lara. The two girls became known to the public as the twins in the series of commercials for a known laundry soap.
The theme song of this GMA-7 drama series is entitled "Mapagkunwari," which is performed by Faith Cuneta and composed by Tata Betita.
Viewers are bound to get captivated by the riveting lives of Sara and Lara with the much-awaited launch of Impostora beginning June 4 in GMA-7's Telebabad block.
Click MORE PICTURES to view photos of the cast of Impostora.