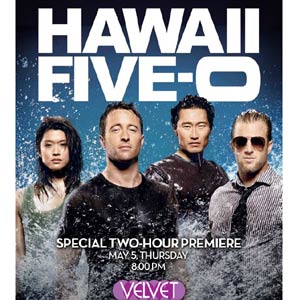 ---
PRESS STATEMENT FROM VELVET:
"Velvet proudly launches a new show just in time for summer! Relive the '70s classic detective show as Steve McGarrett (Alex O' Loughlin) and his partner Danny Williams (Scott Caan) solve crimes and murders around the island in Hawaii Five-O. Catch the two-hour premiere tonight, May 5, Thursday, 8 p.m.

"For more details, tune in to Velvet (SkyCable Channel 53), the country's premium general entertainment channel. Velvet is available on SkyCable Platinum, SkyCable Gold, SkyCable Silver and other quality cable operators nationwide."
Ed's Note: When content falls under "Press Statement," this means that the material is fully and directly from the company itself. The use of open-and-close quotation marks to envelope the entire text shows as much. This also means that PEP is not the author of the statement being read. PEP is simply providing the information for readers who may be interested.